Trump Hasn't Led in a Single Florida Poll in 4 Months, a State GOP Hasn't Won Presidency Without Since 1924
With less than 100 days until the November election, President Donald Trump has not led a single poll in Florida since early March, a state Republicans have not won the presidency without since 1924, when Calvin Coolidge was elected.
Several new polls conducted across Florida show Trump trailing presumptive Democratic nominee Joe Biden.
In a recent CNN/SSRS poll, which surveyed 1,005 Florida residents from July 18 to 24, 51 percent of respondents said they would vote for Biden if the election were held today, while 46 percent said Trump. Among the remaining respondents, 1 percent said "other" candidate, 1 percent said neither, and 2 percent said they had no opinion. The poll has a margin of error of plus or minus 3.6 percentage points.
A separate poll, conducted by Quinnipiac University, found similar results in the state. Fifty-one percent of respondents chose Biden as their preferred candidate, while 38 percent went with Trump. Biden previously held a smaller lead in a Quinnipiac poll from April 22, which found 46 percent siding with the former vice president and 42 percent saying they would vote for Trump. This latest poll surveyed 924 self-identified registered voters across Florida from July 16 to 20 and has a margin of error of plus or minus 3.2 percentage points.
In another poll, conducted by St. Pete Polls for FloridaPolitics.com and AARP Florida, Biden led Trump in Florida by 6 points, receiving 50.4 percent of votes compared with Trump's 44.4 percent. This poll also found Biden leading Trump across all gender and age demographics in the battleground state, except for voters over 70.
This poll surveyed 3,018 registered voters in Florida from July 13 to 14 and has a margin of error of plus or minus 1.8 percentage points.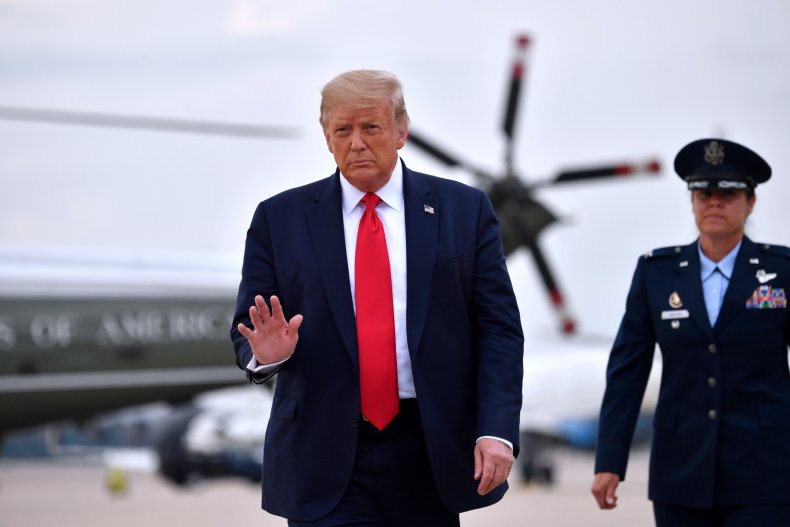 According to a new analysis of recent Florida polls by CNN's Harry Enten, Biden's lead in the state provides him with "a lot of backup options, given that it's worth 29 electoral votes."
"If Biden adds the 29 electoral votes from Florida to the states Clinton took in 2016, he gets 261 electoral votes. Biden would need just 9 electoral votes more to get an electoral college majority. He could add any other state that Trump won in 2016 by 9.0 points or less," Enten writes.
In addition to leading Trump in Florida, the former vice president continues to lead nationally. A recent poll by The Hill/HarrisX, which surveyed 2,829 registered voters from July 17 to 20, found Biden receiving 45 percent, compared with Trump's 38 percent. This poll has a margin of error of plus or minus 1.84 percentage points.
A Real Clear Politics average of several polls conducted across Florida show Biden leading Trump by 7.8 points, and 9.1 points nationally.