Trump Hasn't Seen a Tyrant He Doesn't Like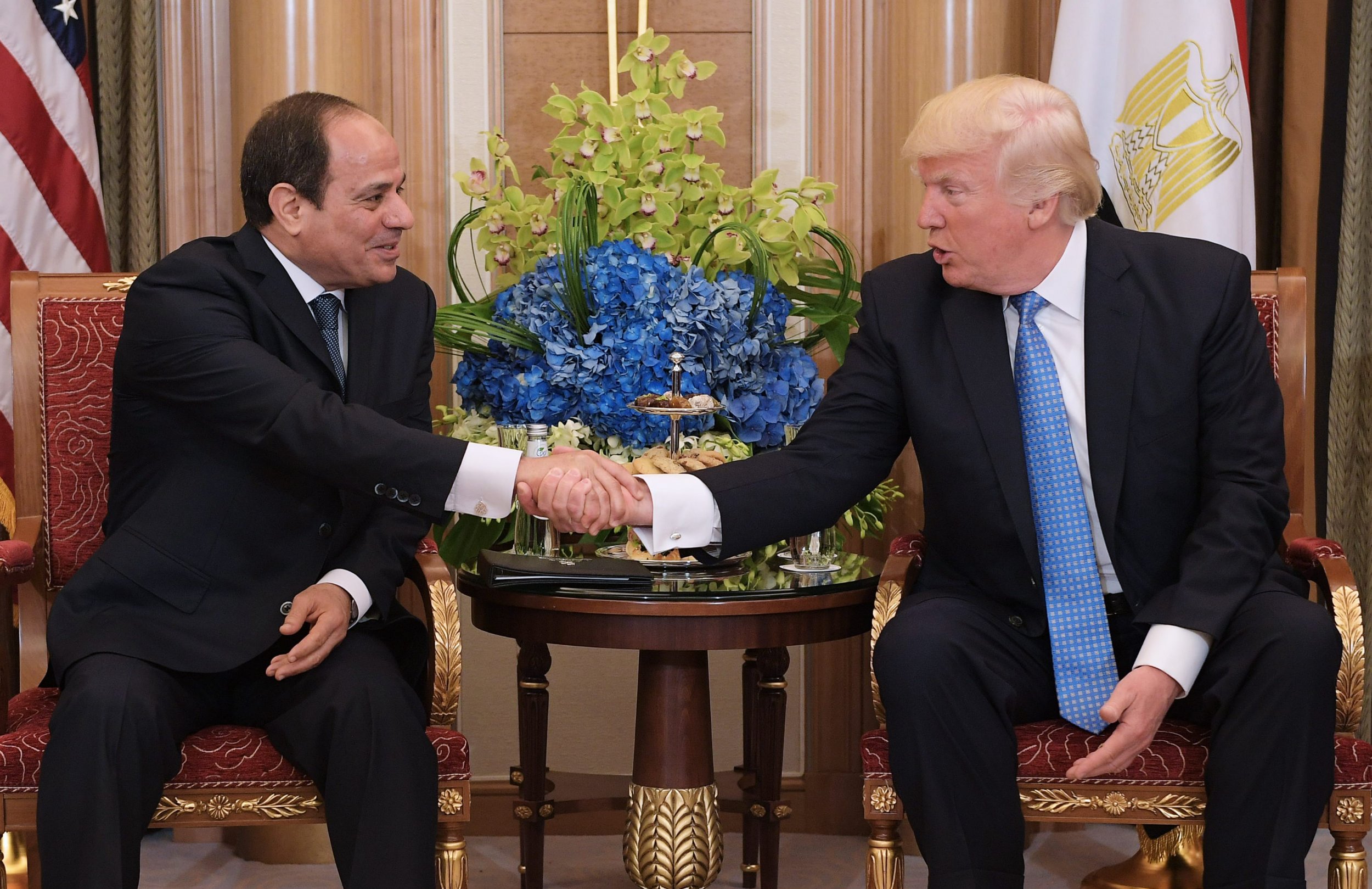 As soon as President Donald Trump hit the ground in Riyadh, Saudi Arabia, it was clear that Mr. Trump's first trip abroad as president would reinforce his goal of upending America's leadership in the world, throwing out U.S. values and allies in exchange for an embrace of strongmen and uncertainty.
His stops in Riyadh and Europe were stark contrasts with one another, and were sharp breaks with the values that have made America great.
In Riyadh, Mr. Trump sent an unmistakable signal to the despotic leaders of the region that America under Trump will ignore concerns about human rights so long as countries are willing to buy U.S. goods and treat Trump with respect.
During his visit to Riyadh, Trump had no words about the repressive governments he was meeting, or the complex relationship Saudi Arabia and its neighbors have with terrorism. There was no mention of atrocities in Yemen. And there was little interest in using the opportunity to address the atrocities in Syria.
In Israel—a traditional democratic ally—Trump's talk of peace obscured the lack of substance backing it up. He failed to mention support for the two-state solution to the Israeli-Palestinian conflict, long standing U.S. policy. Nor did Trump mention a Palestinian state or criticism of Israeli settlements. Israel's right wing was pleased.
If this wasn't bad enough, Trump's stop in Europe was a disaster. He chastised NATO allies. He reportedly lashed out at Germany over its success in exporting automobiles. Trump even physically shoved aside the leader of NATO's newest member in an attempt to get to the front of a group photo.
The rift Trump caused in the transatlantic alliance was clear after just days. German Chancellor Angela Merkel summed it up afterwards by making one of the most devastating comments about Europe's relations with the U.S. in recent memory by saying Europe can no longer rely on others.
Meanwhile, new French President Emmanual Macron likened Trump to Turkish strongman President Recep Tayyip Erdogan and Russia's bully president Vladimir Putin.
The U.S. president clearly feels more comfortable in the company of dictators than with the leaders of democratic U.S. allies. Autocrats praise Trump and shower him with the respect that he believes he deserves, while democratic leaders challenge him on areas of disagreements.
Furthermore, Trump's own instincts at home— such as criticism of the judiciary and disregard for ethics norms, to name a few—are more inclined to those of autocracies where the rulers make the rules and tolerate no dissent.
The impacts of this personal presidential preference go far beyond the worrying photo ops and headlines from international meetings. President Trump is turning U.S. foreign policy on its head. U.S. partnerships with Middle Eastern autocracies are often forged out of necessity, aimed at fighting terrorism and maintaining regional stability.
But America has long been ambivalent about these relationships because of the tenuous foundations upon which they rest. Middle Eastern autocracies are run by security states and rely on repression, an unsustainable basis for governance and long-term trust. Instead of a necessary wariness and distance, Trump is treating these countries like close allies and friends.
In Europe, on the other hand, transatlantic bonds have endured personalities and devastating events because the shared values and interests remain. Forged through two world wars, a Cold War, and countless other conflicts and crises, the transatlantic alliance has been a bulwark of global peace and prosperity because of the democratic values and institutions shared by the peoples of Europe and the United States. But Mr. Trump treats these long-standing allies with disdain.
Amidst it all, at home in the U.S. another disturbing trend took hold with those searching for some semblance of normalcy in Trump's approach to the world. Watching the love fest between Mr. Trump and the leaders of the Middle East, some praised Trump for supposedly turning the page on a supposedly strained period in U.S. relations in the region under President Obama. Republican Chairman of the Senate Foreign Relations Committee Bob Corker claimed that Mr. Trump's entire trip was "executed with near perfection."
This instinct to normalize Trump's foreign policy when he does something seemingly normal is a road to disaster, one that will shift American foreign policy away from the values and interests it represents. Trump himself is the source of his dangerous foreign policy; his erraticism and irascibility mean that his value of his word expires as soon as it leaves his mouth.
No matter the meetings that appear to go according to plan or the assurances of his advisors who try to act as Trump interpreters, there is no normalizing Trump's foreign policy.
Michael H. Fuchs is a senior fellow at the Center for American Progress. He was deputy assistant secretary of state for east Asian and pacific affairs from 2013 to 2016.