Trump MAGA Hat-Wearing Man Declares White Men 'Most Discriminated Against' US Group in Op-Ed
A pro-Trump writer and social media personality wrote an op-ed piece claiming "white men are the most hated" group of people in the United States.
The Tennessean published the opinion piece Wednesday from a self-proclaimed "ardent supporter" of President Donald Trump, Ryan Moore, who proudly wore his "Make America Great Again" hat in public nearly every day for a year. Moore railed against illegal immigration and repeatedly complained the "MAGA" slogan and red trucker hats have nothing to do with race or gender -- something he says only Democrats want you to believe.
Moore, who has appeared on NRAtv with Dana Loesch and other right-wing broadcasts, touts himself as a longtime Democrat-turned-Trump supporter and penned the "Why I proudly wear my Make America Great Again hat" op-ed to claim he receives daily death threats and racist comments on Twitter, Facebook and Instagram.
"Never have I made a hateful or racist comment toward anyone, but, almost daily, I get hateful and racist comments directed at me on Instagram and Twitter," Moore, who describes himself as a social media strategist, wrote in the piece. "White men are the most hated and discriminated against group of people in the United States now. If you don't believe that, you simply aren't paying attention or looking at it objectively."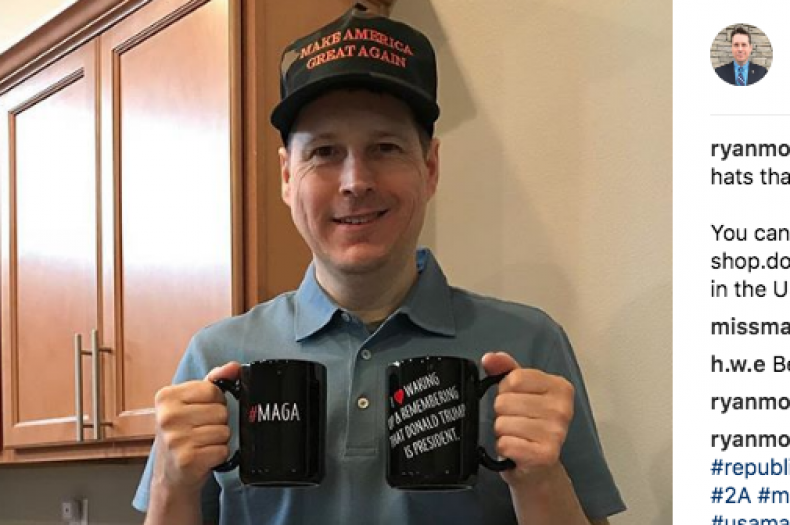 Moore said he rarely heard any complaints or insults when he wore his hat "almost everywhere" he went for a year." But online, his frequently the target of attacks that begin with the line, "'You White,' coupled with a variety of hateful expletives of personal insults."
"It's okay for them to disagree with my political views, but it's not okay for them to despise and attack me for the color of my skin. I believe in being respectful to everyone whether I agree or disagree with their politics and opinions," he continued.
Moore argued that instead of being symbolic of racism, sexism or anti-immigrant bigotry, the "MAGA" hats represent the "America First" policy frequently touted by Trump.
Moore told NRAtv's Loesch he used to be a liberal, pointing to a 2012 tweet in which he wrote, "@BarackObama please repeal the 2nd Amendment and stop the nra." But later claimed he was mugged by men brandishing illegal firearms and decided to become a gun-backing Republican. "I used to hate guns and the NRA. Then I was Mugged," he wrote for the Daily Signal in July.
Despite several calls for "civility," Moore concluded his op-ed with the casual troll claim, "I get a kick out of the hate I get from liberals by wearing my MAGA hat – it shows either they misunderstand or they're just closed-minded, hateful and intolerant."