Trump Hates the Iran Nuclear Deal—Americans Don't Agree
Most Americans do not want to see President Donald Trump withdraw the U.S. from the Iran nuclear deal, a new poll shows.
Trump has long criticized the Obama-era deal, which saw Iran agree to limit its nuclear activities in return for the cessation of sanctions. The president is set to make an announcement on the future of the agreement on Tuesday.
Ahead of Trump's announcement, a CNN poll conducted by SSRS showed that 63 percent of Americans do not want the U.S. to withdraw from the deal, while just 29 percent want to see Trump pull the U.S. out of it.
The chart below, via Statista, indicates that support for the Iran nuclear deal is at an all-time high, with April data showing 56 percent backed the deal, while just 28 percent opposed it.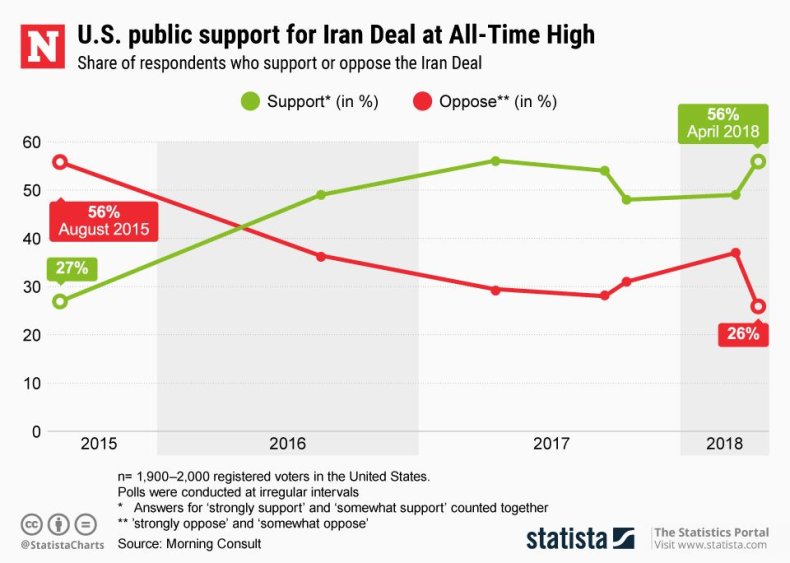 The president has previously slammed the agreement, inked in 2015 and officially called the Joint Comprehensive Plan of Action, as "a bad deal" that "should never, ever have been made." He has specifically expressed concerns that the agreement does not cover Iran's ballistic missile program.
Although the majority of people surveyed in the CNN poll said they would prefer the U.S. did not pull out of the deal, most (62 percent) believed Iran had breached the terms of the agreement.
Just 19 percent of the 1,015 respondents surveyed May 2 through 5 did not think Iran had violated the terms.
Opinions of the future of the agreement were largely split along party lines. Those most likely to support the U.S. withdrawing from the deal were Republican voters (51 percent) and Trump supporters (46 percent), with 47 percent of conservatives also backing withdrawal.
In the lead-up to Trump's announcement, Iranian President Hassan Rouhani warned against ditching it. "If the United States leaves the nuclear agreement, you will soon see that they will regret it like never before in history," Rouhani said, according to the BBC.