Trump Hates Mail-in Ballots But Won't Commit to Aid For In-Person Voting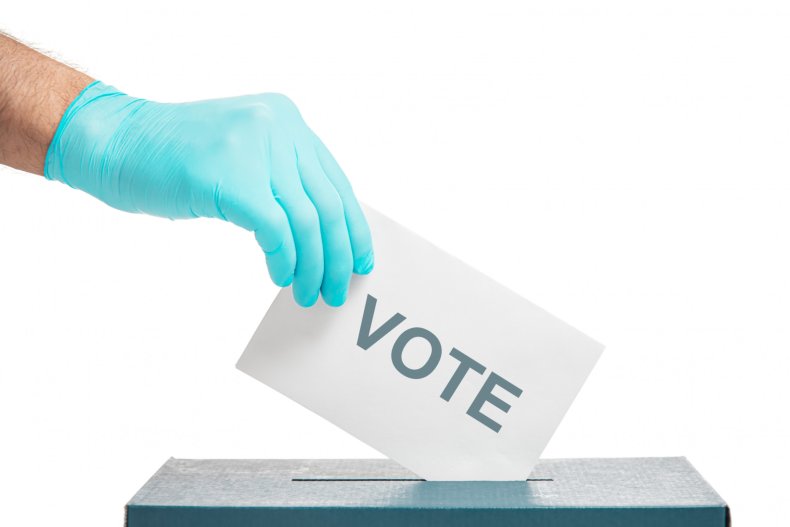 President Donald Trump has made clear he doesn't trust wide-spread, mail-in voting for this fall's elections, but he's also shown little interest in providing insight into what states will need to do to ensure voters are safe at the polls during a pandemic.
More than 150,000 people have died of COVID-19 as the virus has swept the country and cases continue to spike, with no signs of slowing heading into the fall. Some have floated the idea of expanding vote-by-mail options as a way to avoid crowded lines and the potential of exposure for anyone who wants to cast a ballot.
But Trump spent the week railing against mail-in voting, going as far as to float a suggestion that the election should be delayed if it's so unsafe to have in person—widely seen as a taunt to mail voting advocates.
"Everyone knows mail-in ballots are a disaster," Trump told reporters Friday. "Maybe you'll never know the election results, and that's what I'm concerned with."
He warned that a shift to mail-in voting would overwhelm the mail system and create legal issues.
"This is going to be the greatest election disaster in history," Trump said.
He would not answer a question about support for enhancing the current election system, including improvements to in-person voting efforts to ensure that the process is safe during a pandemic.
"You know nothing about what I'm doing," he responded to a reporter's question without providing additional details or context.
White House Press Secretary Kayleigh McEnany similarly wouldn't engage in a discussion on efforts to aid states' efforts.
"What this White House is focused on is making sure that our election is not riddled with voting fraud and that the timetable is not hung up here," she told reporters Friday. "States run their elections, and it is up to states to make sure that they have the capacity ... States need to get their acts together when it comes to elections."
The Brennan Center for Justice at New York University Law School has estimated that states will need at least $4 billion to ensure 2020 elections are safe and secure. That includes funding for mail-in voting. Removing the mail-in component, the Brennan Center's election experts still estimate that the cost to maintain in-person voting alone during the pandemic would be nearly $300 million to cover extra cleaning for election sites and equipment, possible polling place changes to meet health emergencies and providing protective equipment to poll workers.
"While there is no question that COVID-19 presents new and difficult challenges to administering fair and safe elections this year, these challenges are not insurmountable," Brennan Center election reform program director Lawrence D. Norden told lawmakers in a hearing last month. "The Brennan Center's extensive conversations with election officials around the country over the past two months have left me confident they know what needs to be done to ensure their voters can vote freely and safely this fall."
Even before the coronavirus outbreak, several states had sought federal assistance to upgrade their elections systems to secure systems from foreign interference and address other integrity issues.
But the coronavirus concerns have added to the worries of some election security advocates and state and local leaders.
The National Association of Secretaries of State this week released a statement that state and local election officials around the country are "working diligently to ensure citizens are able to vote in a safe and secure manner."
"While 2020 presents unique challenges with the COVID-19 pandemic, election officials and other state leaders are taking steps to miti­gate these through a variety of measures, including recruiting additional poll workers, secur­ing alternate polling locations, providing personal protective equipment and expand­ing voting options," the statement read.
The CARES Act this spring included $400 million in election funding, and Democrats proposed $3.6 billion for elections in their proposal for the next round of stimulus funding. The proposal includes provisions for mail-in voting.
Trump and Republican congressional leaders have rejected the notion of expanding vote by mail, and Republicans have indicated they do not intend to propose any money in their plan. Republicans have yet to reach a deal on the party's proposal.
The secretaries of state, in a letter to Congress earlier this year, expressed concerns about being able to tap into those dollars.
"While we are grateful for financial support during this national emergency, states are going to have significant challenges when it comes to accessing these federal funds," their letter read.
One of the restrictions on the funding is that states put up 20 cents for every federal dollar received, even as states have faced crushing coronavirus-linked blows to their budgets.
"In this time of crisis, Secretaries of State throughout the nation are working to plan and hold free and fair elections, with our voters' health and safety as the top priority," NASS President and Iowa Secretary of State Paul Pate wrote in the April letter.