Trump Goes Back to the Schoolyard With 'Sleepy Eyes' Chuck Todd Insult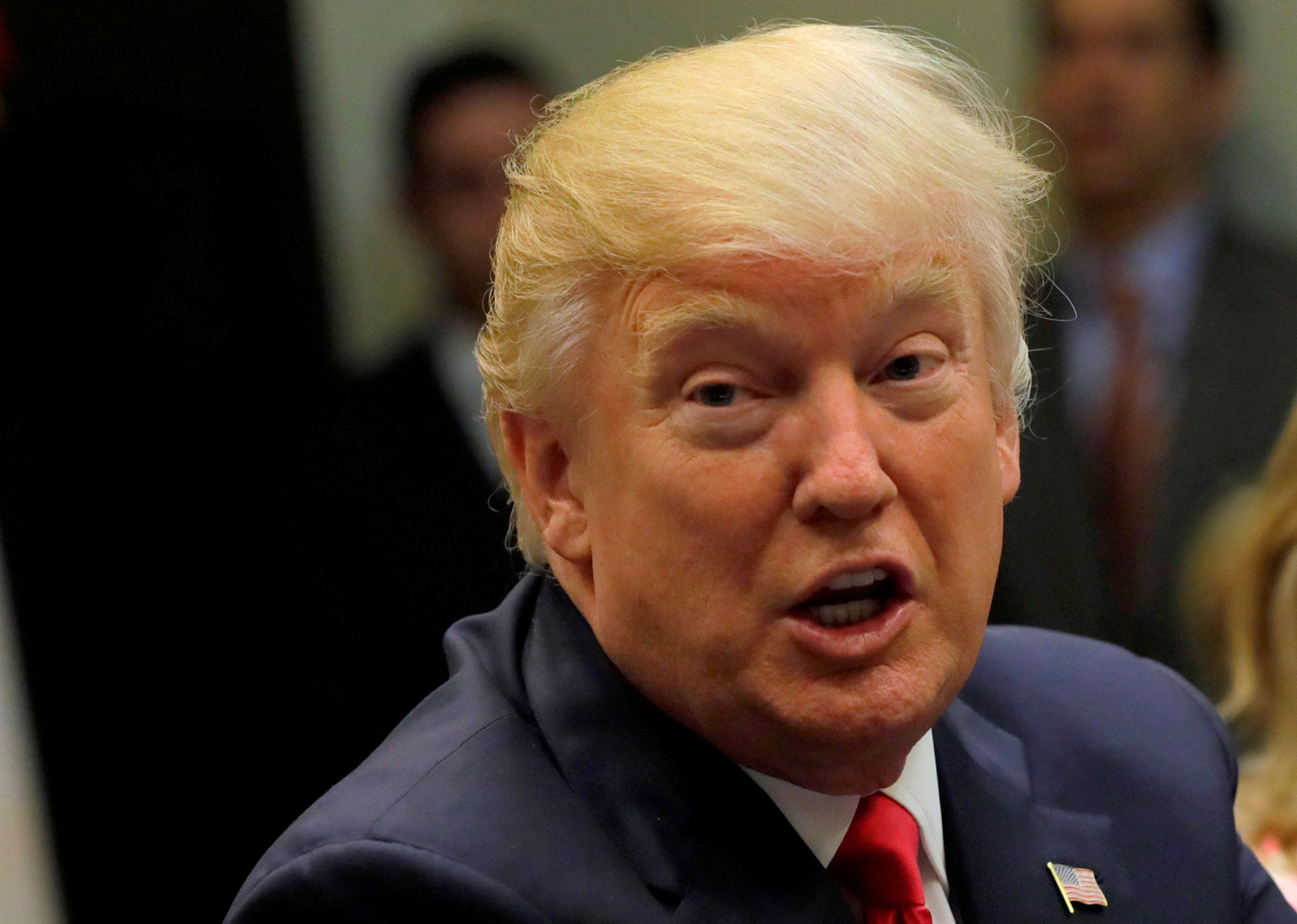 Try as he might, President Donald Trump just cannot drown out the constant drumbeat of news on the multiple investigations into possible campaign ties to Russia. But he'll still try—and when changing the subject doesn't work, the president heads back to the schoolyard to lob an insult.
NBC's "Meet the Press' host Chuck Todd found himself in the company of "Crooked Hillary" Clinton and "Lyin' Ted" Cruz Saturday, after the president tweeted about "Sleepy Eyes" Todd and his irritation that NBC dares to cover the near daily revelations that have sparked an FBI probe and two Congressional investigations. He believes NBC and the rest of the "fake news media" should instead focus its attention on Trump's totally unsubstantiated controversy of choice: the "Obama surveillance scandal."
"When will Sleepy Eyes Chuck Todd and @NBCNews start talking about the Obama SURVEILLANCE SCANDAL and stop with the Fake Trump/Russia story?," Trump tweeted. An unperturbed Todd brushed off Trump's insult, tweeting, "For those wondering, I slept well even tho I stayed up late watching the #msstate upset of UConn. #cowbell. Don't feel sleepy at all though."
Nursing old grievances, Trump also tweeted that Todd and NBC's work is representative of the "the same Fake News Media that said there is 'no path to victory for Trump' that is now pushing the phony Russia story. A total scam!"
RELATED: Trump's worst ever week in office
Trump's focus on Todd may stem from comments he made Friday night about the president's refusal to accept reality. "I think the biggest problem here is you have the president not wanting to accept the conclusion that Russia tried to interfere in the election and that there is going to be an investigation in this, whether he likes it or not," Todd said, according to Politico. "This has all been self-inflicted. The Russia cloud is dark enough. This sort of (House intelligence chair Devin) Nunes Keystone Cop situation has made it that much worse. And again, it all stems from the fact that the president himself will not accept the idea that there is going to be a Russian investigation."
The president didn't get much of a respite this week from the torrent of bad news. While not as bad as the preceding week—in which FBI Director James Comey confirmed the existence of a bureau investigation and Republicans' extremely unpopular healthcare bill was pulled from the House floor—Trump largely failed to turn attention to his administration's tax reform, energy and trade plans, despite executive orders on the latter two initiatives. Instead, Washington has been consumed with drama on the Hill, as the Senate Intelligence Committee distances itself from the crumbling House probe, former National Security Advisor Michael Flynn unsuccessfully seeks immunity in exchange for his testimony before the Congressional committees, and Republicans face calls to replace House intelligence chief Nunes, who many see as running interference for Trump instead of doing, well, his job.
RELATED: Comey tried to reveal Russian plot before the election
It would perhaps be politically wiser for the president to accept the investigations, issue statements respecting their integrity, and otherwise keep his mouth shut, but that's just not how this Twitter presidency is going to unfold. Trump continues to insist that the entire investigation, as well as reporting that looks at the business interests of the likes of Flynn and former campaign chairman Paul Manafort, is all a ruse concocted by Democrats to embarrass him for his election victory. It's not clear what he hopes to accomplish, either, as his claims are not catching on beyond the base. Diehard supporters may accept his methodical denigration of the news media and parrot his attempts to change the subject to Obama or Hillary Clinton's supposed ties to Russia, but most everyone else is a bit tired of the nonsense. His approval rating ranges from just 38 percent to 46 percent, depending on the poll you prefer. And Trump's Twitter addiction was denounced by 70 percent of respondents—including 45 percent of Republicans—in a recent McClatchy-Marist Poll as "reckless and distracting."
Many of the thousands of tweets in response to the Todd insult would fall in that group of detractors:
Trump, who has no public events planned this weekend, also apparently read the hated New York Times this morning, but offered snide praise instead of his usual angry broadside. "The failing @nytimes finally gets it - 'In places where no insurance company offers plans, there will be no way for ObamaCare customers to use subsidies to buy health plans.' In other words, Ocare is dead. Good things will happen, however, either with Republicans or Dems," Trump tweeted about an Upshot article detailing the areas of the country that could be without qualified insurers offering coverage. But he seems to have missed the nuance of the analysis. Reporter Margot Sanger-Katz wrote about how "the Obama administration and local officials worked hard to recruit replacements" when insurers left markets but "the Trump administration might not do the same." Instead, his public comments "suggest he will do little to help the markets, or could even set the fuse."