Trump Heads to Golf Outing For First Time in Months as He Urges Reopening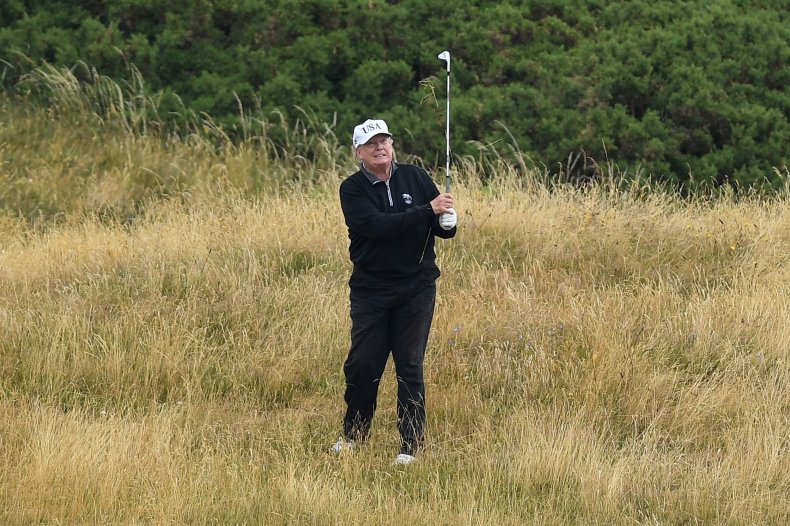 President Donald Trump headed back to the golf course on Saturday—the latest move in his signaling toward a normalization after weeks of national upheaval brought on by the novel coronavirus outbreak.
Trump's trip to his Trump National Golf Club in Sterling, Virginia, is his first golf outing since he stopped by Trump International Golf Club in West Palm Beach on March 8, after checking in at the Centers for Disease Control and Prevention—as COVID-19 started to spread in the United States.
It comes a day after Trump strongly advocated for the immediate reopening of churches across the country that have been shuttered to stop the spread of coronavirus. Trump said he would "override" governors who don't comply, but the White House hasn't explained how he would do so without violating the 10th Amendment.
"In America we need more prayer, not less," he said. He didn't answer questions about whether he will attend church on Sunday, and the White House hasn't responded to Newsweek's request for information about his Sunday plans.
It's not clear who may be joining the president for his golf outing Saturday. The White House didn't immediately respond to questions from the pool reporter traveling with the president.
Trump's trip back to his Sterling golf course is at least his 250th golf club outing, based on a tally kept by The Washington Post.
Dr. Deborah Birx, coronavirus response coordinator for the White House Coronavirus Task Force, repeatedly suggested Friday that golf may be among the outings that people could take part in during the Memorial Day weekend.
"You can all make your decisions about going outside and social distancing, potentially playing golf if you're very careful and you don't touch the flags, and all of those issues," she said.
More than 96,000 people have died of COVID-19, the disease caused by the novel coronavirus, in the United States, and 1.64 million have tested positive for the virus. States have begun reopening after weeks of shutdowns that have caused mass layoffs and record unemployment numbers.
"We're going to safely reopen our country and our economy, and it's happening very rapidly," Trump told reporters at the start of a Cabinet meeting Tuesday. "The numbers are going down—the numbers that we have been talking about for the last two months, they're actually going down. It's really terrific."
Trump also announced this week that he's planning to invite world leaders to a G-7 summit at the White House and Camp David in Maryland this summer, after the meeting was initially rearranged as a virtual event over fears about the virus.
During Friday's press briefing, Birx specifically voiced concerns about the D.C.-area's high rate of COVID-19-positive tests.
"Even though Washington has remained closed, L.A. has remained closed, Chicago has remained closed, we still see these ongoing cases," she told reporters.