Trump Heads to Key Battleground State Pennsylvania to Promote His Coronavirus Response at Mask Supplier Site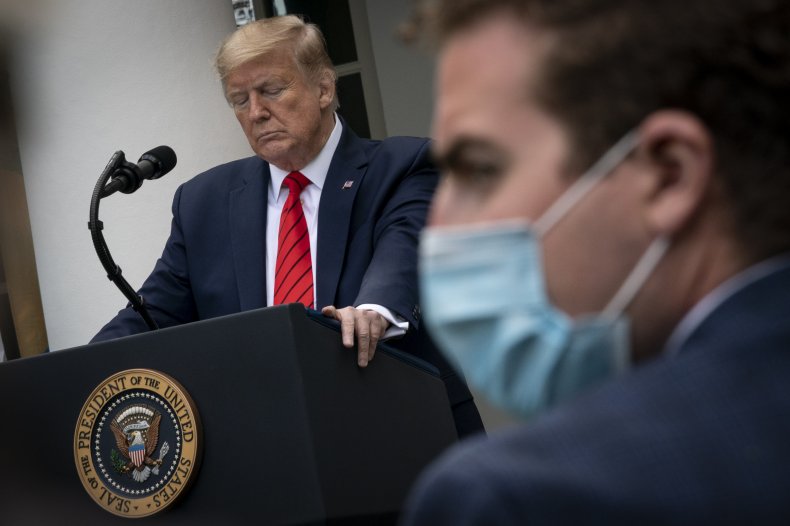 President Donald Trump is heading to another battleground state this week as he aims to trumpet his handling of the coronavirus outbreak and push to reopen the economy six months out from Election Day.
The president will tour the Allentown, Pennsylvania, distribution center of Owens & Minor Inc.—a Virginia-based company that has supplied millions of N95 masks, surgical gowns and gloves to health care providers across the country as they treated COVID-19 patients.
It will be the president's second major trip away from the White House since March when much of the country went into lockdown mode as coronavirus cases and deaths mounted. Trump toured an Arizona mask-making factory last week.
Both states are seen as potentially pivotal to Trump's reelection hopes.
His win in Pennsylvania, in particular, played a major role in his 2016 victory over Democratic opponent Hillary Clinton—something the president acknowledged this week ahead of his latest trip.
"I love the State, and for very good reason!" Trump tweeted Tuesday.
The president is expected to highlight efforts to bolster the Strategic National Stockpile that was badly depleted as the coronavirus began to sweep the nation, setting off a scurry to secure more supplies from American companies and abroad.
The effort to round up enough masks and other medical supplies for the nation's nurses and doctors was widely panned by Trump's critics as health care providers shared stories of rationing their limited protective equipment, creating a sore spot for the administration.
Trump has spent recent weeks meeting with governors at the White House, each time highlighting on large placards how much personal protective gear the federal government had given their states.
Trump also will use the Pennsylvania trip to highlight efforts to further leverage the stockpile to expand coronavirus testing capacity, according to talking points a White House official provided to Newsweek.
Owens & Minor CEO Ed Pesicka was among health care industry leaders who met with Trump and members of the administration's coronavirus task force at the White House in March.
Trump praised Pesicka as someone who "knows the system better than anybody."
"We did hear the challenge," Pesicka said during a news briefing after their private meeting. "We've ramped up our production in the Americas."
During that appearance, Pesicka described the increased demand his company faced—one unnamed hospital in New York, he said, typically needed about 10,000 to 20,000 masks a week but suddenly needed 200,000 to 300,000 masks a week as the outbreak raged.
"You multiply that times the entire U.S., let alone the same demand outside of the U.S.," he said. "That's part of the issue we're running into: Is even with a significant ramp-up in supply, you know, there's still that demand that is much greater than that supply."
This will be Trump's second visit to Pennsylvania this year. He was in the state just before the shutdown for a Fox News-sponsored town hall in Scranton. Trump has repeatedly singled out Pennsylvania as a state that should "reopen."
"The great people of Pennsylvania want their freedom now, and they are fully aware of what that entails," he tweeted Monday. "Don't play politics. Be safe, move quickly!"
He's taken aim at Democratic Governor Tom Wolf's timeline for loosening restrictions on businesses and social activities that were put in place to stop the spread of the virus in the state.
"I think that if you look at Pennsylvania, as an example ... the people want to go back," Trump said during a briefing in the White House Rose Garden on Monday. "The numbers are getting to a point where they can, and there just seems to be no effort on certain blue states to get back into gear. And the people aren't going to stand for it; they want to get back."