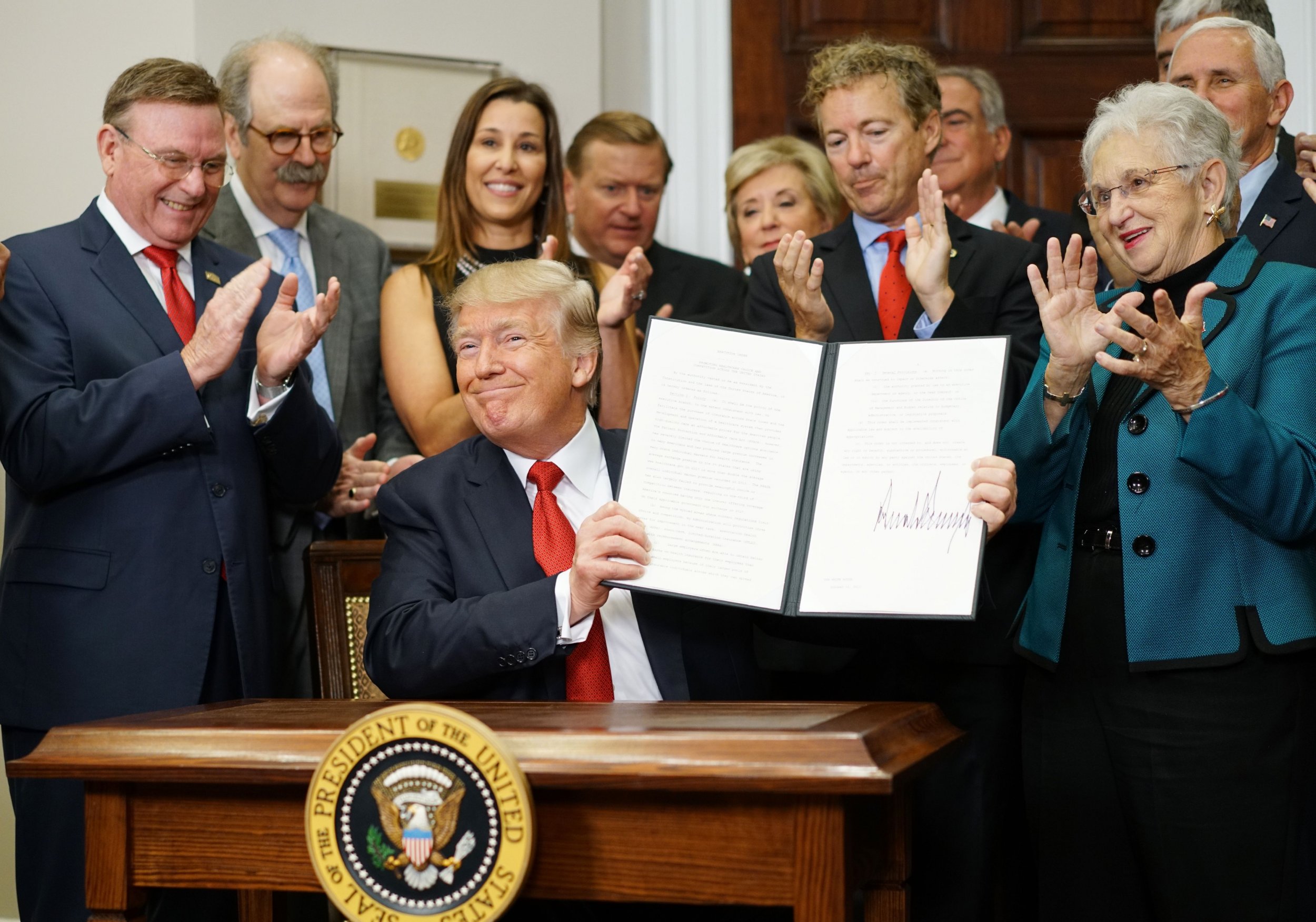 President Donald Trump's executive order could take health care insurance away from millions of sick Americans, which was also a criticism of his earlier effort to repeal and replace the Affordable Care Act in Congress. The new plan would roll back some of Obamacare's protections and coverage, but it could lower premiums for healthy Americans.
The order would allow small businesses to buy coverage that costs less and covers less. It also increases the allotted time people can be enrolled in short-term coverage, which is meant for people who are in-between jobs or are past the age limit to be covered by their parents.
"[The order] is actually bad policy for both healthy people and sick people," Sara Collins, who studies health care coverage and access for the Commonwealth Fund, told Newsweek.
In other words, it's imperfect. But who are the winners and losers? Let our explainer guide you:
Who does it help?
Trump's new plan will create insurance options for healthy Americans that are lower-cost by allowing insurers to offer lower-coverage policies. It is unclear exactly what kind of policies because Trump's executive order does not provide those details.
Sure, healthy people like the idea of lower-cost insurance. But what if they get sick?
So while healthy people could pay less for their premiums, the insurance companies may make policyholders pay higher co-payments and have higher deductibles. There may also be riders to cover additional care—all of which would all add up very quickly, according to a report.
"It will definitely hurt Americans on average," Collins said. "It will make healthcare less affordable and premiums rise. If the intent was to make health care costs more affordable to Americans … this would have the opposite effect."
Furthermore, experts like Collins worry this would drive up costs for the sick and would destabilize the insurance markets created by Obamacare.
And forget about getting sick. What if they just want to have a baby?
Some experts believe that pregnancy could count as a preexisting condition and could increase the cost of their insurance.
"Women could be disadvantaged because they have greater health care needs," Collins said.
What about short-term health insurance plans?
This executive order will also loosen restrictions on short-term health insurance plans. These are meant for people who are in-between jobs or are past the age limit to be covered by their parents. Under the ACA, during this transition period, hundreds of thousands of people were covered under this form of care for up to three months. Trump's plan could increase that to almost a year.
Does it help small businesses?
This is attractive to small and medium sized businesses, because they'll spend less on coverage and won't have to cover everything.
Business groups say this order could allow small businesses to band together across state lines to apply for one large-group insurance policy. Dirk Van Dongen, president of the National Association of Wholesaler-Distributors, told Newsweek this gives smaller businesses "more bang for your buck."
When will it start affecting me?
The whole plan has to go through a rulemaking process. But even if that takes months, it could still deeply affect the health care markets.
The individual markets change with uncertainty. Some insurers could decide not to participate in the ACA during 2019, giving people who do get their healthcare through the ACA fewer options, which could potentially "throw a wrench" into the market, Collins said.
Wait a second, if an insurer pulls out of a market, will I lose my insurance?
Not exactly. If you're covered by Obamacare, and your insurer pulls out of that market, you won't lose your insurance, but you might have to switch to a different insurer or pay more, according to the Atlantic. Either way, nothing will happen today. If anything does happen, it'll happen during the 2019 Obamacare cycle.
Is Obamacare failing the way Trump says it is?
Yes and no. Trump is right that insurance premiums have risen in some parts of the country, but some of these insurance companies actually blame Trump's anti-ACA rhetoric more than they blame the ACA, according to the New York Times. And doomsday predictions such as bare counties where no insurers are offering policies have not actually happened.
But does this bill solve the premium problem?
For healthy people, yes, their premiums will go down. For sick people, maybe not. And just because your premiums are going down doesn't mean you'll be paying less for healthcare. Lower premiums tend to coincide with more expenses down the road if you get sick or have an accident.
What game-saving role did Mike Pence play on Thursday?
After the announcement on Thursday, Trump tried to walk out without signing the order until the vice president reminded him to do so.
"I'm only signing it because it costs nothing," Trump joked.
Was that funny?
Not for sick Americans, whose premiums could rise.