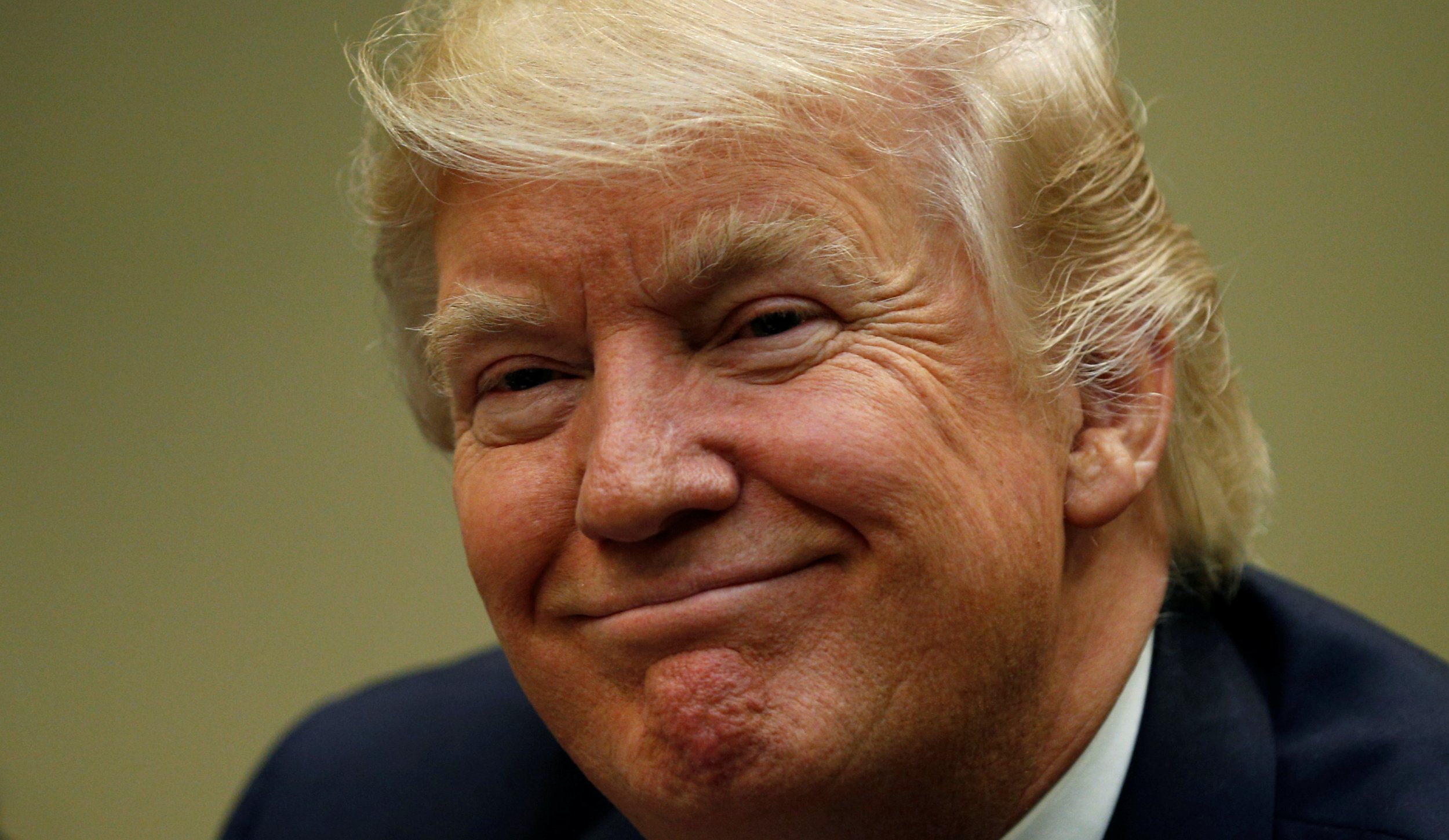 It's your move, Mr. President.
Donald Trump surged to the White House in November by pitching himself as a savvy businessman and deal-maker. But with the GOP health care overhaul plan now teetering on the brink of defeat, the president is struggling to bring his party together to pass his first major policy proposal. A failure to repeal and replace Obamacare—something Republicans have been promising for years—would be a major setback for a party that now controls Congress and the White House and is trying to prove it can govern, not just oppose. Perhaps even more significant, it would deliver a severe blow to Trump's self-styled image as a world-class negotiator, after he convened numerous White House meetings to cajole uneasy lawmakers and even journeyed up to Capitol Hill Tuesday in an attempt to get members on board.
Related: Senator Rand Paul: Conservatives will block Obamacare bill
Even with a sizable Republican majority in the House, party leaders have been struggling to win the internal support they need to pass their health care bill, which would strip away most of the taxes and requirements levied under Obamacare and pare back Medicaid, among other things. However, Republican leaders were optimistic Tuesday morning that the changes they were offering to the legislation—at the behest of President Trump, they emphasized—and Trump's own personal encouragement would be enough to cement a majority vote.
"President Trump was here to do what he does best, and that is to close the deal," House Speaker Paul Ryan said following Trump's visit with House Republicans. Except, he didn't appear to have done so.
By afternoon, it was apparent that neither the president's appearance at the Capitol nor the changes to the bill that Ryan said Trump had "helped negotiate" had moved the ball forward. Representative Mark Meadows of North Carolina, the head of the conservative Freedom Caucus, told reporters he was still a "no" on the bill, even after the president called him out by name at the morning meeting and encouraged him to change his mind, joking that he'd "come after" Meadows in the next election if he didn't do so.
Trump didn't change minds on the other end of the ideological spectrum either. "I had reservations going in. I still have reservations going out," Representative Charlie Dent of Pennsylvania said after visiting the White House Tuesday afternoon, part of a confab the president hosted with members of the Tuesday Group, a caucus of moderate House Republicans. Fellow Tuesday Group member Leonard Lance, of New Jersey, also remained opposed afterward. The Oval Office meeting was "very cordial," Lance said, but, "I think we need to make sure health care policies are accessible to those who need health care policies, and I don't think this legislation does that."
Dent said he wasn't swayed by Trump's pitch—some characterized it as a threat—that Republicans would lose their seats in 2018 if they didn't fall in line behind the health care proposal. Congressional Republicans are already in peril, Dent reasoned, given the simple fact that the party in power almost inevitably loses seats in midterm elections. The Tea Party victories in 2010 that swept away the Democrats' House majority and the Republicans regaining the Senate majority in 2014 are just the two most recent examples.
The reality is that, unlike a business CEO, the president isn't really the boss in this context; the lawmakers' constituents are. In blue or purple states like New Jersey and Pennsylvania, a backlash from angry constituents losing their health insurance is a far more existential threat than a scorned president. In fact, bucking Trump is part of the way they can convince voters they are independent. On the flip side, the greatest risk for members like Meadows, who represent safely conservative districts with active Tea Party bases, is a primary challenge from the right. And the conservative groups most likely to fuel those challenges—the Club for Growth, Heritage Action Fund and the Koch brothers-backed Americans for Prosperity—have all come out in opposition to the existing House bill.
The other problem for Trump is that he isn't the final word in this particular deal, as he would be with, say, negotiations for a new golf club venture. Republican leaders in the House and Senate are the ones responsible for most of the details of this health proposal, and they are working within the constraints of Congress's unique rules. Meadows, who flew to Florida for meetings with conservative senators Ted Cruz and Mike Lee and Trump officials at Mar-a-Lago over the weekend, noted as much Tuesday. "I do believe the White House is very willing to negotiate, based on my conservations with the administration officials and the vice president, himself," Meadows said. "I'm not getting the same sense from our leadership."
If House Republicans fail to pass the health care bill on Thursday (all Democrats are expected to vote "no"), the leaders will have no choice but to restart negotiations. As they're already finding, though, coming up with a package that can win over both ends of their party's ideology is an exceedingly difficult balancing act. It will become even more so in the Senate, where Republicans can afford to lose only two members if they are to win a majority vote.
Meadows, however, remained optimistic that the party can ultimately hash out a deal. "We're going to find a way to repeal and replace the Affordable Care Act, so whether it's this Thursday or next Thursday or the following Thursday, hopefully we'll find some common ground," he said. As for Trump, he premised his entire presidential campaign on his ability to broker good deals where past leaders have failed. Now is his chance to prove it.