Trump Heard Telling Golfer John Daly He'd 'Hit Moscow' If Putin Caused Trouble
In a phone call to golfer John Daly, video appears to show former President Donald Trump saying he was friends with Vladimir Putin while in office, but claimed he threatened the Russian president with 'hitting Moscow' if he attempted to cause trouble.
A video posted to the @nopopsgolf Instagram showed Daly's conversation with a voice presumably belonging to Trump on speakerphone. The two discussed nuclear weapons and alleged threats he said he made towards Putin.
"They're all saying, 'Oh he's a nuclear power,'" Trump said. You know, he was a friend of mine. I got along great with him. I say, 'Vladimir, if you do it, we're hitting Moscow." I said, 'We're gonna hit Moscow.'"
While Trump and Daly spoke about the ongoing Russian invasion of Ukraine, it's unclear what Trump exactly meant by "it," referring to actions by Putin while he was in office.
"I said, 'We're gonna hit Moscow,'" Trump said. "And he sort of believed me, like 5 percent, 10 percent. That's all you need."
Trump continued to brag about Putin holding off on the invasion until he was out of office. This isn't the first time Trump has hinted at the notion of Putin's attack not happening if he were still president.
"He never did it during my time, John, you know," Trump said. "We're all talking about it. He didn't do this during the last four years because he knew he couldn't."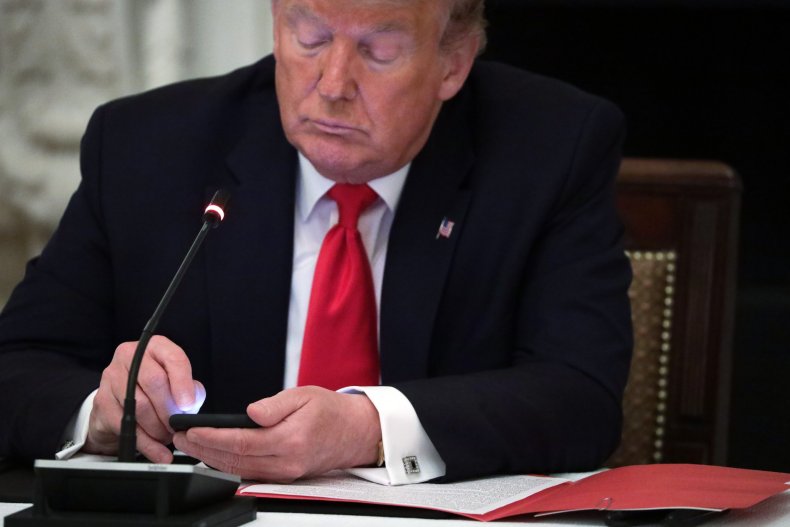 Trump also said China's President Xi Jinping, didn't "bother" him either while in office. Trump speculated that Taiwan is next for a potential invasion by China.
"Taiwan will be next," he said. "You won't have any computer chips. They'll blow them off the face of the earth."
Russia's invasion of Ukraine has continued for over a week. Putin authorized a "special military operation" against Ukraine on February 24. Hundreds of civilian casualties have been reported by the Ukrainian government. NATO said more than 1 million people have fled the country looking for refuge amid the war.
On Thursday, Russian troops bombed the Zaporizhzhia Nuclear Power Plant, Europe's largest, causing a fire and failure in its power generators.
Ukrainian President Volodymyr Zelensky spoke with U.S. President Joe Biden and has since said that the radiation levels at the plant are at normal levels. Government officials warn Russia's aggression will only intensify.
Newsweek verified the date and location of the video through the Instagram account that posted it.
Newsweek also reached out to Trump for comment.