Donald Trump Makes Final Herschel Walker Plea As Polls Predict Warnock Win
Donald Trump has made a last-minute plea for voters to back Herschel Walker in the Georgia Senate runoff as polls show the Republican trailing Democratic incumbent Raphael Warnock.
In a post on Truth Social on the eve of the December 6 polls opening, the former president urged his supporters to vote for Walker, who could be the latest Trump-endorsed candidate to lose their midterm race.
Warnock, who was elected to the Georgia Senate after winning the January 2021 runoff election against Kelly Loeffler, has beaten Walker in the past seven public polls.
Warnock also led the Republican in the original November 8 vote, albeit by just over 38,000 votes, but failed to achieve the 50 percent threshold to avoid a second election.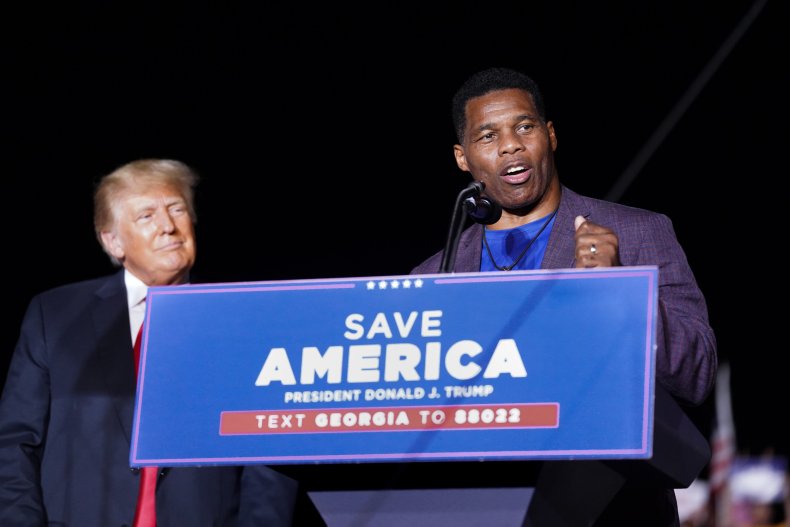 "To the Great State of Georgia, Get Out and Vote for the WONDERFUL Herschel Walker TOMORROW," Trump wrote.
"Herschel was a fantastic Athlete, and he will be an even greater United States Senator! To all MAGA Voters, that is, people that want to Make America Great Again and Put America First, tomorrow is a big day. Vote for Herschel!"
In the wake of the midterm elections, in which a host of Trump-endorsed candidates were unsuccessful, the former president opted not to campaign for the former NFL star in-person for the Georgia runoff.
Trump did take part in a television rally, which was closed to reporters, voicing his support for Walker on Monday evening.
On the eve of the polls opening, a number of surveys were released which show that Warnock is the favorite to win the run-off election.
A poll of 1,300 likely voters by the UMass Lowell's Center for Public Opinion, conducted between November 18 and November 28, showed Warnock ahead by 51 percent to Walker's 46 percent.
Professor John Cluverius, the director of survey research at the center, suggested that the string of controversies which have dogged Walker's campaign, including allegations he paid for two of his ex-girlfriend's abortions despite supporting a national ban on the procedure, has damaged the Republican's chances.
"This race could go either way, but Herschel Walker is in trouble," Cluverius said in a statement.
"Voters know the economy is rough, but a spate of scandals has destroyed Walker's favorables with voters. In a normal, textbook election, Warnock would look like a lame duck walking.
"Instead, he's been able to avoid blame for rising prices and keep voters—who are skeptical of Biden but don't like Trump—in his corner. Right now, it looks like Warnock is in the driver's seat."
A Trafalgar Group survey published on December 6 also showed Warnock ahead of Walker by 51.1 to 47.4 percent.
Do you have a tip on a politics story that Newsweek should be covering? Do you have a question about the Georgia runoff election? Let us know via politics@newsweek.com.