Trump HHS Official Proposed Solving PPE Shortage With 'Doggie Cones' Early in Pandemic
As health care workers scrambled for personal protective equipment in the earliest months of the pandemic, a Department of Health and Human Services official proposed the idea of using "doggie cones" to help keep people safe.
Emails from the inbox of Dr. Anthony Fauci, director of the National Institute of Allergy and Infectious Diseases, obtained by The Washington Post give a glimpse into the questions the infectious disease expert faced in March and April of 2020. One such question was how to quickly solve the shortage of masks and face shields.
An unnamed HHS official under the Trump administration suggested to Fauci that they solve the PPE shortage by using "doggie cones," according to The Washington Post. Fauci reportedly sent a polite thank you in response.
To keep healthcare workers safe during the pandemic, the Centers for Disease Control and Prevention (CDC) advises wearing a gown, an N95 respirator, a face shield or goggles and gloves.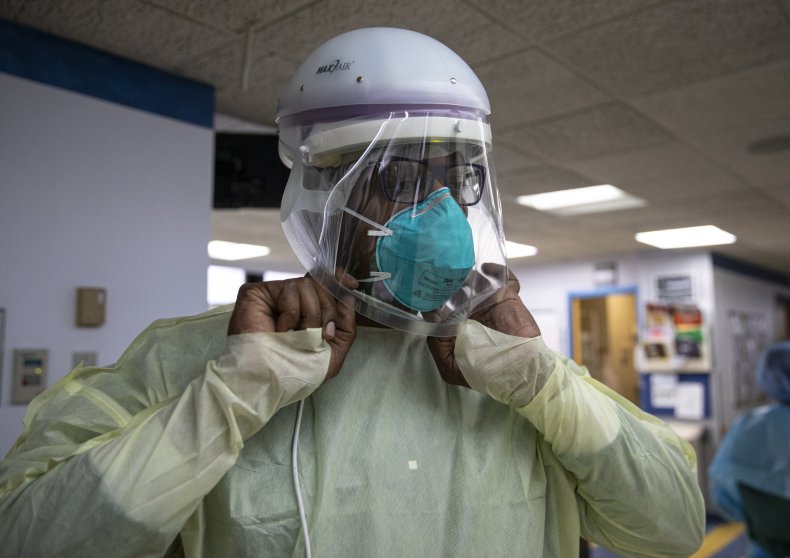 That equipment was in short supply at the start of the pandemic, raising concerns among healthcare workers about their own safety as they worked to save lives. Some facilities were unable to secure N95 respirators, so workers had to use masks instead and in some cases, workers were required to reuse their respirator, which goes against CDC guidance that they should used once and then disposed of.
"To secure the necessary PPE, equipment, and supplies, hospitals reported turning to new, sometimes un-vetted, and non-traditional sources of supplies and medical equipment," a HHS survey from March 2020 found. "Hospitals across the country reported that a shortage of PPE was threatening their ability to keep staff safe while they worked to treat patients with COVID-19."
Contributing to the shortage, according to the survey, was the delay in test results, which required workers to waste PPE on non-COVID patients, supply chain disruptions and insufficient supplies from the Strategic National Stockpile.
Former President Donald Trump blamed the depleted national stockpile on his predecessors and championed his ability to increase domestic manufacturing of PPE and other supplies. By summer 2020, administration officials were dismissing concerns about shortages, blaming hospitals for stockpiling supplies and governors for not stepping up to the plate.
Nine months after the pandemic began, America started rolling out COVID-19 vaccinations. While it represented a turning point for many, in December, health care workers continued to express concerns about a lack of PPE.
"Our days are filled with fear and doubt," Chris Rubesch, a nurse in Minnesota, told the New York Times. "It's like driving a car without seatbelts."
As of May 24, there was still a shortage in PPE, according to the Food and Drug Administration (FDA), and the agency expected it to continue for the duration of the pandemic.
Other questions Fauci fielded during March and April 2020 focused on whether people could become infected with COVID-19 from a corpse, if masks and gloves were effective, and if people who had been taking hydroxychloroquine, a treatment Trump pushed, for lupus had contracted the virus.