Trump Says Amy Coney Barrett, Barbara Lagoa Among Potential Nominees for Supreme Court
President Donald Trump told reporters Saturday that not only will he likely nominate a replacement for the late Supreme Court Justice Ruth Bader Ginsburg this week, but that his choice will likely be a woman.
"We want to respect the process. I think it's going to go very quickly, actually," Trump told reporters, adding that his nominee will "most likely" be a woman. He also mentioned two potential nominees, Amy Coney Barrett, who he said was "very highly respected" and Barbara Lagoa, who he described as "an extraordinary person. I've heard at length about her. She's Hispanic and highly respected."
Both judges are Trump appointees. Lagoa, 52, was nominated to the 11th Circuit Court of Appeals in 2019. Barrett, 48, was nominated to the 7th Circuit in 2017.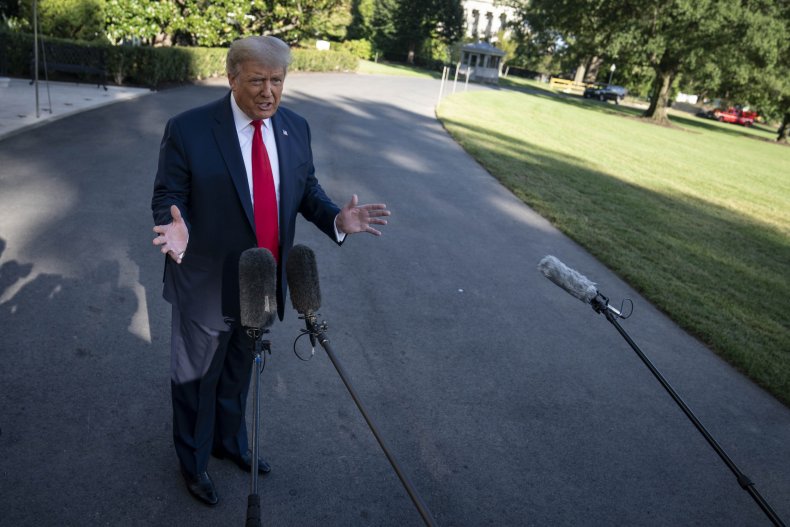 Lagoa previously served on the Florida State Supreme Court prior to being tapped for the 11th Circuit. She was the first Latina judge on that court, and was confirmed by the Senate by a wide margin, with 80 senators approving her and 15 rejecting.
Earlier in her career, Lagoa worked as a pro bono lawyer for the family of Elián González, the little boy at the center of a 2000 custody battle between his Cuban father who wanted the boy to return to Cuba with him, and his great uncle, who wanted González to remain in the United States as a citizen.
After this case, Lagoa became a federal prosecutor, and served on a Florida appeals court before Republican Governor Ron DeSantis named her to the state's top court.
Barrett, however, was originally a legal scholar at Notre Dame Law School before joining the 7th Circuit. Her confirmation vote was much closer, 55-43. She is known for having strong conservative views tied to her Catholic faith, according to Reuters.
Barrett was also on the shortlist to replace Justice Anthony Kennedy, although that seat eventually went to Justice Brett Kavanaugh. In addition to being a legal scholar, she was a former court clerk for conservative Justice Antonin Scalia. She is known for her strong anti-abortion views.
If Trump picks either Lagoa or Barrett, they would become the youngest justice currently on the Supreme Court. The current youngest justice is Neil Gorsuch, 53, who was appointed at the beginning of Trump's term to replace the late Scalia.
While Scalia died during former President Barack Obama's term, Senate Majority Leader Mitch McConnell refused to hold a confirmation hearing for Obama's pick, Judge Merrick Garland, saying that a president with a year left in his term should not be allowed to appoint a new justice before an election.
This precedent has caused controversy, as McConnell said Friday night, after Ginsburg's passing, that "President Trump's nominee will receive a vote on the floor of the United States Senate." There are fewer than 50 days before the election.