Trump Becomes a Nazi, Complete With a '45' Swastika, on a California Billboard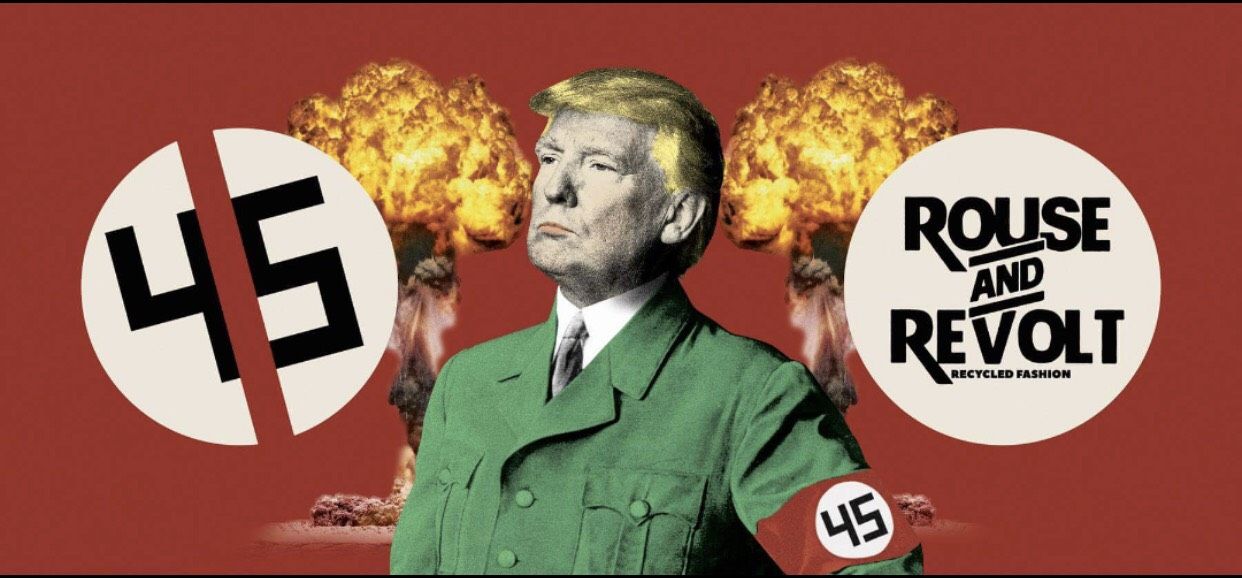 A fashion store in a small, conservative California town put up a billboard on Wednesday afternoon that compares President Donald Trump to Hitler — and you can imagine how well that went.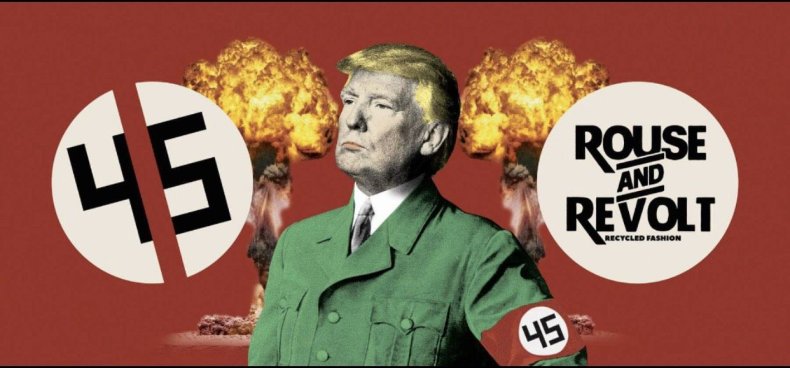 Rouse & Revolt owner Nicholle Lewis told Newsweek that she didn't sleep much last night. Her phone wouldn't stop going off with the persistent buzzing of death threats for her sign, which stylizes the number 45 into a swastika and features Trump posed in a Hitler-esque stance.
"I'm living in a small, podunk red town and I'm already getting death threats," said Lewis, whose store is in right-leaning Chico, population 90,000. "My business has completely floundered. Overnight I had more one-star reviews than all the reviews I've received in a year."
The sign was up for less than 24 hours before Stott Outdoor Advertising took it down amid a backlash that featured online attacks.
"WOW you have some cute clothing," someone posted on the store's Facebook page. "I never heard of your business until you put up your poster board. I would never support your business because clearly you are a divider and a hater."
Lewis said one man told her that if she didn't hang herself, he would do it for her.
But Lewis said she's standing behind her beliefs.
"I don't necessarily think that just because I'm a business doesn't mean I can't mix my beliefs," Lewis said. "That's a common misconception that you can't mix politics and business. ... I have a platform and I'm going to use it."
Lewis has used the billboard at the corner of Third Avenue and Mangrove Avenue all year, though this is the first time she's made it political.
"He is not presidential, he is not a president," Lewis said. "He is a celebrity who was born into money. And he's a Nazi sympathizer. I am going to stand behind my beliefs regardless."
Lewis said she has been getting some support, too.
"Bravo for your courage in standing up for our rights and against a narcissistic bully," a fan of the poster wrote on Facebook.
Lewis said she plans to fight to get the billboard restored.
Jim Moravec, the general manager of Stott Outdoor Advertising, told Newsweek that the company took it down because "a lot of people misinterpreted the billboard and who the speaker was."
"I should have not accepted the ad in the first place," Moravec said, adding that the sign looked more like a call for action than an ad for the clothing store.
He said he would consider an alternate message if it more clearly stated that it was an advertisement for the store.