MSNBC Host Chris Matthews Compares Donald Trump to Hitler, Says Both Manipulate Truth
Chris Matthews, MSNBC host and former chief of staff to House Speaker Tip O'Neill, on Monday compared President Donald Trump's rhetoric about investigations into Russian meddling in the 2016 elections to Adolf Hitler deceiving Germans about the invasion of Poland.
"I guess it's like the Germans believe the name we never can quote or mention said that Poland invaded Germany. That's why World War II started. Poland invaded Germany, remember? He was able to get away with that baby," said Matthews during a segment on Hardball with Chris Matthews Monday evening.
This is not the first time Matthews has drawn highly unflattering comparisons between Trump and dangerous political figures. In 2015, Matthews likened the president's treatment of reporters to that of Saddam Hussein's.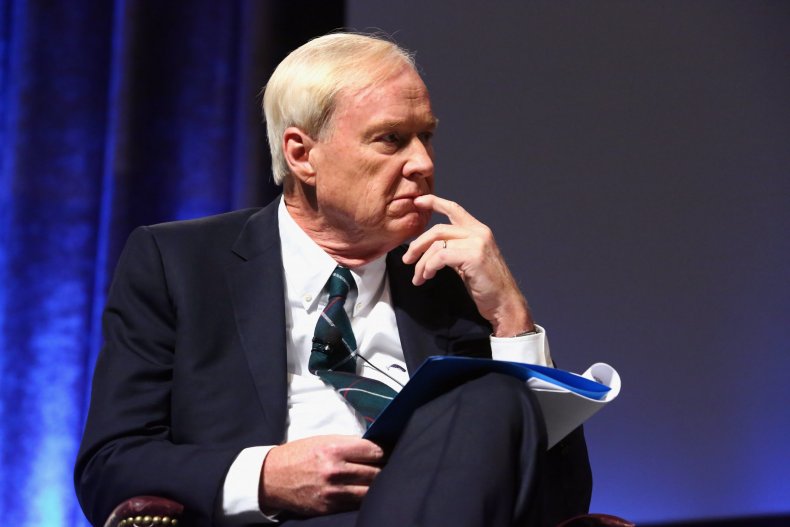 "It's almost like you used to read about in the days of Baghdad under Hussein, where you didn't want to be in a restaurant with one of his kids, because they might make eye contact with you and you might make eye contact with one of their girlfriends at the time, and you're dead the next day," he said. Matthews has also compared Republican Senate leader Mitch McConnell to Hussein.
Earlier this month, New York Congresswoman-elect Alexandria Ocasio-Cortez compared migrants denied asylum at the U.S. border to Jews fleeing Germany around the time of the Holocaust. Seeking asylum "isn't a crime," she said. She added that "It wasn't [a crime] for Jewish families fleeing Germany. It wasn't for targeted families fleeing Rwanda. It wasn't for communities fleeing war-torn Syria."
Victims of the Holocaust were denied entry into the United States when they attempted to flee Germany aboard the S.S. St. Louis. Many fleeing Syria were also denied entry into the United States.
Senator and Trump ally Lindsey Graham took offense to Ocasio-Cortez's comparison. "I recommend she take a tour of the Holocaust Museum in D.C. Might help her better understand the differences between the Holocaust and the caravan in Tijuana," he tweeted.
"During the 1930s and 1940s, the United States, along with the rest of the world, generally refused to admit Jewish refugees from Nazism due to antisemitic and xenophobic attitudes, harsh economic conditions, and national security fears," the United States Holocaust Memorial Museum wrote in a statement after President Donald Trump instituted a travel ban from certain Arab countries in the early days of his presidency.
After Graham's comments, representatives from the Auschwitz Memorial tweeted this statement. "When we look at Auschwitz we see the end of the process. It's important to remember that the Holocaust actually did not start from gas chambers. This hatred gradually developed from words, stereotypes & prejudice through legal exclusion, dehumanisation & escalating violence."