Trump Hits the Campaign Trail in New Hampshire, While Biden Maintains Social Distance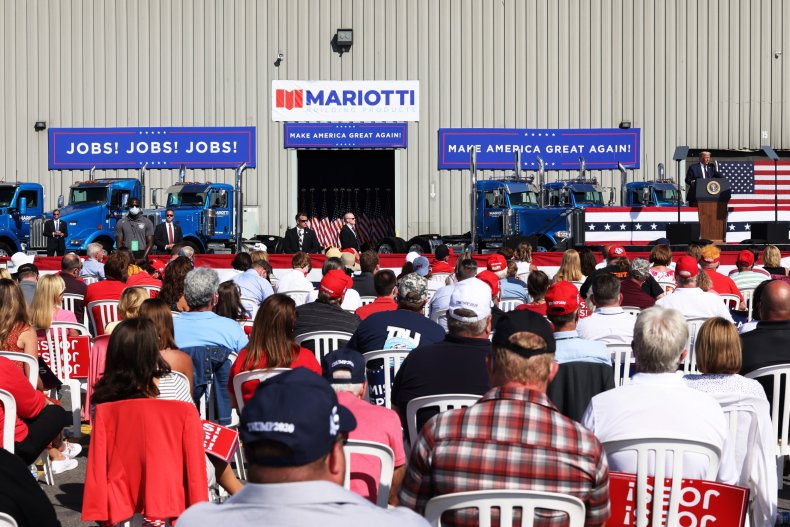 President Donald Trump is wasting no time returning to the campaign trail after accepting the GOP presidential nomination this week. Trump is set to hold a general admission rally in an airplane hangar in New Hampshire less than 24 hours after delivering a speech on the White House lawn in front of a packed crowd of nearly 2,000 people.
Meanwhile, Vice President Mike Pence is heading to separate campaign events in Minnesota and Michigan today.
It's all part of the Trump campaign's plan to galvanize his base and strike a contrast with his Democratic rival Joe Biden, who has mostly avoided in-person campaign events since the coronavirus pandemic took hold in March.
Biden is expected to resume some small-scale events in key battleground states in the coming weeks, but the Trump campaign has taken turns mocking "Hidin' Biden" for staying in his Delaware home and sticking to virtual events from his home basement studio.
"He's in his basement," Trump told a crowd of supporters in Minneapolis last week. "He just doesn't come out."
Earlier this month the Trump campaign released a digital ad that featured heavily manipulated images of Biden to make it appear as if he were in a basement. Over the images, a narrator says, "Deep in the heart of Delaware, Joe Biden sits in his basement. Alone. Hiding. Diminished."
With a big lead in most polls, Biden had no in-person campaign events this week as Republicans took turns bashing him during the convention to formally nominate Trump for four more years. It remains to be seen what effect it could ultimately have on the direction of the race.
Democratic candidates John Kerry in 2004 and Michael Dukakis in 1988 both followed a similar playbook and ultimately lost, after Republicans sharpened their attacks against them.
Biden told supporters during a virtual fundraiser Thursday evening that he would begin holding in-person events in battleground states after Labor Day but would strictly adhere to state regulations on gatherings, and wouldn't be holding Trump-styled, large-scale rallies.
"One of the things we're thinking about is I'm going to be going up into Wisconsin, and Minnesota, spending time in Pennsylvania, out in Arizona," Biden said. "But we're going to do it in a way that is totally consistent with being responsible, unlike what [Trump]'s doing."
Polls have consistently shown Republicans tend to say they are more comfortable with certain activities and large gatherings despite the coronavirus, while Democrats remain less comfortable.
"What we're working on is how I get out," Biden said during the fundraiser, which was hosted by the president of the Illinois Trial Lawyers Association. "I'm going to be traveling throughout the country where I can do it consistent with the state rules about how many people can be assembled."
Biden said he misses opportunities for retail politics.
"I'm a tactile politician," he said. "I really miss being able to, you know, grab hands, shake hands. You can't do that now. But I can in fact appear beyond virtually, in person, in many of these places."
During a Trump campaign event near Biden's hometown of Scranton last week, Trump addressed a restricted crowd of nearly 300 supporters--many in "Make American Great Again" caps and dressed in red, white and blue.
About half of the audience, who were selected guests of the campaign and the building supply company that hosted the outdoor gathering, wore face coverings, including MAGA and Trump-themed masks. Outside of the event's perimeter, hundreds more lined the streets and cheered and waved flags as the motorcade passed.
"When you see this crowd, this kind of enthusiasm, there's nothing like it," Trump said. "We're going to win this, and I think we're going to win very big."