Donald Trump Had Hope Hicks Recap 'Morning Joe' Daily After He Refused to Watch 'Out of Pique,' Book Says
​​President Donald Trump reportedly made one of his longest-serving advisers at the time, Hope Hicks, tell him what happened on a news show he hates, MSNBC's Morning Joe, every morning after he refused to watch it, according to a new book.
Hicks, who resigned as White House Communications Director in March 2018, comes up in an excerpt of New York Times TV critic James Poniewozik's book Audience of One: Donald Trump, Television, and the Fracturing of America, set to be released on Tuesday. In the excerpt, published by Vanity Fair on Wednesday, Poniewozik references journalist Michael Wolff's account of Trump in his 2018 book Fire and Fury: Inside the Trump White House.
"He would refuse to watch MSNBC's Morning Joe out of pique, then have his 28-year-old assistant Hope Hicks—formerly a PR aide to Ivanka Trump—tremulously recap the show for him every morning," Poniewozik writes, then includes in parenthesis, "Wolff got White House access in the first place because Trump had seen him say nice things about him on CNN's Reliable Sources."
Poniewozik highlights the apparent importance of Morning Joe to Trump mind in another section of the excerpt involving Democratic Representative Elijah Cummings, who is chairman of the House Oversight Committee and has taken part in investigations of the president's administration and finances.
"Maryland representative Elijah Cummings, seeking a meeting with Trump about opioid abuse, said on Morning Joe: 'To the president: I know you're watching, so I'm looking forward to meeting with you,'" Poniewozik wrote. "That morning, Trump called him."
Trump, who cares deeply about ratings, has bashed Morning Joe co-hosts Joe Scarborough and Mika Brzezinski. The liberal hosts have been particularly critical of Trump and his administration.
Poniewozik's book looks at Trump's long relationship with television—controlling it and being controlled by it.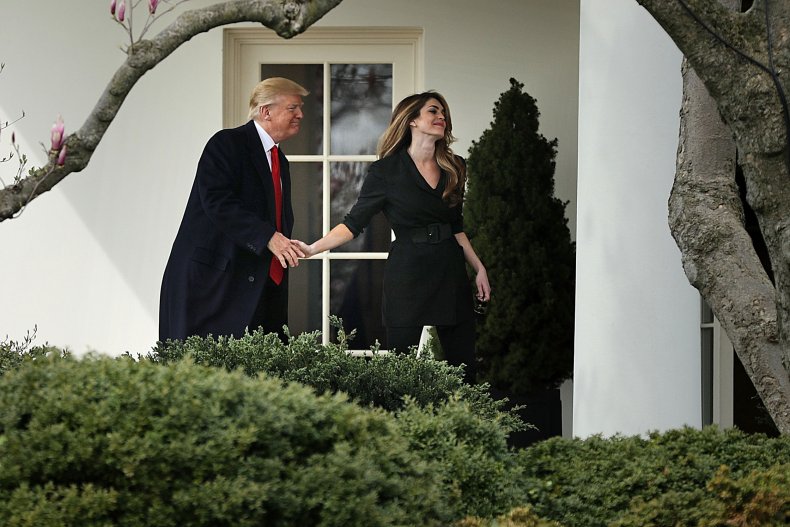 Hicks served as a 2016 presidential campaign aide for Trump and moved on to White House strategic communications director and acting White House communications director before taking on the communications director role in September 2017. Though Hicks, a former model, had no prior experience in politics, she grew to be among the few aides who understood the president and challenged his views when she disagreed.
"Hope is outstanding and has done great work for the last three years. She is as smart and thoughtful as they come, a truly great person," Trump said in February 2018 when Hicks announced her resignation. "I will miss having her by my side, but when she approached me about pursuing other opportunities, I totally understood. I am sure we will work together again in the future."
In June 2019, Hicks appeared before the House Judiciary Committee to answer questions about special counsel Robert Mueller's probe into Russian interference and possible collusion with the Trump campaign. Last month, Hicks stood by her testimony about hush money payments during the campaign despite House Democrats' demands that she clarify discrepancies.