Trump Hosts Historic Meeting With President of Uzbekistan, Who Could Help Broker Peace With Taliban
Uzbekistan's President Shavkat Mirziyoyev arrived in the U.S. on Wednesday for the first time since he rose to power in 2016, and was welcomed personally by President Donald Trump. The high-profile reception comes as the U.S. looks to bolster economic and military ties with the country that lies to the north of Afghanistan.
"It's a great honor to have the President of Uzbekistan with us. He's a highly respected man in his country and...We've been working very closely together on different things, including trade. They've actually made investments here. We make investments there," Trump said about Mirziyoyev during a meeting in the Oval Office.
"We're working together from the standpoint of the military, including his purchase of equipment and military equipment from the United States," Trump continued.
Under the late autocrat Islam Karimov, who ruled the former Soviet Union country from 1989 until his death in 2016, Uzbekistan was isolated from most of the world. Only Russia, which has worked to maintain its influence in formerly Soviet Central Asian republics like Uzbekistan, maintained close ties with the insular country, which was known for locking up dissidents and regime critics while using forced child labor to produce its main export, cotton.
But following Karimov's death, Uzbekistan has experienced its own version of Gorbachev's glasnost, or opening up, and the Trump administration hopes to capitalize on this to rebuild ties with a country whose geography makes it strategically useful for the U.S.
"We see this visit as historic. We are seeking deeper economic and trade ties. We hope to work closely on human rights issues," a senior administration official told Newsweek on condition of anonymity. "We're cautiously optimistic. You don't always get this type of opportunity."
The administration hopes that Uzbekistan will be useful in fostering peace in Afghanistan, where American troops are helping government forces fight both the Taliban and the Islamic State. Uzbekistan's capital Tashkent has been floated as a potential location for a meeting between Afghanistan's government and the Taliban. Leaders of around 20 countries met in Tashkent in March and publicly gave their support for Afghanistan's government to negotiate with the Taliban. And leaders of Afghanistan and Uzbekistan recently signed a stack of trade agreements.
Now that the U.S. relationship with Pakistan is deteriorating, Washington needs new allies in the regions close to the border with Afghanistan. But many human rights defenders say that Trump should use the meeting to push for democratic reforms and human rights, including an end to religious persecution and the release from prison of political opponents.
There has been some progress, as Uzbekistan began slowly releasing political prisoners following Karimov's death. Just last week, the country cleared jailed journalist Bobomurod Abdullayev of conspiracy charges. It's also made cautious steps to move away from a state-controlled economy and toward a market-driven one, and administration officials said Uzbekistan's recent decision to accredit Voice of America— a U.S. government-funded broadcaster— to work in the country was a positive sign.
"This is a country which has a very clear idea of where it wants to go, a very clear vision of the transformation that is required, not just on the economic front—which is probably what gets a lot of the headlines—but also on the legal, judicial, social and political front. When I say political, I mean foreign policy, but also compacts between a government and its citizens," Helena Fraser, a representative of the United Nations Development Program for Uzbekistan, said in an interview Wednesday with the development group Devex.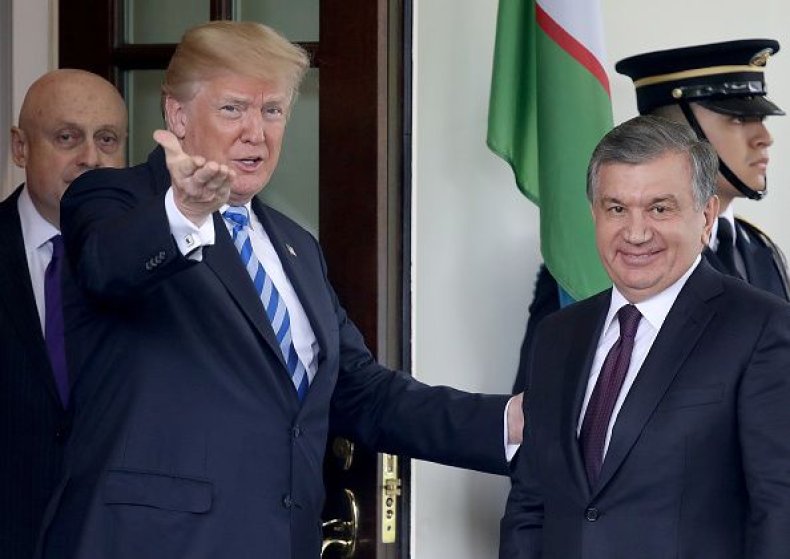 During a trip to Washington the same week, Uzbekistan's Minister of Justice told the publication The Diplomat that the country is hoping to crack down on impunity among law enforcement and state officials. Human rights groups, meanwhile, have also expressed cautious optimism over Uzbekistan's reforms.
"President Mirziyoyev has introduced a number of wide-ranging political and economic reform proposals, designed to end past isolationist and repressive policies. The government's release of multiple imprisoned human rights defenders, journalists, and activists, including last week's release of Bobomurod Abdullayev, has been welcomed by Amnesty," Margaret Huang, executive director at Amnesty International USA, wrote in a letter to Trump, urging him to raise the issue of human rights abuses with the Uzbek leader.
"Nonetheless, President Mirziyoyev must do more to protect Uzbekistanis' human rights, including guaranteeing freedom of movement, implementing prohibitions against torture, protecting freedom of religion and protecting the rights of LGBTI people," the letter added.
Administration officials have said that Trump will likely discuss human rights with Mirziyoyev behind closed doors. They will also focus on how to bolster military cooperation between the U.S. and Uzbekistan, including through joint military exercises and training, and on counter-terrorism operations in the region.