Trump Hotel Liquor License Should Be Revoked Because of His Lack of 'Good Moral Character,' Say D.C. Residents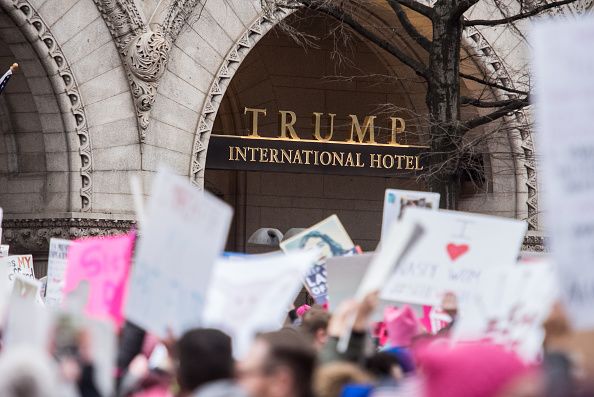 A local neighborhood commission in Washington, D.C. is working to revoke a Trump International Hotel liquor license, alleging that the president is not of "good moral character."
Advisory Neighborhood Commission 4C (ANC 4C), which serves areas of northwest Washington D.C., unanimously voted to support a petition that would prohibit Trump's luxury hotel from serving alcohol. The commission's reasoning is that the law requires that liquor licensees be of "good moral character," and President Donald Trump has not reached that standard.
"We would be taking a similar action towards any high-profile community member that has a long, detailed public history of dishonesty, civil and criminal accusations," Zach Teutsch, a commissioner in ANC 4C, told Newsweek Friday.
Teutsch added that since the commission took action, he has received "huge amounts of support" from area residents who are happy that they are "thinking creatively and taking a stance on an important issue."
The commissioners are supporting an original complaint filed by seven residents, including three reverends, two rabbis and two retired judges. The original complaint, filed in April, stated that "Donald Trump, the true and actual owner of the Trump International Hotel, is not a person of good character."
The complaint claimed that Trump's behavior before and during his presidency demonstrated a lack of honest and integrity, and that he has mistreated those less powerful and fortunate than himself. It cited many instances in which the president was dishonest with the public, specifically his false and contradictory statements about the alleged "hush payments" made to adult film star Stormy Daniels.
For an example of Trump's lack of integrity, the complaint pointed to his participation in the purported fraud committed against students of Trump University. "Trump, who might have tried to distance himself from the tactics alleged in the suits, instead repeatedly denied the fraud claims and consistently insisted that he would win the case at trial," the document read.
Trump eventually settled in the case shortly after winning the election, paying $25 million to defrauded customers of the real estate seminar program.
In its conclusion, the complaint stated that the revocation of the Trump International Hotel liquor license would be in the public's best interests, because there are "no conditions" that would assure D.C. residents that "Mr. Trump, a person who lacks good character, will suddenly become a person of good character."
The next step is for the Alcoholic Beverage Regulation Administration to review the complaint, which it is required to do within 90 days of its filing.
The news of the complaint came as other Trump businesses made headlines for missing and late payments. According to a Washington Post report, the president's company has missed deadlines to pay property tax bills in five states over the past year, costing it over $60,000 in penalties.