Trump Conflict of Interest? 86 Percent of RNC's Venue, Catering Last Month Went to President's Properties
The Republican National Committee would certainly appear to enjoy properties bearing the president's name.
The committee reportedly spent about $271,000 between the Trump National Doral Miami resort in Florida and the Trump International Hotel in Washington D.C. last month, equivalent to 86 percent of its expenditures for its "venue and catering," The Washington Post reported on Wednesday citing Federal Election Commission filings. Roughly $205,000 of that total was spent in at the Doral property.
Previously, the RNC had spent $3,000 on catering at the Doral resort in December of last year. Otherwise, the committee had not dropped a dime at the property for the 2017-18 election cycle, The Post reported.
Such spending at Trump properties is likely to again raise questions about what line the president had drawn between the White House and the Trump Organization. Trump placed his assets in a trust before taking the Oath of Office but can also draw money from it any time he chooses, while his sons remain in charge of the company's day-to-day operations with no apparent input from dad.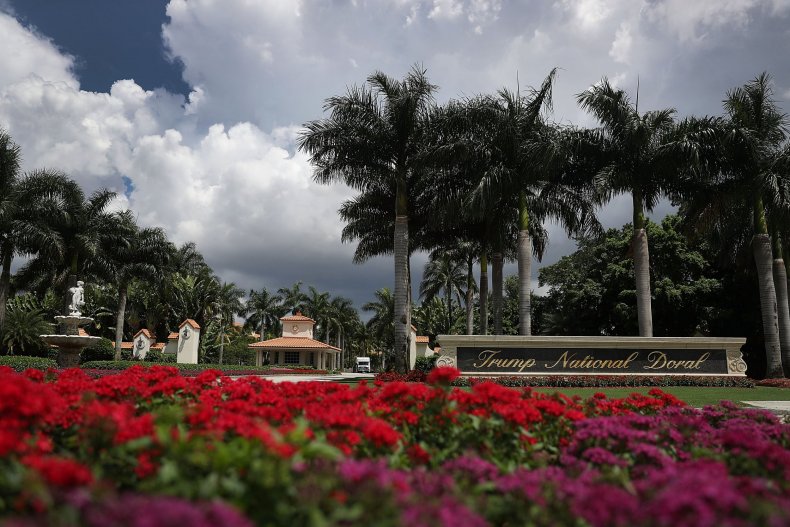 Still, Trump's trips away from Washington to his own properties have caught similar flak. In August of last year, the Secret Service had to shell out roughly $185,000 for the president's "working vacation" at his Bedminster, New Jersey golf club.
What exactly the RNC spent the funds on last month is unclear, however, it reportedly plans to host its spring meeting at the Doral property in May and even told those invited that they could be offered special rates to play the resort's golf courses.
"Many of you have expressed interest in playing the various golf courses at the Trump Doral. The RNC is pleased to offer special rates for our Spring Meeting attendees. Attached is a flyer which details pricing information and the best way to book a tee time," a committee official wrote in an email obtained by the Washington Examiner.
The RNC, headed up by chairwoman Ronna Romney McDaniel, has been on a fundraising surge of late. McDaniel announced Tuesday that the committee had raised a record $12.8 million last month, setting a new record for February, to take its haul for the current election cycle to $157.7 million, with $42.4 million in cash on hand and no debt.