President Donald Trump's White House celebrated on Thursday what it called a "historic recovery effort" in Puerto Rico on the anniversary of Hurricane Maria, which led to the deaths of 3,000 people.
"The Federal Government has helped lead a historic recovery effort in Puerto Rico in the year since Hurricane Maria hit," read a news release from the White House.
The post included comments thatTrump had made earlier in the week at a Hispanic Heritage Month celebration.
"And we stand with Puerto Rico, and we are helping them to rebuild stronger and better than ever before," he said.
The White House fact sheet detailed the amount spent on recovery from Hurricane Maria, which left thousands without power for months, damaged hundreds of thousands of homes and left thousands having to abandon the U.S. territory to move to the mainland.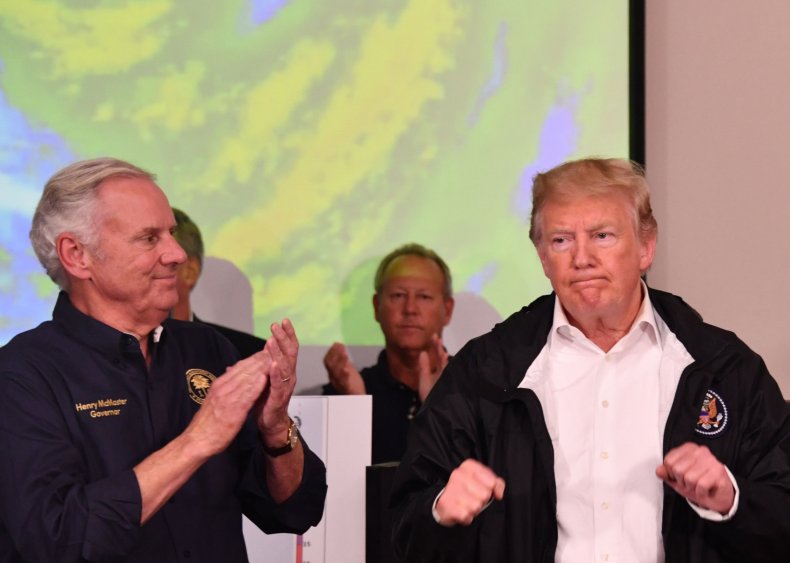 The federal government has been widely criticized for its response to the devastating storm, both from officials on the island and on the U.S. mainland. Trump raised further ire last week when he tweeted a series of false claims disputing the death toll from the Category 4 storm.
"3000 people did not die in the two hurricanes that hit Puerto Rico," Trump tweeted. "When I left the Island, AFTER the storm had hit, they had anywhere from 6 to 18 deaths. As time went by it did not go up by much. Then, a long time later, they started to report really large numbers, like 3000."
He continued: "This was done by the Democrats in order to make me look as bad as possible when I was successfully raising Billions of Dollars to help rebuild Puerto Rico. If a person died for any reason, like old age, just add them onto the list. Bad politics. I love Puerto Rico!"
Trump's claims, which came as Hurricane Florence was about to hit the Carolinas, lacked factual support. The official government death toll from Hurricane Maria was updated to 2,975 last month following a report from George Washington University. The study was commissioned by Puerto Rican Governor Ricardo Rossello, and the findings were supported at the time by the White House as an effort to "ensure a full accountability and transparency of fatalities."
Trump, who has blamed the island's leaders and facilities for the scale of the destruction from the hurricane, has continued to make false claims about the death toll, angering officials on the island.
"Neither the people of Puerto Rico nor the victims deserve their pain to be questioned," Rossello, who has otherwise been reluctant to criticize the federal government's response, told CBS News.