Trump's 'Public Defiance' on Hurricane Oversight is in 'Stark Contrast' to Bush White House, Say Democrats
As Congress investigates the Trump administration's preparedness and response to hurricanes that devastated regions across the United States in 2017, House Democrats accuse the White House of stonewalling their efforts to receive information.
The White House has not produced a "single piece of paper" in response to the House Oversight Committee's requests made May 6, according to a letter sent by Chairman Elijah Cummings and Representative Harley Rouda, both Democrats, to Acting White House Chief of Staff Mick Mulvaney on Monday and revealed by the committee Tuesday.
The Oversight Democrats further said that by the White House refusing to produce any documents about the handling of Hurricanes Maria and Irma, it underscored the administration's break from normalcy when compared to how President George W. Bush, a Republican, handled congressional inquiries into the devastating impacts of Hurricane Katrina.
Cummings' committee is investigating the Trump administration's alleged lack of preparation and subsequent poor handling of the large-scale shortage of food, water and shelter that resulted from the hurricanes, among other things.
"Your actions stand in stark contrast to the Bush Administration, which produced tens of thousands of documents in response to a nearly identical request," the Democrats wrote to Mulvaney. "The only difference is that far more people died in Puerto Rico in 2017 than as a result of Hurricane Katrina in 2006."
Katrina occurred in 2005, not 2006.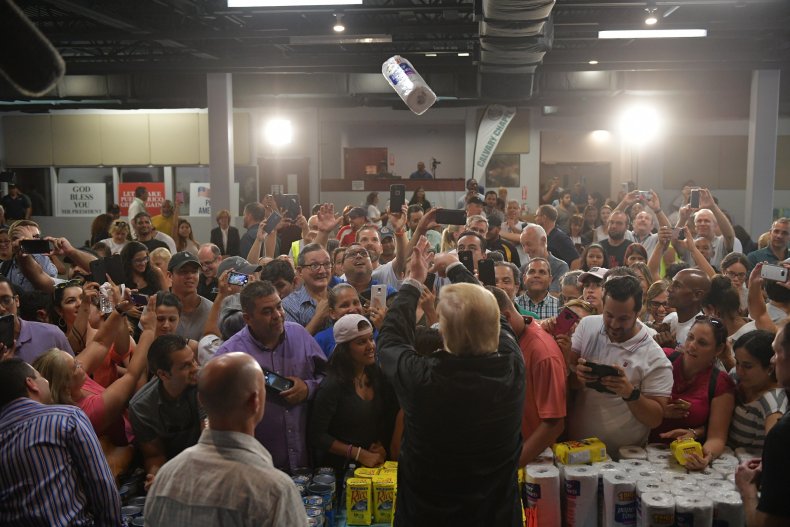 The same document requests made by the Republican-controlled committee in October 2017 immediately after the natural disasters also went ignored by the White House, according to Cummings and Rouda.
However, a GOP spokesperson for the committee told Newsweek that was not the case. They said the Trump White House produced thousands of pages of documents in response to Republicans' requests, something an Oversight Committee Democratic staff report made note of in September 2018.
"Just last year, Oversight Democrats acknowledged that the Trump Administration had already turned over more than 17,000 documents related to the Committee's hurricane investigation," the Republican spokesperson said in a statement. "Although the Committee has already held two hearings on hurricane response efforts, interviewed numerous witnesses, and been in regular contract with [the Federal Emergency Management Agency], nothing from the Administration will satisfy Chairman Cummings unless it furthers Democrats' impeachment efforts."
The White House did not immediately respond to request for comment.
Due to the alleged "complete refusal" by the White House to produce documents, the Democrats went on to threaten that the committee "will have no choice but to seek compulsory process," which could include legislative action that would establish certain steps the federal government must take before and after a hurricane strikes.
Hurricane Maria, a storm that slammed the island nation of Puerto Rico in September 2017 as a Category 4 with winds topping 150 m.p.h., resulted in nearly 3,000 Puerto Rican deaths, according to the local government. In its aftermath, many residents spent prolonged periods without fresh drinking water or power, a condition that still persisted for some even one year after the storm.
Trump has repeatedly claimed—falsely—there is "no way" the death toll could be that high, and reports have suggested he's sought to divert federal relief funds away from the U.S. territory because he believed the money would be used to offset some of Puerto Rico's debt.
As it swept across the Caribbean toward the continental United States in early September just weeks before Maria, Hurricane Irma hit the U.S. Virgin Islands as a Category 5 storm before continuing on to impact Puerto Rico and eventually make landfall in the Florida Keys as a Category 4. Irma's final death toll was 129 people.
Hurricane Katrina, which hit the coast of Louisiana as a Category 3 storm that resulted in massive amounts of flooding, killed more than 1,800 people.
"It is unacceptable for the White House to completely ignore valid requests from this Committee, particularly when they are based on strong, clear, and bipartisan precedents, and especially when they relate to the death of thousands of American citizens," Cummings and Rouda wrote.
This story was updated to provide comment from a Republican spokesperson for the Oversight Committee.