Did Trump Seek to Cash in From Texas Hurricane Visit by Sporting $40 Campaign Merchandise Cap?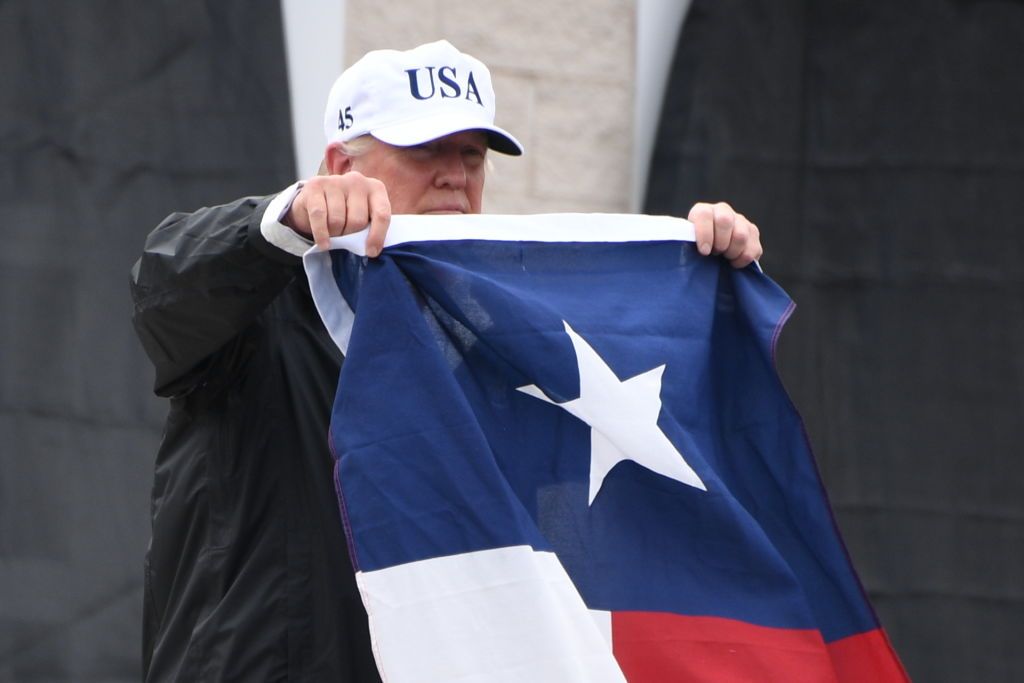 President Trump's former ethics chief said the president's decision to show off a $40 Trump campaign merchandise baseball cap on a visit to storm-struck Texas raises ethics concerns.
The president was pictured wearing the Official USA 45th Presidential Hats in two pictures released by the White House over the weekend, and in TV footage of an official visit to the state Tuesday. Both hats, described as "Proudly Made in the USA," are sold as merchandise via the Trump campaign website.
"Any ethics issues raised by using official White House press releases on Hurricane Harvey to show off Trump's re-election campaign merch?" tweeted Bloomberg analyst Anna Massoglia early Wednesday.
To which Walter Schaub, former Director of the Office of Government Ethics, simply replied, "Yes."
Earlier, Schaub had criticized a Trump appearance alongside Texas Governor Greg Abbott in which the president wore a white merchandise cap.
The previous day, campaign group Citizens for Responsibility and Ethics in Washington, or CREW, questioned whether Trump was seeking to use the pictures to advertise the hats.
"Even removed from the hurricane, it's pretty inappropriate," CREW spokesman Jordan Libowitz told CNN.
He stopped short of accusing Trump of breaking ethics rules though, saying: "There is a difference between what is technically legal and what is ethically right."
Newsweek has reached out to the White House for comment.
After his election as president, Trump did not sell off his business holdings, but instead put them under the administration of a trust operating in his name. Profits will be paid to him after he leaves office.
Schaub, who was appointed government ethics chief in 2013, accused Trump of reducing America to a "laughing stock" when he left the office in July.
He slammed the president for unprecedented conflicts of interest, and for not disentangling himself from them.
"It's hard for the United States to pursue international anti-corruption and ethics initiatives when we're not even keeping our own side of the street clean. It affects our credibility," Shaub told The New York Times. "I think we are pretty close to a laughing stock at this point."
Apart from questions of conflict of interest, others expressed astonishment at the price of the hats Trump wore, which retail at almost twice that of a New York Knicks cap.