Jury Will See Through Trump's Lawyer's 'Lies', Says Kirschner 
A New York grand jury that is currently hearing evidence in relation to Donald Trump's hush money payment to adult film star Stormy Daniels will be able to see through the "lies" being argued by the former president's lawyers, according to a former federal prosecutor.
Glenn Kirschner, a legal analyst for NBC and MSNBC, was reacting to Trump lawyer Joe Tacopina's recent interview with MSNBC host Ari Melber. On Tuesday, Melber showed Tacopina footage of Trump from April 2018 being asked by reporters whether he knew about the payments paid to Daniels to keep an alleged affair she had with the former President a secret on the eve of the 2016 Election, to which Trump replied, "No. I don't."
Melber suggested that Trump was lying when he suggested that he was not aware of the payment to Daniels. In response, Tacopina defended the former President, claiming he merely was trying not to "violate the confidentiality clause" which would have been in place.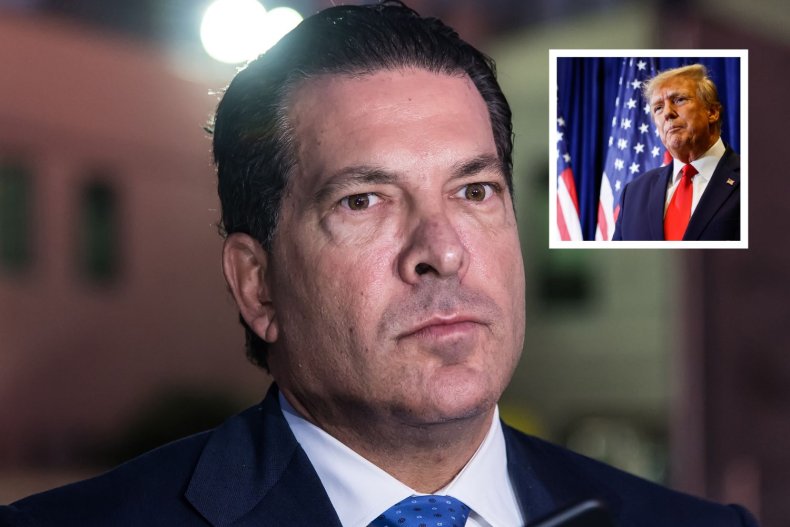 "So is it the truth? Of course it's not the truth. Was he supposed to tell the truth? He would be in violation of the agreement if he told the truth," Tacopina said. Melber suggested that Trump could have responded "no comment" to not violate any agreement rather than falsely deny knowledge of the payment.
Trump later confirmed in May 2018 that he authorized his then-lawyer and fixer Michael Cohen to pay Daniels $130,000 to keep the alleged affair secret, but denied ever having sex with the adult film star whose real name is Stephanie Clifford.
On Tuesday, Kirschner was asked by a Twitter user if Tacopina's defense that Trump was trying not to violate a confidentiality clause proves that the former President was aware of the allegedly "illegal cash payments" to Daniels.
In reply, Kirschner tweeted: "It seems like Trump's lawyer believes if he talks fast enough, people may miss HIS lies. He says in one breath, Trump 'didn't lie,' in another he says Trump 'didn't tell the truth.' Prosecutors will have fun with this. And a jury WILL see right through it."
In response to the criticism, Tacopina told Newsweek: "As far as some lawyer who isn't involved in a case criticizing another lawyer, I can only laugh and say he should get in the game instead of being a sideline critic that clearly has no work and looking for a little attention. My track record with juries speaks for itself."
Cohen is now testifying in the case against Trump as part of the criminal probe led by Manhattan District Attorney Alvin Bragg into allegations the hush money amounted to an improper campaign contribution in violation of campaign finance laws.
Legal experts have suggested that the testimony from Cohen, who was sentenced in 2018 in connection to the hush payments, means there is a "likely" chance that Trump could be indicted as part of the probe.
Also on Tuesday, Tacopina told NewsNation that "it's becoming more probable" that Trump could be indicted as part of the hush payment investigation.
In a separate tweet discussing Cohen's testimony in New York, Kirschner said: "There's no more relevant trial witness than a defendant's partner in crime. Michael Cohen took responsibility for his crimes—crimes he committed at the direction of & for the benefit of Donald Trump. It's now time for Trump to be held accountable."
Trump has frequently denied any wrongdoing in connection to the payments given to Daniels while also attacking Cohen's credentials.
"Racist, George Soros backed D.A., Alvin Bragg, is relying on the testimony of a convicted felon, disbarred lawyer, with zero credibility, who was turned down numerous times by me when he asked for pardons on crimes he committed having nothing to do with 'Trump,'" he posted on Truth Social on March 4.
"But the D.A. doesn't care about that, and he doesn't care about the violent and vicious crimes being committed in Manhattan, which are now at a RECORD LEVEL. He only cares about 'getting Trump.'"