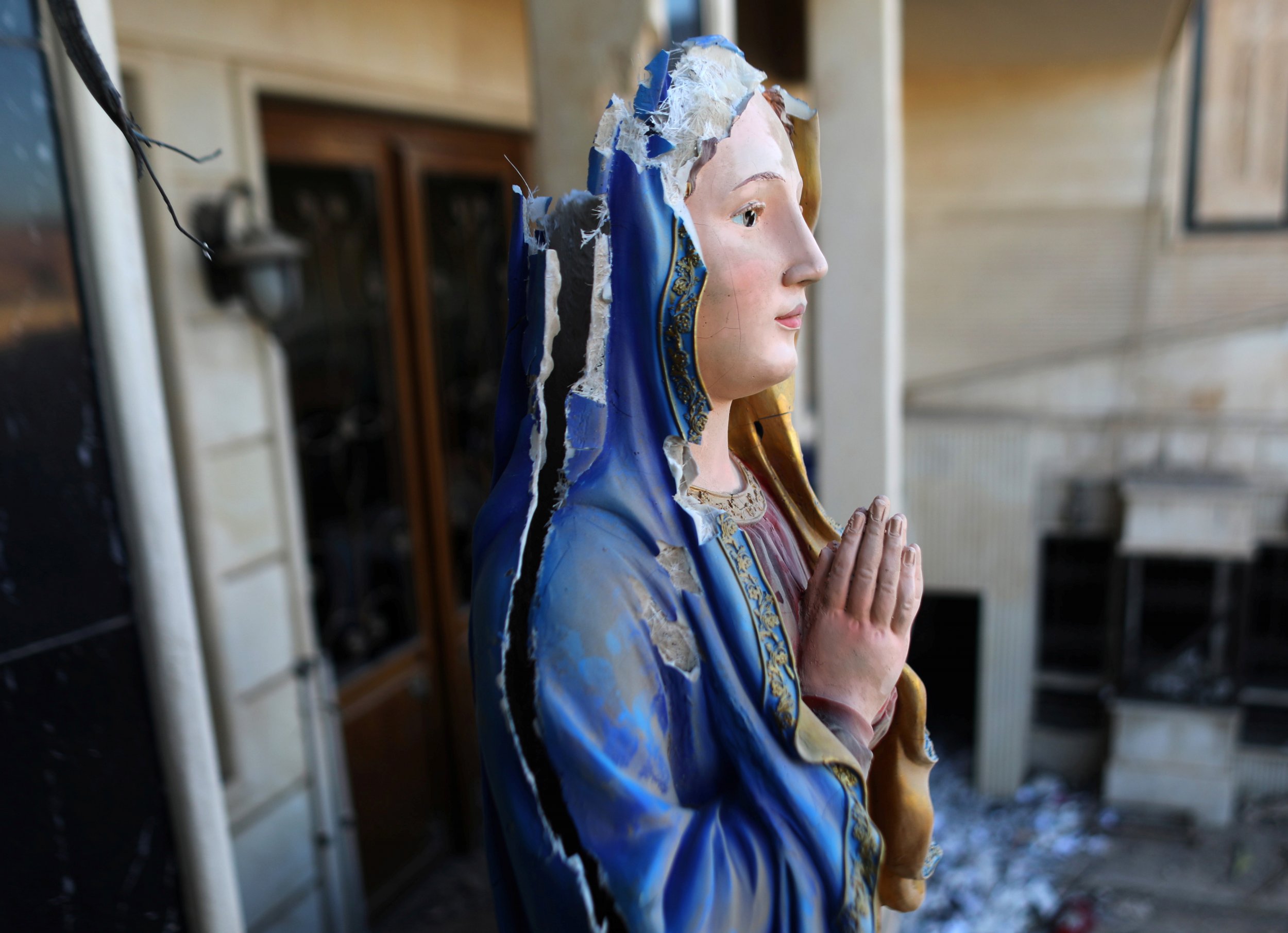 As part of President Donald Trump's ongoing immigration crackdown, the United States wants to deport more than a thousand undocumented Christian Iraqis back to Iraq despite fears of being persecuted, tortured, and even killed for practicing their religion upon their return.
It all stems from a deal that the Trump administration made with Iraq to accept roughly 1,400 undocumented Iraqis slated to be deported by U.S. immigration officials, even though some had been living in the country with spotless records for decades.
Most of the Iraqis believe that the deal effectively amounts to a death sentence.
"The Christian people who live in Iraq, they're scared, they're living in refugee camps. If I go back, I will probably be killed," Jony Jarjiss, an undocumented 57-year-old grandfather from a Christian village north of Mosul who was arrested by Immigration and Customs Enforcement agents in July told Newsweek.
Jarjiss says that his fears of persecution in Iraq are ubiquitous amongst the hundreds of other Iraqi Christians facing deportation.
"We're all afraid," he said. "We have no idea what they're going do to us in Iraq. Say they find out you're from the U.S., it's over, they kidnap you and ask your families for money. We don't want to go back."
That is why the American Civil Liberties Union filed a class-action lawsuit against ICE immediately after the agency began rounding up Iraqis in June, arguing that Iraqis have a right to petition for asylum.
U.S. District Court Judge Mark Goldsmith agreed and issued a preliminary injunction halting the deportations in July. But the Justice Department immediately appealed, claiming the government can immediately deport any immigrant with an order of removal.
"The government wants to send people back without a hearing at an immigration court to determine if it's safe enough to do so," said Miriam Aukerman, senior staff attorney with the ACLU of Michigan. "You can't just deport people who are going to be killed."
Pressed to comment by Newsweek, a spokesperson for Immigration and Customs Enforcement referred back to the agency's previous statements on such deportations. The agency claims that the deportations of Iraqis will protect communities in the U.S. from violent criminals as a majority of Iraqis threatened with deportation have criminal records. There is at least one homicide charge among the crimes, but the ACLU said that 75 percent of detained Iraqis committed only nonviolent crimes years or decades ago.
Some, like Jarjiss, have no criminal record whatsoever.
ICE began rounding up unauthorized Iraqi nationals in June. All had pending removal orders, some dating as far back as 20 years. Most had been convicted of a crime in their youth and had their Green Cards revoked.
But the U.S. did not deport Iraqis during much of Saddam Hussein's reign due to humanitarian concerns. The Iraqi government was also unwilling to issue travel documents for its deported citizens.
That allowed the Iraqis like Jarjiss, who received his deportation order in 1994 for overstaying his visa, to stay in the country as long as they met once a year with ICE officials to determine they had not committed a crime since being initially ordered to be deported. Most started families and became members of the vibrant Iraqi exile community.
For over two decades, Jarjiss and most of the other 1,4000 undocumented Iraqis routinely checked-in with ICE and never violated the terms.
All of that changed in March, when the Trump administration made a deal with Iraq: In exchange for removing it from its updated list of President Trump's travel ban, Iraq would accept the 1,4000 Iraqis scheduled for deportation. The agreement came as a surprise to many, given Trump's campaign promise to open the country's doors to Christians fleeing violence in Iraq—promises that helped Trump win the Iraqi vote in Michigan, a swing-state with a sizable population of Middle Eastern immigrants.
"It was a bait and switch," Nathan Kalasho, a representative for A Demand for Action, an immigrant rights advocacy group in Detriot, told Newsweek.
The deal gave the go-ahead for the mass arrests of Iraqis later that summer. In total, 345 Iraqis were arrested by ICE officer in June and July. All of them remain in detention centers across the country today, according to the ACLU.
On June 15, four days after ICE arrested hundreds of Iraqis in Michigan in a single weekend, the ACLU filed a class-action lawsuit against ICE at the Eastern U.S. District Court in Detroit. The suit argues that "it is illegal to deport the detainees without giving them an opportunity to prove that they could face torture and even death if returned to Iraq."
Judge Goldsmith later blocked the deportations and granted a preliminary injunction request made by the ACLU, barring ICE from deporting the Iraqis for 90 days, ruling that the "significant chance of loss of life and lesser forms of persecution" faced by the Iraqis "far outweighs any conceivable interest the government might have in the immediate enforcement of the removal orders."
The Justice Department appealed, claiming that federal courts do not have a right to halt the deportations and that there is no reason for the Iraqis to reopen their immigration cases given that they already have final orders of removal.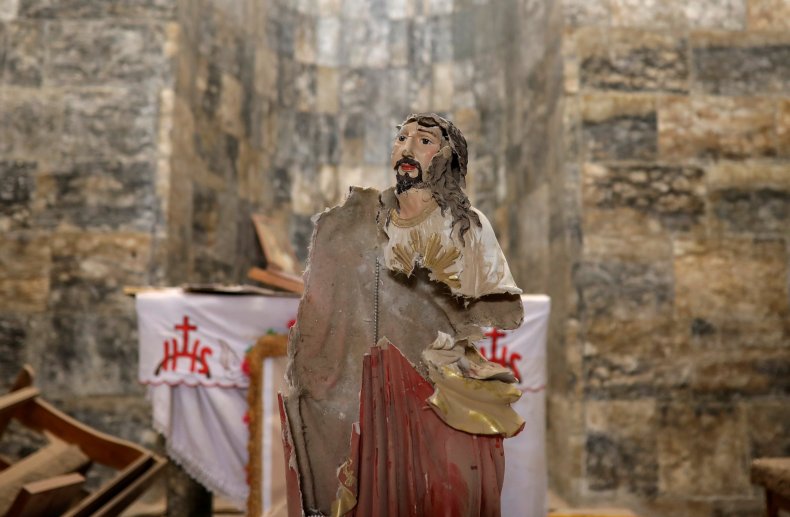 As the appeals make their way through the courts, Goldsmith's injunction has given the Iraqis time to file to have their cases reopened by the Board of Immigration Appeals on humanitarian grounds.
So far, 164 Iraqis have submitted their requests to the BIA, according to the ACLU. Nearly 90 percent of these petitions have been approved. Of the 10 cases that have been fully adjudicated, all of them have been given some form of temporary relief from deportation.
At these appeal hearings, the Justice Department has done its best to prove that Iraq is safe enough for deported Christians to return.
According to court documents obtained by Newsweek, the government has presented testimony from a handful of experts in the region who claim that Christians in Iraq no longer face an existential threat now that the Islamic State has been mostly subdued.
"Iraq is home to vulnerable religious and ethnic minorities facing many post-liberation challenges [but] they do not translate into an appreciable risk of persecution or torture for every Iraqi who is deported from the United States to Iraq, whether that person is a member of a religious or ethnic minority, or not," Denise Natali, director of the Center for Strategic Research at the National Defense University in Washington, D.C., said in her declaration.
Natali's claims were echoed by Michael Rubin, resident scholar at the American Enterprise Institute, who says that the Iraqi government is equipped to protect its Christian citizens.
"Those who target Christians in Iraq can expect to pay the full penalty of Iraqi law," Rubin declared.
But experts presented by the ACLU say that ISIS's departure is only the first step in a long struggle to provide peace and security for Iraq's Christian peoples.
"Areas retaken from ISIS are…characterized by widespread destruction of private property as well as infrastructure and public services. Many homes have been completely looted," said Mark Lattimer, executive director of Minority Rights Group, a non-governmental organization that defends ethnic, religious, and linguistic minorities in more than 60 countries, including Iraq.
"Other homes were completely blown up as ISIS retracted. Christian farms and businesses have also been expropriated, looted, or destroyed, eliminating future sources of income."
Many senior members of the Trump administration also agree that the situation in Iraq still remains unsafe for Christians.
In October, Vice President Mike Pence, a staunch Evangelical, said at an annual Christian convention that the U.S. would usurp the United Nations and provide more direct aid to Christians in Iraq.
"Here is the sad reality," he said. "The believers in Nineveh Iraq have had less than 2 percent of their housing needs addressed and the majority of Christians and Yazidis remain in shelters. Projects that are supposedly marked finished have little more than a UN flag hung outside an unusable building, in many cases a school."
Pence went on to reassert Trump's campaign promise to aid persecuted Christians across the Middle East, especially in Iraq.
"Let me assure you tonight, President Trump and I see these crimes for what they are: vile acts of persecution animated by hatred for Christians in the gospel of Christ," Pence said.
Pence's comments are substantiated by the Chaldean Archbishop of Erbil, Bashar Warda, who urged Trump on November 27 to help 20,000 Iraqi Christian families who have been driven out of their homes by recent attacks.
"[Christians in Iraq] are persecuted, they are marginalized and they are in need," Warda told AFP.
Former and current Iraqi officials have also expressed concern over the U.S.'s deportation plans.
In a letter dated October 5, a former member of the Iraqi Parliament, Nada Al-Jubouri, told Martin Manna, president of the Chaldean Community Foundation, that the current situation in Iraq—even in its urban centers, which are touted as relatively safe by the government's experts—is dire for religious and ethnic minorities, especially for those coming from America.
"Baghdad has seen an increase in violence and many Christians are being abducted and held for ransom. Furthermore, those that are sent to our country from America are viewed as outsiders and targeted by many gangs and militias, as they assume they have families that will pay for their release," Al-Jubouri writes.
"I am hopeful these individuals will be able to stay in American and pray for a positive outcome," she concludes.
Furthermore, Manna told Newsweek that a top Iraqi diplomat informed him that those deported by the U.S. to Iraq who can't go back to their region of origin "will be sitting in refugee camps."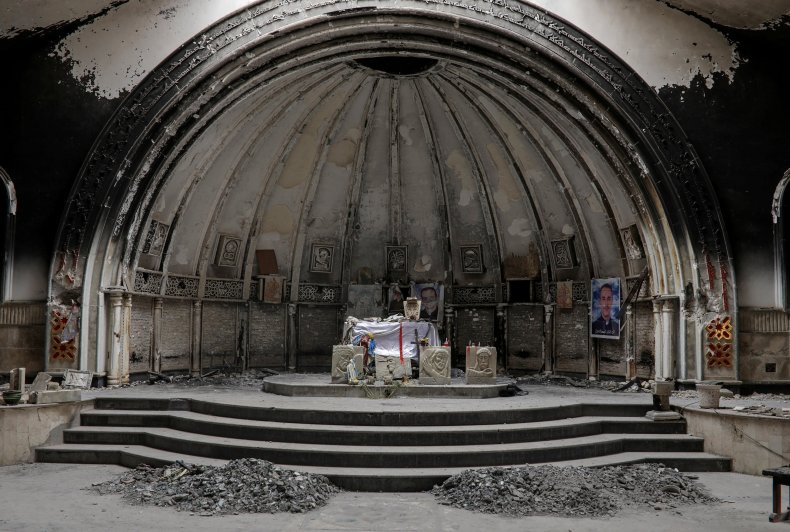 As the courts determine his faith, Jarjiss passes his days reading and chatting with his fellow undocumented immigrants who are also detained in Youngstown. Sometimes he plays soccer with them in the courtyard during their daily one-hour outdoor break, but only when his body allows him to.
"I was a professional soccer player in Iraq before moving to the United States. I used to play center. But I have too many health problems now," he said. "I had heart surgery a couple years ago. I messed up my knee, too."
On October 21, Jarjiss' immigration lawyer filed Jarjiss' motion to reopen his case. He's confident that once a judge looks at his file he will be released from detention and allowed to stay in the United States.
"I trust the law," he said.
For now, Jarjiss must sit and wait as the BIA tries to sort through a whopping 630,000 backlogged immigration cases.
"It may take months, even years for them to get to Jony," Edward Bajoka, Jarjiss' lawyer, told Newsweek.
But Jarjiss is tired of waiting. He wants to see his daughter, Alena, and her newborn son, Gabriel. He wants to go back to the grocery store he's been working at for nine years. He misses his friends. He wants to stop living in a prison.
Sometimes he even wishes ICE would've just deported him back in July.
"I can't take detention anymore," Jarjiss said. "I'm in a prison without having committed a crime. It's stressful—I didn't do anything wrong! They put me under supervision for 14 years. It's hard not to commit a crime in 14 years. I was working and paying taxes…it's unfair. This is America."