Trump Is 'Ignorant And Ungrateful,' Says Pakistan's Cricket Star Turned Politician Imran Khan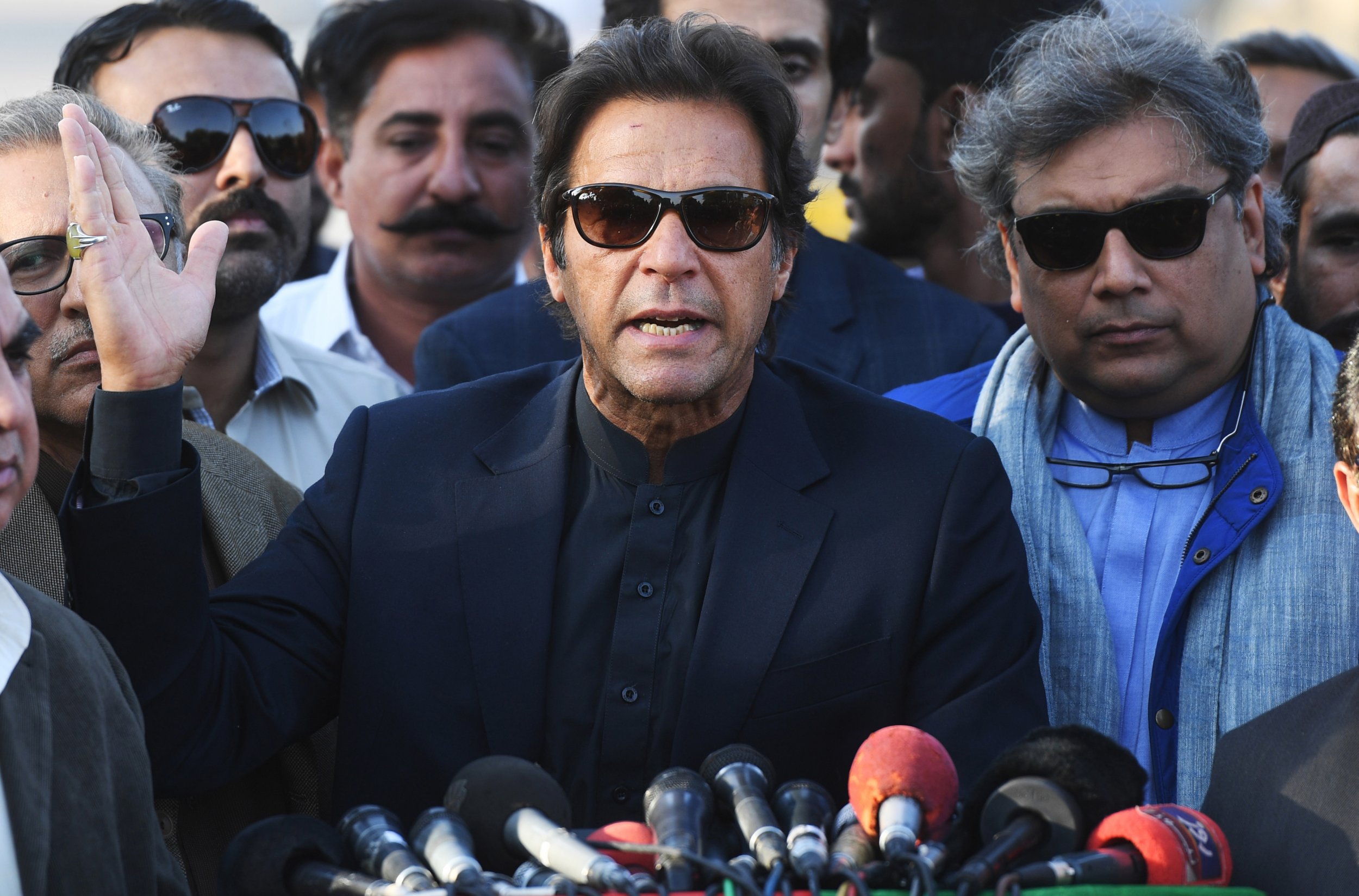 Imran Khan, Pakistan's most famous sportsman and now its opposition leader, slammed President Donald Trump on Wednesday, calling him "ignorant and ungrateful" for his accusation that Pakistan harbors extremists.
Khan appeared to criticize the U.S. military for its failure to secure a victory in Afghanistan after almost 17 years of military intervention in the Central Asian nation that borders Pakistan. Trump had accused Pakistan of abetting extremists who attack U.S. soldiers in Afghanistan.
Khan asked on Twitter how "a couple of thousand or so (Taliban-allied) Haqqanis allegedly in Pakistan are supposed to be the cause of why the most well-equipped military force in history...cannot succeed."
He tweeted: "The lesson to be learned by us is never to be used by others for short-term paltry financial benefits ever again."
Khan is Pakistan's most decorated player of cricket, one of the country's most popular sports, and hopes that his success on the cricket pitch will transcend to the country's political arena as he bids to become the nation's leader.
His comments came a day after Trump had launched a blistering tirade against Pakistan on Twitter.
"They give safe haven to the terrorists we hunt in Afghanistan, with little help. No more!" Trump wrote on Monday. He said the U.S. had "foolishly" handed Pakistan over $33 billion in aid money for the past 15 years, but had only received "lies and deceit" in return.
After the president's comments, U.S. Ambassador to the United Nations Nikki Haley said on Tuesday that Washington would withhold $255 million in aid to the country for what she called a "double game" that Islamabad has been playing "for years."
The top U.S. envoy to the global body accused Pakistan of not doing enough to tackle extremists in the country that seek to target American interests.
"There are clear reasons for this. Pakistan has played a double game for years," Haley said at a news conference at the U.N. headquarters in New York.
"They work with us at times, and they also harbor the terrorists that attack our troops in Afghanistan," she continued. "That game is not acceptable to this administration."
The Trump administration is trying to muster greater cooperation from the Pakistani government in its battle against extremist groups. But Islamabad says that it has cooperated fully with Washington, launching operations against the Taliban in the Pakistani-Afghan border region that militants have long used to traverse both countries.
"We have sacrificed a lot. We have paid a huge price both in blood and treasure. We have done enough, and we cannot do any more for anyone," Pakistani military spokesman Major-General Asif Ghafoor said last month. "Had we not supported [the U.S.], Al-Qaeda would not have been defeated."
In response to Haley's declaration, and Trump's threats, Pakistani Prime Minister Shahid Khaqan Abbasi summoned a National Security Committee meeting on Tuesday, with his top ministers all in attendance.
The coalition said it had "deep disappointment" at Trump's and Haley's comments. It said the statements were "completely incomprehensible as they contradicted facts manifestly, struck with great insensitivity at the trust between two nations built over generations, and negated the decades of sacrifices made by the Pakistani nation."
Relations between the U.S. and Pakistan have been fraught since it came to light that Osama bin Laden, the former Al-Qaeda leader and mastermind of the 9/11 attacks that killed almost 3,000 people, was in hiding at a safe house in the Pakistani city of Abbottabad before his death in 2011.
U.S. Special Forces launched an infamous operation to kill bin Laden in 2011, later saying they flew his body to Afghanistan for identification, before burying his body at sea.
Pakistan has continued to launch military operations against Al-Qaeda and Taliban militants in the border regions of the country in the years since bin Laden's death, but it is now concerned about the growth of another jihadi faction: the Islamic State militant group (ISIS).
ISIS has continued to rise in influence in Afghanistan, carrying out a series of suicide bombings. The militant group has established an affiliate in the country known as Khorasan Province, a historical name for the region.
ISIS has conducted several suicide attacks against religious minorities in Pakistan that it views as heretical. The deadliest such attack was a bombing that killed at least 70 people in the southwestern city of Quetta in August 2016.