Trump Ignored Syria Exit Options that Could Have Kept Russia at Bay, NSC Official Says
In the weeks leading up to President Donald Trump's decision to exit Syria, his National Security Council staff had been preparing and presenting a variety of plans for an orderly withdrawal, a National Security Council official told Newsweek. The goal was to avoid a violent rush to fill a power vacuum opened by a sudden U.S. exit. These plans were abandoned completely by Trump in favor of an immediate retreat after a call with his Turkish counterpart. Within days of the decision, U.S. troops were handing over strategic positions to Russian forces.
The decision also set the stage for a deal between Syrian President Bashar al-Assad's government, an ally of Russia and Iran, and the U.S.-supported Syrian Democratic Forces, a mostly Kurdish militia that battled the Islamic State militant group, know commonly as ISIS, and now faced the wrath of Turkey and allied Syrian insurgents. Among senior U.S. policymakers, military officials and career professionals who have served in numerous administrations, the ensuing chaos of Trump's insistence on scrapping plans designed to prevent just that has damaged morale.
"Abandoning almost five years of training and development of an allied force, and gift-wrapping it for the Russians and Assad has been devastating to our morale," said the NSC official, who has direct knowledge of the U.S. evacuation efforts from northern Syria.
"When you are the strongest nation on the planet militarily and diplomatically, there are so many different ways you cannot achieve the same result," the official said.
"If you're asking why there is a morale problem," the official continued, "it is because of people in the NSC, working the region for the past several years across two different administrations, and are now seeing five years of work demolished inside three days."
"We have lost an invaluable strategic advantage in the region, and tarnished our reputation globally by abandoning the Kurds to be slaughtered by the Turks," the official added. "Furthermore, we gain nothing in return."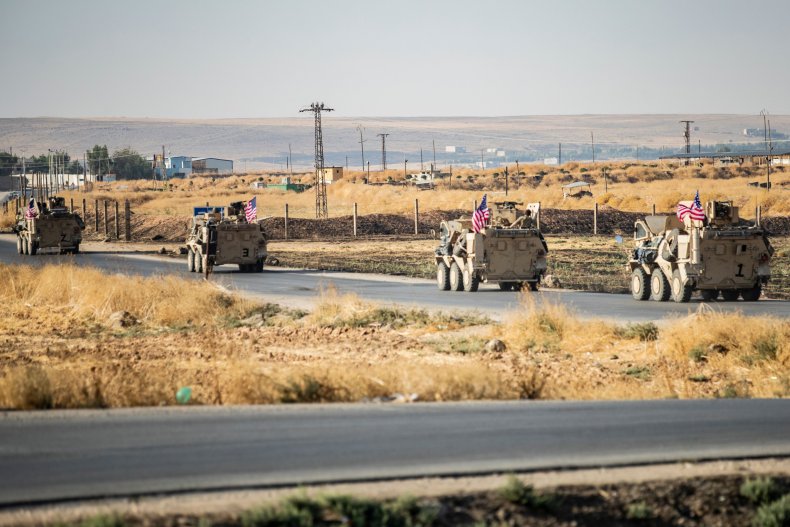 More upsetting to many of those Newsweek spoke to than the Syria withdrawal itself was the way in which it was conducted, with the president ignoring advisers to pursue a hasty exit. Trump has vowed to end America's "endless wars" but has faced opposition from inside his own administration.
The NSC official said that Trump's defense team had "presented the president with many different options on how to achieve withdrawal from Syria within anywhere from six months to one month." The official added: "The president says America first—but he doesn't understand how to make that happen strategically."
The official declined to provide the specific options proposed to Trump roughly a week to ten days before his call with Turkish President Recep Tayyip Erdoğan, but said they included plans "revolving around putting economic and diplomatic pressure on Turkey in order to maintain the security buffer zone long enough for the U.S. to work on a U.N. peacekeeping force replacing our forces."
The Kurds are an ethnic minority whose ancestral homelands span four modern-day nations—Iran, Iraq, Syria and Turkey, all of which host separatist movements with complex ties to the government. While condemning a decades-long insurgency against NATO ally Turkey, the U.S. previously sided with Kurdish forces in neighboring Iraq, where they proved a key ally in overthrowing the government of Saddam Hussein and, later, were part of the anti-ISIS fight in that country as well.
Given this history, many U.S. military officials have maintained extensive connections to Iraqi Kurds, who have established their own semi-autonomous state with tacit approval from Baghdad, now friendly to Washington. Though Syria's Kurds have cut a deal with Damascus, they have been criticized by some aligned with the government as traitors for siding with a foreign power that entered the country illegally and attempted to overthrow Assad.
"The president is treating a 30-year ally like he's firing a cabinet member," Representative Rueben Gallego, a Democrat from Arizona who sits on the House Armed Services Committee and served as a Marine in Iraq, told Newsweek.
"It wouldn't surprise me morale is low among DoD staffers, somebody who has 5x deferment has come away and taken away the honor of this military," he added. "We have people who have served with the Kurds and he has wiped away that in one tweet."
The president's methods have led to deep confusion that may not be reflected in official statements. Gallego warned that "we can't trust any readouts" from the administration because "the circle around the president is many yes-women and [yes-]men, and even when they oppose him they are allowing the record to reflect otherwise."
"I don't trust any of the readouts I've received," he told Newsweek. "For example, that DoD didn't have a strong reaction to the Syria pullout."
If [Defense Secretary Mark] Esper was in line with this, he is not in line to be SecDef. He is not in line with DoD thinking and strategic thinking. The senators who are registering opposition should deny him his post," he added.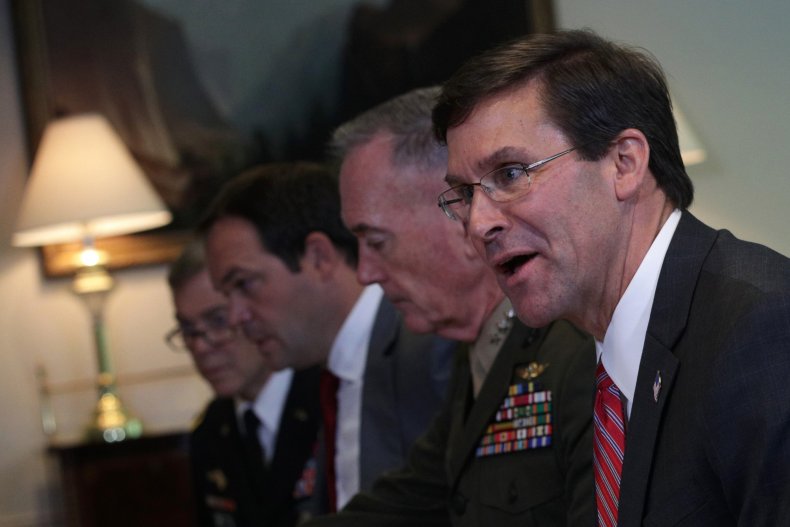 "Policy morale is super low," Evelyn Farkas, a senior fellow at the German Marshall Fund and a former Deputy Assistant Secretary of Defense for Russia, Ukraine and Eurasia. "The read-outs have not been accurate for quite a while. So when news broke it was nothing new to them they had been living in an alternative universe for quite some time."
"They have been living in the dark for quite some time now, and when it comes to light it's disturbing," she added.
Such distortions of these official records could be illegal.
"The alleged conduct you've described, if ultimately proven true, would serve as a fresh reminder of just how fragile our entire system of historical document preservation truly is when confronted with a president who is not interested in adhering to protocol," Bradley Moss, a lawyer who specializes in national security law and whistleblowers' rights, told Newsweek.
"Laws such as the Presidential Records Act and the Federal Records Act ultimately rely upon good faith efforts by government officials to accurately document their work and properly store it," Moss explained. "This is not only for immediate government purposes—such as notes of presidential calls with foreign leaders that subordinates need to review to implement the president's agreements and directives—but also for historical purposes."
"This is ultimately the work of the people being done by our elected leaders, and the records of what was done in our name are supposed to be correctly and accurately preserved," he added.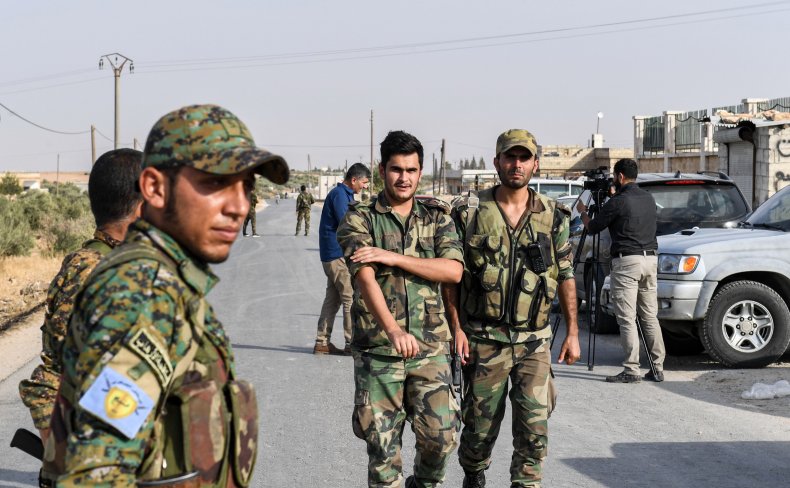 Back in Syria, U.S. allies felt suddenly left behind. Despite the official record of a "deliberate withdrawal," scenes of U.S. military positions that appeared hastily abandoned appeared from another source. Russian journalist Oleg Blokhin shared footage Tuesday of military sites that, as Newsweek first reported Monday, were handed over to the Russian military and its allied forces in the city of Manbij.
Blokhin's videos showed camouflage tents and radio masts, a motorized roadway gate and a whiteboard expressing love for the U.S., along with Trump's Twitter handle and the hashtag "#TheComrades."
Other videos featuring Russian-speakers apparently at the same location showed opened drinks and dirty dishes, appliances such as a microwave and beverage coolers stuffed with Coca Cola and various personal effects like footballs and a copy of Swedish author Stieg Larsson's The Girl with the Dragon Tattoo. One sign was adorned with insults directed toward the incoming Russians.
Meanwhile, just miles away, Syria's Kurds were again fighting for their lives, this time with the support of Damascus and Moscow, not of Washington.
This was something they too found out from Twitter, as Newsweek reported Saturday in an article anticipating the government deal, giving them little time to shift allegiances and regroup amid what one Kurdish intelligence official described to Newsweek as an "economical, political and diplomatic whirlpool."
The malaise around the administration's methods was not universally felt, however. Contacted by Newsweek, one senior administration official said, "Policy professionals at the NSC are hard at work and morale is high."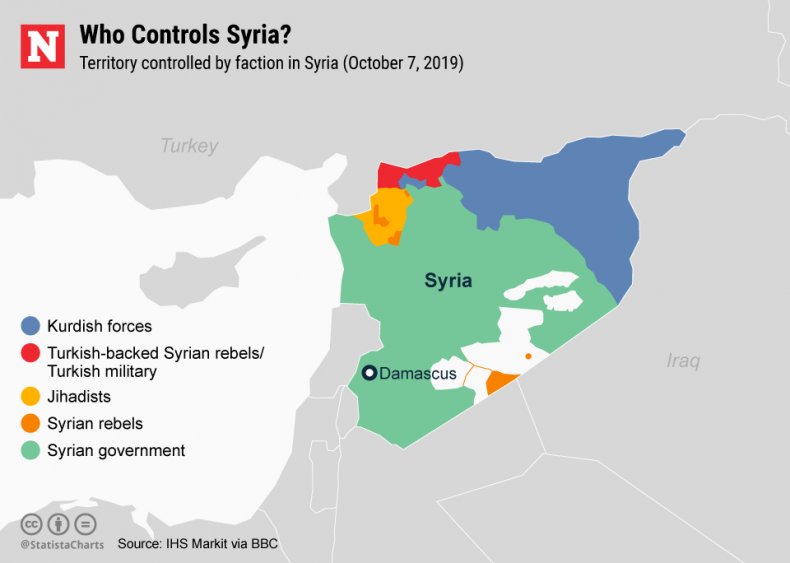 Source: Statista
James LaPorta reports on national security and the Defense Department for Newsweek. He is a former U.S Marine infantryman and intelligence cell chief. You can follow him on Twitter at @JimLaPorta
Tom O'Connor is a staff writer focusing on foreign conflicts and politics. Prior to joining Newsweek, he formerly reported for the International Business Times and the New York Post. You can follow him on Twitter at @ShaolinTom
Naveed Jamali is a Newsweek columnist, a former FBI double agent and the author of "How to Catch a Russian Spy" You can follow him on Twitter @NaveedAJamali