Trump's Deportation Plans Would Cost Billions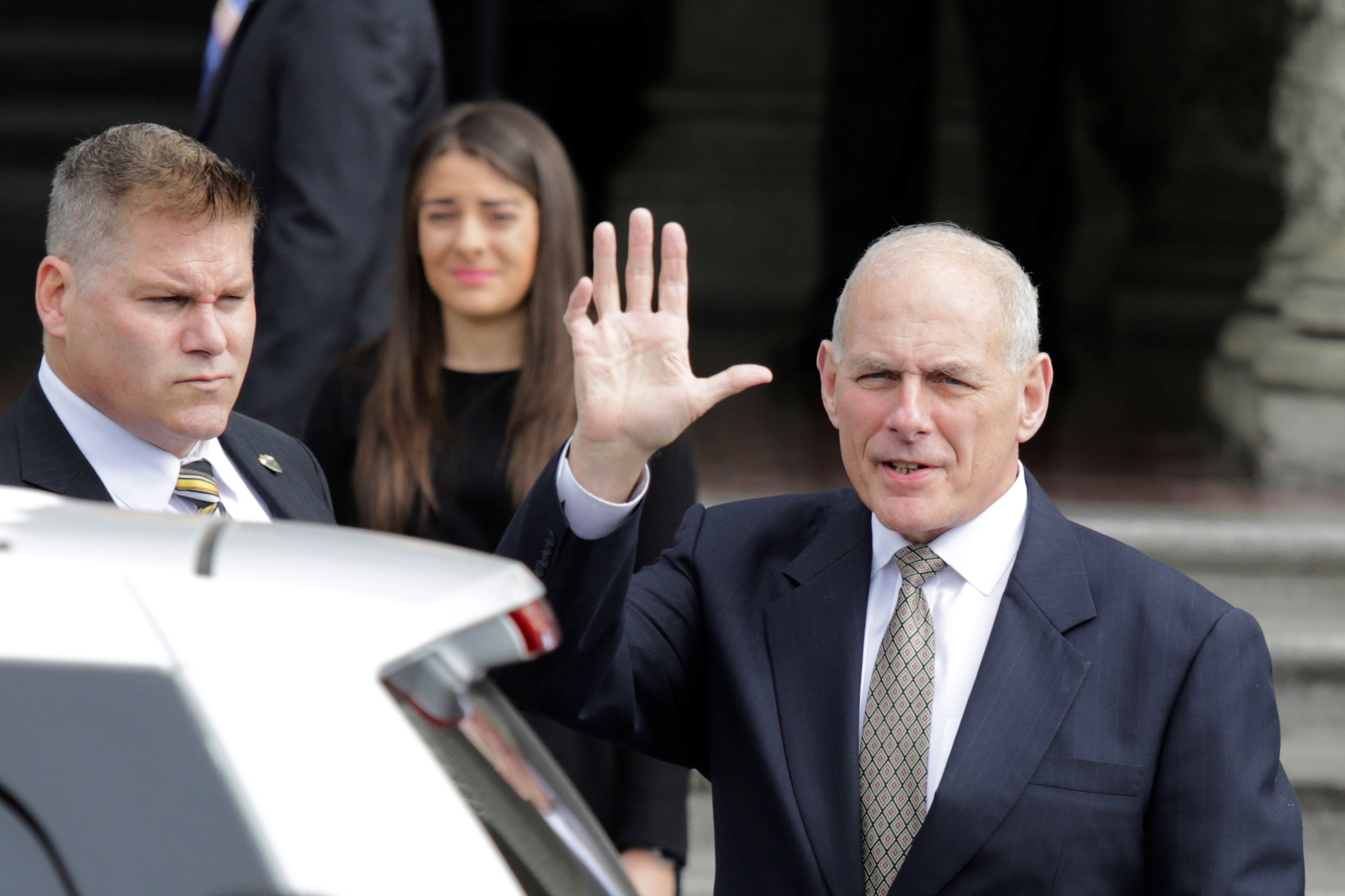 As outlined by the Department of Homeland Security (DHS) this week, President Donald Trump's plans to dramatically increase deportations are causing panic in immigrant communities across the country. This aggressive initiative should also be panicking federal budget officials, who are going to have to figure out how to pay for the big boost in personnel and infrastructure envisioned in two memos Homeland Security Secretary John Kelly issued on Tuesday. They are likely to add billions of dollars to the tab for Trump's immigration crackdown, on top of the $21 billion that DHS officials have estimated it could cost to build the president's desired wall on the border with Mexico.
Related: Homeland Security outlines tougher immigration measures
"If they do indeed want to do this by using DHS agents...they will have to get significantly more funding to accomplish this, or change the priorities within the DHS," says Ben Gitis, director of labor market policy at the American Action Forum, a center-right economic think tank. Gitis wrote a report last year on what would be required to remove all of the approximately 11 million undocumented immigrants who have been in the United States within two years, as Trump proposed during the campaign. The total cost: $400 billion to $600 billion.
In its latest guidelines, the Trump administration isn't proposing deportations on such a scale, but is suggesting a significant expansion in both the manpower dedicated to catching and detaining undocumented immigrants, and the authority they will have to send people out of the country. Among the big-ticket items in Kelly's "implementation memoranda," which is aimed at carrying out Trump's executive order on immigration enforcement that was signed in January, are hiring thousands more Immigration and Customs Enforcement (ICE) and Border Patrol officers. Kelly wrote that he has "directed ICE to hire 10,000 officers and agents expeditiously, subject to available resources," in order to carry out enforcement actions. That number is almost double the 5,700 deportation officers that ICE's Enforcement and Removal Operations office currently employs. Kelly's memo also calls for the Customs and Border Protection department to begin hiring 5,000 more Border Patrol agents; currently the department employs about 21,000 agents.
Last year's Homeland Security budget request gives a hint at how much that will cost: In the Obama administration's fiscal year 2017 budget request, DHS asked for $6.6 million to hire 100 additional officers "to support ICE in apprehending and removing priority alien targets." Multiply that price tag by 100, and the department is looking at a sum of $660 million to pay for the additional 10,000 enforcement officers it wants to employ. Meanwhile, DHS requested $3.8 billion to pay for the Border Patrol's "operational staffing" budget for 21,000 agents. Based on that figure, adding another 5,000 agents would cost roughly another $900 million.
And those sums don't cover all of the staffing increases that Kelly outlined. His memos also request 500 more Air and Marine border agents, as well as an undetermined increase in the number of fraud-detection and asylum officers posted at detention facilities near the Mexican border. In addition, Kelly also asked for a "surge" in the hiring of immigration judges and asylum officers at the Department of Justice to evaluate immigration cases. Depending on how many people the government hires for these roles, it could cost hundreds of millions of dollars more.
Gitis also points out that the Kelly memos don't account for the strain this enforcement surge could put on local police officers. "Most apprehensions currently happen with local police officers," Gitis says. Kelly writes that in this new deportation effort, the DHS wants to "maximize participation by state and local jurisdictions." With limited time and resources, local police forces could be pushed to shift priorities away from other efforts.
Holding all of the immigrants that ICE and Border Patrol agents round up could also prove pricey. The Kelly memos direct ICE and Customs and Border Protection to "allocate all available resources to expand their detention capabilities and capacities at or near the border with Mexico to the greatest extent practicable." But current detention centers—mostly old jails that have been repurposed and run by private contractors—are already over the 34,000 detention-bed quota set by Congress. The Wall Street Journal reported in October that ICE was holding more than 40,000 people. Signing contracts with more private-prison operators would not be cheap. The 2014 contract that the Obama administration signed with Corrections Corporation of America for managing a facility in Dilley, Texas, to house the flood of Central American families crossing the border cost $1 billion over four years.
DHS estimated in its fiscal year 2017 budget request that each adult housed at one of these immigrant detention centers costs an average of $126.46 per day. Immigrants in detention are currently held for an average of about 30 days. Kelly's memo, however, emphasizes the need to expand short-term detentions. And according to Phil Wolgin, managing director of the immigration policy team at the liberal think tank Center for American Progress, several policy changes outlined in the memo will make it easier for the government to rapidly deport people.
Among other regulations, DHS is expanding who is eligible for what's called "expedited removal," where an undocumented immigrant can be sent out of the country without ever seeing a judge.
"Under current policy…expedited removal could only be used for people who were apprehended within 100 miles of the border and within 14 days of entering the country," explains Wolgin. But the new memos say that the removal process can now apply to anyone "who cannot prove they have not been in the U.S. continuously for two years," he says. That gives the Trump administration a way to reduce some of the most costly issues, like holding thousands of people in detention centers for weeks on end.
It doesn't, however, erase the costs of transporting people back to their countries of origin, Wolgin notes. Only about half of the undocumented immigrants currently in the United States are from Mexico, according to the Pew Research Center. That means roughly half of the undocumented immigrants the government sweeps up would need to be flown back to their native countries on charter flights. In a 2015 report, Gitis estimated that it would cost more than $11 billion to transport all of the undocumented immigrants who did not return home on their own. Based on Gitis's cost estimates, even sending 1 million of those people back to their countries of origin would cost more than $1 billion.
Trump will lay out in more detail what he plans to spend on immigration enforcement in the coming year in his annual budget, which the White House says will be released in mid-March. He is also expected to go over some of these questions during his address to Congress next week. But proposing costly new programs and actually getting them funded are two different things. Republicans in Congress may be eager to prove they are tough on immigration, but fiscal conservatives, particularly in the House, are unlikely to approve blowing up the federal budget to pay for these types of measures. Adding billions of dollars to the Homeland Security budget to deport undocumented immigrants is bound to start a fight—both with spendthrift Republicans and with Democrats, who object on social and moral grounds.
Wolgin says budget limitations aren't all that reassuring to the immigrants fearful of being deported, however. "Even if they don't get the money," he says, "it does seem like they are going to do everything they can to ramp up enforcement."