Trump Transition Raises Hopes of Immigration Hardliners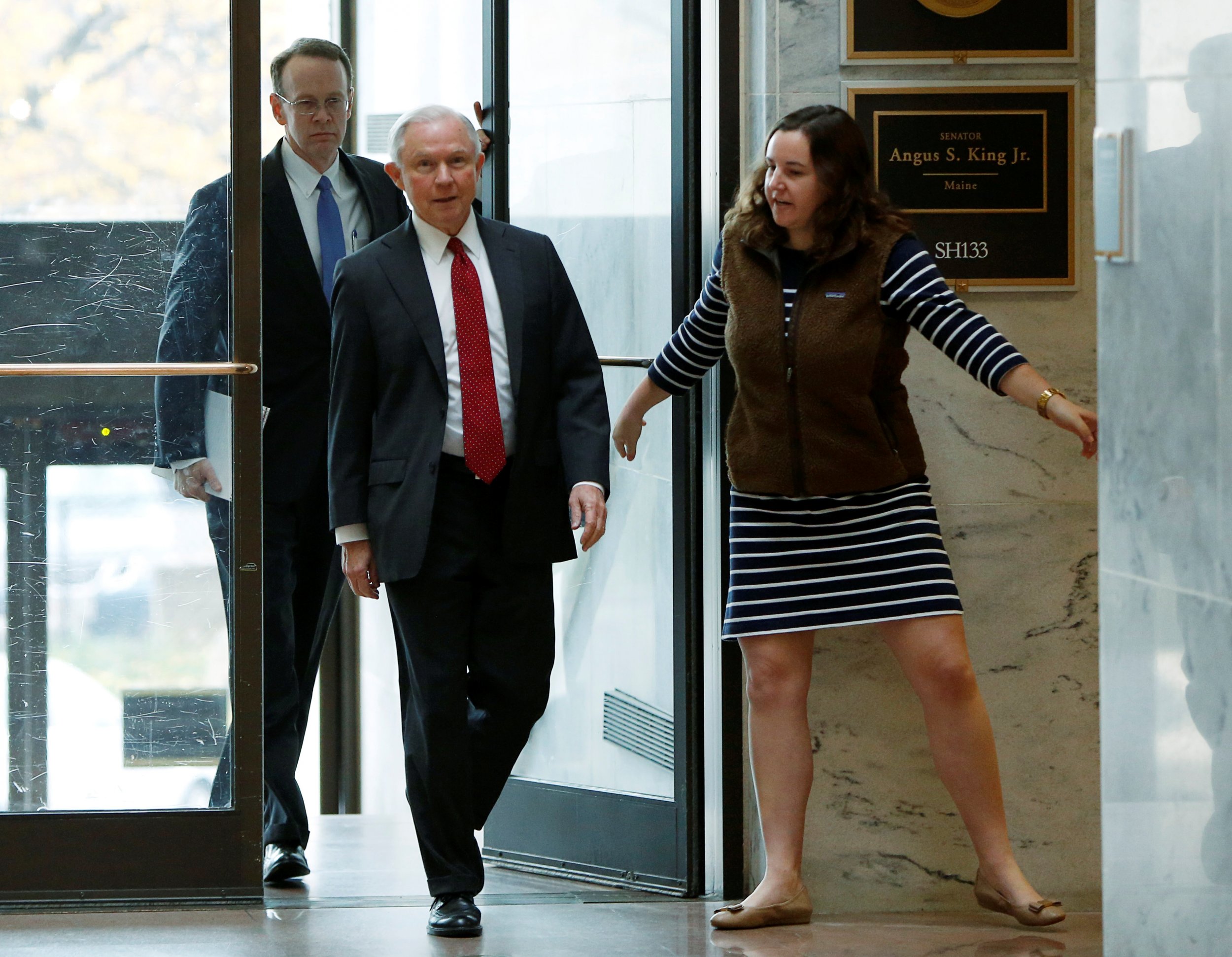 Since his stunning election victory earlier this month, President-elect Donald Trump has softened his rhetoric on building a wall along the length of the Mexican border and deporting all undocumented immigrants. That's raised hopes among immigrant advocates that the Republican real estate mogul will not pursue the hardline immigration positions he advocated on the campaign trail. Some of the staunchest anti-immigration advocates in the country, however, are seeing signs of just the opposite. They see in his Cabinet appointments and transition meetings a phalanx of like-minded allies who can help them achieve long-held goals to rid the country of undocumented immigrants and rein in legal immigration, to boot.
"It's a new crew in town," Federation for American Immigration Reform President Daniel Stein crowed at a press conference in Washington on Tuesday afternoon. Ticking off the names of public officials who Trump has either appointed or is consulting with as he prepares to enter the White House in January, Stein noted: "People like [Alabama Senator] Jeff Sessions, [Pennsylvania Representative] Lou Barletta, [Kansas Secretary of State] Kris Kobach, [Trump campaign manager] Kellyanne Conway and others who've worked as immigration policy specialists on the campaign are people that we've worked with for years." They are also some of the most strident voices in the debate, taking unyielding stands that frame undocumented immigrants as a criminal threat to the country, rather than contributing members of society. Sessions, Trump's nominee for attorney general, would have a particularly powerful post from which to shape policy.
Related: Who is the new attorney general pick, Jeff Sessions?
Stein predicted that Congress will pass a meaty package of strict new immigration enforcement laws and ramped up border security measures "within the first two or three years" of the Trump era. "There are a lot of discussions going on on our side" on Capitol Hill, Stein said. "Right now what we're trying to do is cultivate the idea that we need something big."
What exactly would that "big" reform package entail? Stein's group, which according to the Southern Poverty Law Center has ties to white supremacists, released a 20-page document Tuesday outlining what the new administration's priorities should be. It is submitting the proposal to Trump's transition team this week. Some of the measures could be enforced by the new president, alone, like repealing executive orders issued under President Obama that grant certain groups of immigrants temporary protection from deportation. Stein did say, however, that he did not think people brought to the country illegally as children—known as DREAMers—should be a deportation priority. The group also wants Trump to deny federal funding to so-called sanctuary cities that refuse to cooperate with federal deportation efforts, and to keep all undocumented immigrants captured by federal authorities locked up while legal proceedings are playing out.
Much of the package, however, would require congressional action, including laws tightening visa access and monitoring; funding a wall on the southern border; and toughening punishment for immigrants who return after being deported (known as Kate's Law). "The dream scenario on our side of this issue is to have executive control of the drafting and supporters run both [House and Senate] Judiciary Committees," said Stein. "Then what you do is flood the zone, have so many things in an omnibus package that groups like the ACLU only have so much firepower and they go after the things they really don't like. And then a lot of the rest of it goes through, gets signed into law."
The overarching aim, as laid out in FAIR's plan, would be to create a supersized, high-tech enforcement force not just at the border, but throughout the country, to make it harder for visitors to overstay their visas and to pursue immigration violators and the employers, cities and politicians who shelter them. "Right now, it's like, you stamp a visa and it's like the Postal Service's Forever stamp," lamented Stein.
The group's other central goal is reducing total immigration figures—legal and illegal—and restructuring the standards that decide who gets to enter the country. "We would love to see a restoration of the idea that we set annual immigration caps, bring people in on the basis of merit," Stein said. Under the immigration process established in a 1965 law, the United States places a priority on family reunification, putting the direct relatives and offspring of resident immigrants at the top of the list. Trump paid lip service to a merit-based system for immigration and new caps on total immigration flows in his August 31 immigration speech in Phoenix, proposals that have gotten far less exposure—but could have far deeper long-term effects—than building a border wall.
For FAIR, "the ideal is like a population stabilization number, which right now would be like around 300,000 a year," Stein said. But he conceded that Trump has not come out in support of that small a figure, which would amount to slashing the number of American green cards granted to foreign nationals each year by more than two-thirds. Right now, the figure stands at roughly 1 million.
Stein acknowledged that Trump has a habit of being unpredictable: "But if you look at this as kind of like a dart board, kind of see where the center might be and then count on the fact that he's got superb advisers working with them, he'll be moving in the right direction."
Read more from Newsweek.com:
- Since Trump election, U.S. has seen nearly 900 hate incidents: report
- Trump claims illegal voting gave Clinton the popular vote