Donald Trump Discovers the Red Line for His Supporters: Immigration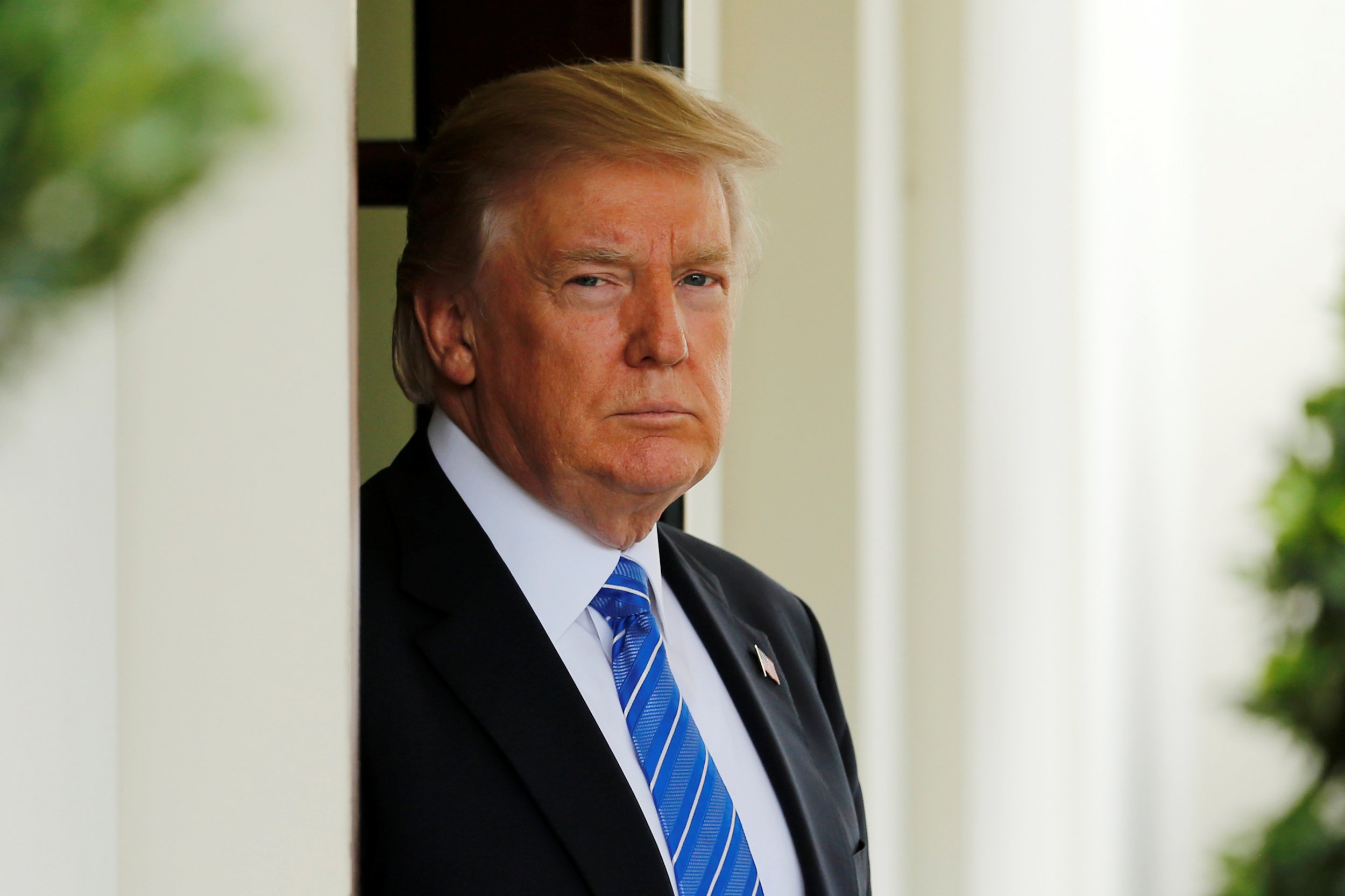 Early Thursday President Donald Trump said a deal he reportedly struck with Democrats to protect hundreds of thousands of young illegal immigrants from deportation isn't on.
Unless, of course, Democrats agree to "massive border security," Trump tweeted.
"No deal was made last night on DACA," the president wrote, referring to the Deferred Action for Childhood Arrivals program brought in by former President Barack Obama. The program offers work permits to 800,000 illegal immigrants who were brought to America as children.
Early this month Trump said he would end the program and gave Congress six months to pass it into law.
Trump's position has proved to be a big test for his most ardent supporters.
After a dinner at the White House late Wednesday—which Republican Congress members weren't invited to—Senate Democratic Leader Chuck Schumer and House Democratic Leader Nancy Pelosi issued a statement.
"We agreed to enshrine the protections of DACA into law quickly, and to work out a package of border security, excluding the wall, that's acceptable to both sides," Pelosi and Schumer said about their meeting with Trump, according to the Associated Press.
White House press secretary Sarah Huckabee Sanders pushed back, saying that while DACA and border security were both discussed, excluding funding for Trump's U.S.-Mexico border wall plans "was certainly not agreed to."
Read more: Steve Bannon Says the Far-Right Hates Trump's DACA Decision
Trump tweeted early Thursday that any potential deal "would be subject to vote" in Congress.
"The WALL, which is already under construction in the form of new renovation of old and existing fences and walls, will continue to be built," he said.
"If we're not getting a wall, I'd prefer President Pence," conservative commentor Anne Coulter tweeted soon after. The host of Fox News politics show "Hannity" wasn't happy either. "Weak R's have betrayed voters. @POTUS needs to stay the course and keep his promises or it's over! Pelosi and Schumer can never be trusted," wrote Sean Hannity of the deal.
Trump clarified his tweets for White House reporters as he left for a trip to Florida to survey the damage from Hurricane Irma Thursday. "We're working on a plan for DACA," Trump said, adding he and Congress are "fairly close" to a deal and that Republican House Speaker Paul Ryan and Senate Majority leader Mitch McConnell are "very much on board" with a deal that would address DACA and must include "massive border security." Trump said his plans for a U.S.-Mexico border "wall will come later."
In July the Republican House approved $1.6 billion of funding in next year's budget to build a physical wall on the U.S.-Mexico border that Trump promised voters during his 2016 election campaign. Originally conceived by the president as being made out of concrete, some estimates put the total cost at more than $20 billion. To pass, however, the wall funding will need democratic voters in the Senate.
Early this year Trump's current White House Chief of Staff John Kelly, then Secretary of Homeland Security, told a Senate hearing on border security that Trump's wall would consist of some stretches of physical barriers, with "high tech fencing" and electronic monitoring in other places. The administration hasn't given exact costs or plans for how they currently envision the wall.
In a transcript of Trump's January 27 phone call with Mexican President Pena Nieto leaked last month, Trump told Nieto that the wall "is the least important thing that we are talking about, but politically ... might be the most important."
The reaction to Trump's potential DACA deal drew swift condemnation from across his staunchest anti-immigrant supporters. "If AP is correct, Trump base is blown up, destroyed, irreparable, and disillusioned beyond repair. No promise is credible," Iowa Republican House Representative Steve King tweeted.
King has been highly critical of Trump's stance on DACA after the president said he would revisit his decision to end the program if Congress wasn't able to act.
"Ending DACA now gives chance 2 restore Rule of Law. Delaying so R Leadership can push Amnesty is Republican suicide," King tweeted after news broke that Trump would offer a six-month delay to ending the program.
Former Trump chief strategist Steve Bannon, who returned to head the hard-right website Breitbart in August, told "60 Minutes" in an interview last Sunday that "the guys in the far-right, the guys on the conservative side, are not happy" with Trump's plans for DACA. "I don't agree with that DACA decision," Bannon said.
Trump's plans to curb illegal immigration was a core campaign pledge. One of his campaign slogans was: "Build the wall." In office he has ramped up immigration enforcement.
Yet the president appears to have broken with his most ardent supporters on the issue of young illegal immigrants.
"Does anybody really want to throw out good, educated and accomplished young people who have jobs, some serving in the military?" Trump tweeted Thursday. "Really!" he wrote, "they have been in our country for many years through no fault of their own—brought in by parents at young age."