Enough Evidence Exists to Impeach Trump Over 'Abuse of Power,' Obama U.S. Attorney Says
On the day that the House of Representatives voted in favor of approving procedures for the impeachment inquiry, a former U.S. attorney appointed by President Barack Obama said there is enough evidence to impeach Donald Trump over abuse of power.
Preet Bharara, who served in the Southern District of New York and was fired by Trump, offered his assessment on PBS's Firing Line on Thursday. When host Margaret Hoover asked Bharara if he thought there was enough evidence to impeach Trump over abuse of power, he said, "I do."
"With respect to what happened with Ukraine, the Founders believed there has to be a process by which you remove a president of the United States for, among other things, abuse of power and lack of fitness for office," Bharara said.
Bharara said that even before the quid pro quo issue emerged, Trump's call to Ukrainian President Volodymyr Zelensky to request an investigation of potential 2020 opponent Joe Biden is "an abuse of power."
"It's a legitimate exercise of the representatives' authority and obligation to the Constitution to find that to be a sufficient abuse of power, that impeachment is proper," Bharara said.
Hoover asked for an explanation of why this was an abuse of power, and Bharara replied that presidents have the authority and power to do many things. He posed a scenario: What would congressional members say if they heard the president ordered a weaker country to investigate his political rival, without knowing which party the president belonged to?
"I think by definition that's abusing your power because you're not doing it in the interest of the country," Bharara said. "You're trying to get something for yourself."
Hoover also asked Bharara how he would defend Trump if it were his job.
Bharara responded that "good defense lawyers concede things from time to time" and that brilliant defense lawyers humanize their clients.
"Use the non-intentional crime defense and he doesn't really know what he's doing defense," Bharara said. "You concede. The problem is the president wants everyone to say he was perfect."
Hoover agreed, saying that "conceding gets you fired by this president."
Trump has acknowledged that he asked Zelensky to open a probe into Biden and his son Hunter's business activity in Ukraine while he was vice president. However, Trump has insisted he committed no wrongdoing in making the request.
Bharara, who was fired by Trump three months into his presidency, said he thinks Trump would have asked him "to do something inappropriate" if he had stayed on longer.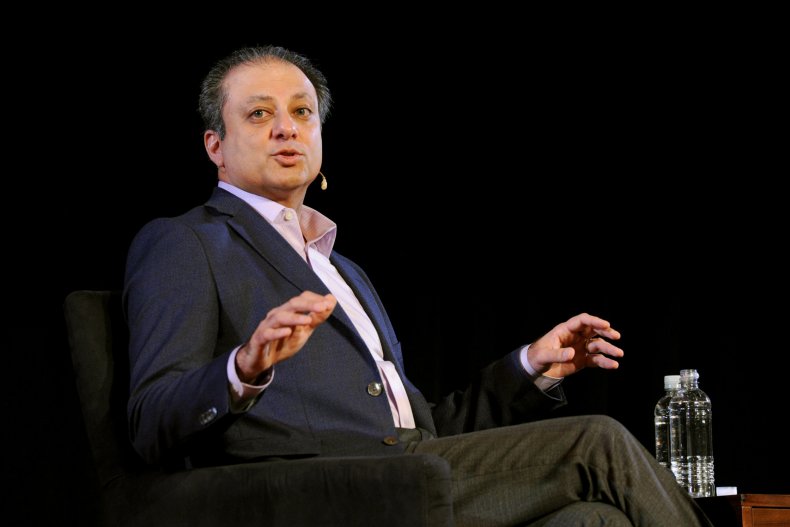 Members of the House voted 232-196 on Thursday in support of the impeachment inquiry into Trump's communications with Ukraine.