Impeaching Trump: Inside Larry Flynt's Investigation To Take Down The President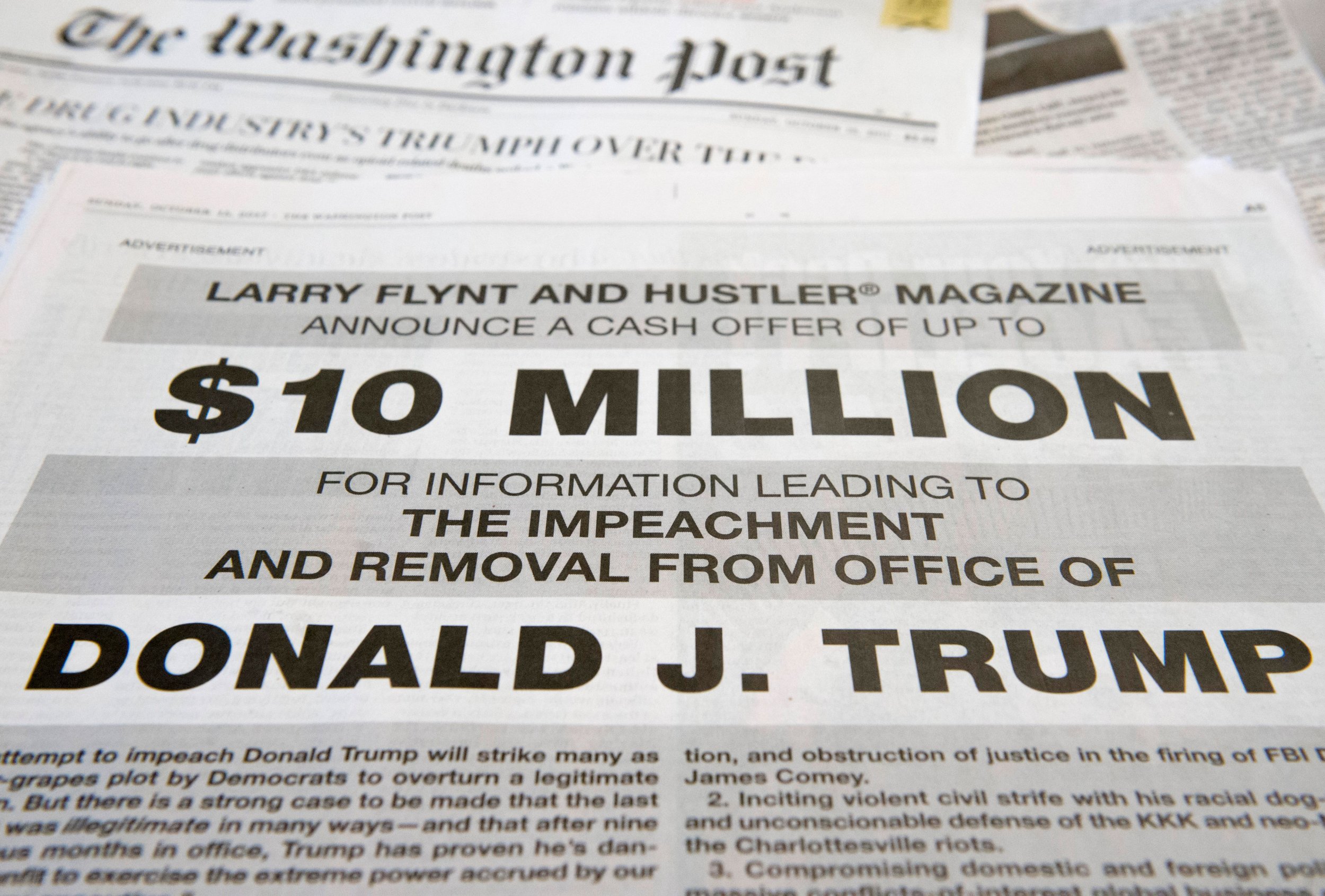 Hustler Magazine founder Larry Flynt says he's received hundreds of leads since putting up a $10 million reward for information that leads to the impeachment of President Donald Trump.
On average, Flynt tells Newsweek that he gets 400 to 500 responses per day from people claiming to have information that could oust Trump from office.
"You know this is all about investigation," the 74-year-old First Amendment advocate and pornographer said in a phone interview Wednesday, stressing it would take weeks to go through all the information.
"As each day goes by we think it's a needle in a haystack or the straw that broke the camel's back, so to speak," Flynt said. "But things don't stick to this guy. … Since he announced his candidacy it's always been my opinion that no one could live as reckless as Trump for 70 years and not accumulate a lot of baggage along the way —and some road kill too."
Flynt believes the Republican's vast finances – with alleged links to Russia and other foreign governments – makes the president ripe for a takedown, but solid proof is difficult to come across. The president's trustworthiness serves as another problem for Flynt's bounty.
"Every time he opens his mouth he tells another lie," he said. "I think he's vulnerable, though, I think it's going to crack."
The White House has not responded to Flynt's offer, but has called efforts by Democrats to introduce articles of impeachment "ridiculous" or "pathetic."
Flynt thrust himself back into the national spotlight and a fresh First Amendment debate over the weekend when he took out a full-page advertisement in The Washington Post's Sunday edition offering the $10 million bounty.
Flynt is seeking anything that could give Congress grounds to charge Trump under the Constitutional impeachment threshold of "high crimes and misdemeanors."
"Impeachment would be a messy, contentious affair, but the alternative — three more years of destabilizing dysfunction — is worse," Flynt wrote in the ad. "I feel it is my patriotic duty, and the duty of all Americans, to dump Trump before it's too late."
The ad included a hotline and email address to submit information – insisting calls and correspondence would be kept confidential — and the hotline will run for two weeks. He later said Monday things were "getting interesting" after the ad was published.
Flynt estimated his titular company could be worth $500 million back in 2014, so he likely can afford to pay out such a massive political bounty.
Flynt has done this kind of thing before. In December, 1998, at the height of the Bill Clinton-Monica Lewinsky sex scandal, the longtime foe of the Republican Party said his investigators discovered four women who claimed to have had affairs with Congressman Robert Livingston, then the House speaker.
The Louisiana Republican ended up resigning in the middle of the debate over whether to impeach Clinton.
Flynt has used his considerable wealth and reach to influence politics and expose hypocritical "family values" politicians as far as the 1970s, even against Trump. Last October, he was willing to pay $1 million for "scandalous" recordings that showed the then-presidential candidate "engaging in illegal activity or acting in a sexually demeaning or derogatory manner" and even started a website for people to submit claims, USA Today reported.
In September 2012, he offered up to $1 million for former Republican presidential candidate Mitt Romney's tax returns or any other financial information. Later that month, Romney released returns from 2011.
In 2007, Flynt promised another million to anyone who proved he or she had a sexual affair with a Congressman.
It was an offer Flynt first made in 1976 also nestled inside a full-page ad in The Post, and now he's going after the biggest office of them all.