Impeaching Trump Becomes More Likely Every Time He Criticizes Republicans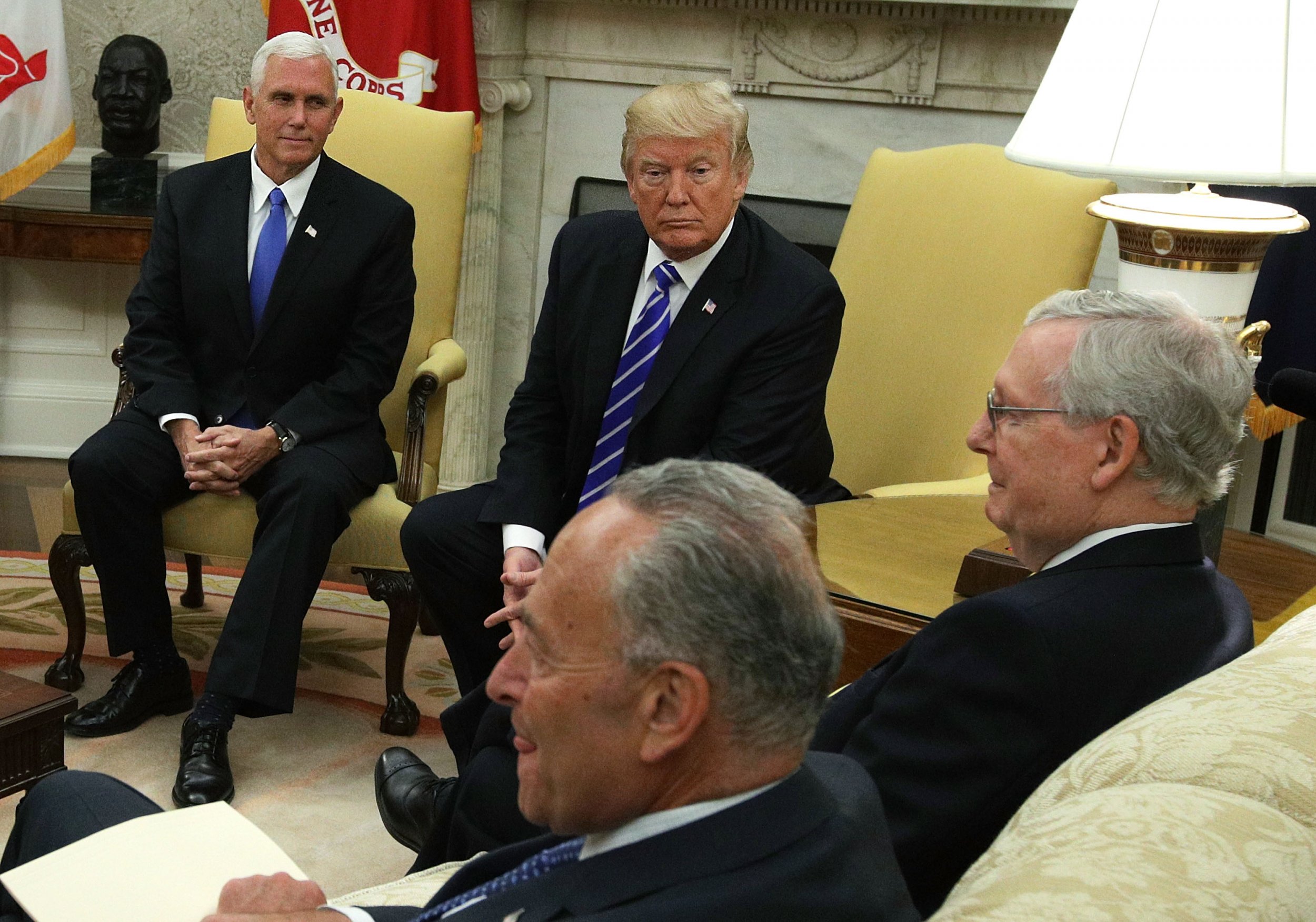 President Donald Trump spent the past week further angering many Republicans, a trend that could not only hinder his hopes of accomplishing his legislative agenda but may endanger his very future in the White House. Republicans, after all, could be seen as the main barrier between him and a fate he surely wants to avoid: impeachment.
Related: Trump impeachment could be demanded by powerful Congressional Black Caucus after meeting next week
While talk of impeaching Trump over various alleged offenses has been floated since before he even took office, the issue has thus far been a purely theoretical one, what with Republicans controlling both the House and Senate. But what if GOP members were to decide that they'd be better off without the unpredictable president?
Thus far, many Republicans have swallowed private distaste for the president while putting forward a largely unified public front, fueled by the unexpected, golden opportunity that comes with controlling both chambers of Congress as well as the White House. But cracks have increasingly been emerging in the uncomfortable alliance.
Following the president's recriminations in the wake of the Senate Republicans' dramatic failure to repeal and replace Obamacare, some members of the GOP began to openly criticize Trump for the first time after his reaction to the deadly violence at last month's white nationalist rally in Charlottesville, Virginia.
Still, Trump has continued to needle them. On Wednesday, he stunned Republicans when he opted to side with Democratic leaders in negotiations to increase the debt ceiling. The move reportedly left Republicans "shocked," "livid" and "fuming." Some, like Nebraska Senator Ben Sasse, were openly critical of the deal and the new alliance; others, like Senate Majority Leader Mitch McConnell, showed their true feelings with their tone and body language, if not exactly their words.
But Trump has shown no signs of making any concessions to his party. On Friday, he tweeted that GOP lawmakers had only themselves to blame for his dalliance with Democrats.
"Republicans, sorry, but I've been hearing about Repeal & Replace for 7 years, didn't happen!" he wrote. "Even worse, the Senate Filibuster Rule will never allow the Republicans to pass even great legislation. 8 Dems control - will rarely get 60 (vs. 51) votes. It is a Repub Death Wish!"
It may be a highly risky strategy. Allegations of collusion between the Trump campaign and Russia have prompted five ongoing investigations, and some experts have said that there is already enough evidence to at least start an obstruction of justice investigation into Trump's firing of FBI Director James Comey.
So far, Republicans in the House and the Senate have helped shield their president from the probes. But it has long been an open secret that many Republicans would prefer having a President Mike Pence than a President Trump, something that would become a reality were the president to be impeached.
Axios reported in June that the Republicans' favoring of Pence over Trump imperiled the current president, who would be unable to count on the same backing from his own party as Bill Clinton did when his impeachment was quashed, thanks to not-guilty votes from every Democratic member of the Senate.
With the chance in front of them to get a president who would be far more supportive of their agenda and cause far less consternation, would Republicans be nearly so supportive? Possibly not, even considering the risk of angering Trump's powerful, if shrinking, base.
As it is, such a scenario is some way off. Even among Democrats, calls for impeachment are far from widespread, although the influential Congressional Black Caucus will discuss the issue at a meeting next week.
Still, considering his repeated refusals to take sage legal advice and stop making public statements that could be used against him in any impeachment case, together with his recent actions toward his own party, the president continues to do himself no favors.