Alexandria Ocasio Cortez: 'The President Has Committed Several Impeachable Offenses...we Have to Protect Our Democracy, and I Believe We'll Be Doing so Right Now'
New York Congresswoman Alexandria Ocasio-Cortez said President Donald Trump has already admitted several things that he could be impeached for, and the formal inquiry against him is needed to "protect our democracy".
Ocasio-Cortez has long called for Trump to face an impeachment hearing and criticized the Democrats as recently as a few days ago for not launching the necessary process in the wake of allegations that Trump sought help from Ukraine for information to undermine Democratic presidential candidate hopeful Joe Biden in the run-up to the 2020 election.
Speaking to reporters on Capitol Hill, Ocasio-Cortez said "at this point, it doesn't matter" that the Democrats have only just got round to launching impeachment proceedings against Trump.
"We're moving forward with it now. What we're seeing with these developments from Ukraine are extremely serious. We can't ask ourselves about whether we moved too slow or too quickly, we have to ask about what we're doing right now," she said.
When asked what would happen if the inquiry does not result in Trump being impeached, Ocasio-Cortez said "ultimately...the President has committed several impeachable offenses.
"What he has admitted to is already impeachable regardless of future developments," she added. "What he has already admitted to is an impeachable offense among others.
"I believe there will be discussions as to whether what we draft or the judiciary examines the question on filing potential articles of impeachment, what those articles will include, could articulate several different offenses including emoluments and asking [foreign governments] for assistance."
Responding to a question about her previous claims that it would be an even bigger scandal if Congress ends up not moving forward with impeachment, Ocasio-Cortez said: "I think we have to hold this president accountable, and we have to protect our democracy, and I believe we'll be doing so right now."
In a series of tweets on September 22, Ocasio-Cortez had once again called for the Democrats to push forward with impeachment hearings following a whistleblower's complaint that alleges Trump pressured Ukrainian President Volodymyr Zelenskiy into investigating political rival Biden and his son Hunter over the summer.
Around the same time as the call, Trump ordered that $400 million of military aid for Ukraine be withheld, prompting speculation the move was an intimidation tactic to force Ukraine to investigate the Bidens.
"At this point, the bigger national scandal isn't the president's lawbreaking behavior—it is the Democratic Party's refusal to impeach him for it," Ocasio-Cortez wrote.
In a reply to author James Fallows, she added: "It is one thing for a sitting president to break the law. It's another to let him.
"The integrity of our democracy isn't threatened when a president breaks the law. It's threatened when we do nothing about it. The GOP's silence & refusal to act shouldn't be a surprise. Ours is."
The president has described the allegations and impeachment inquiry as "breaking news Witch Hunt garbage" while confirming that a transcript of his call to Zelenskiy will be made public.
"Secretary of State Pompeo received permission from Ukraine Government to release the transcript of the telephone call I had with their President. They don't know either what the big deal is. A total Witch Hunt Scam by the Democrats!," he tweeted.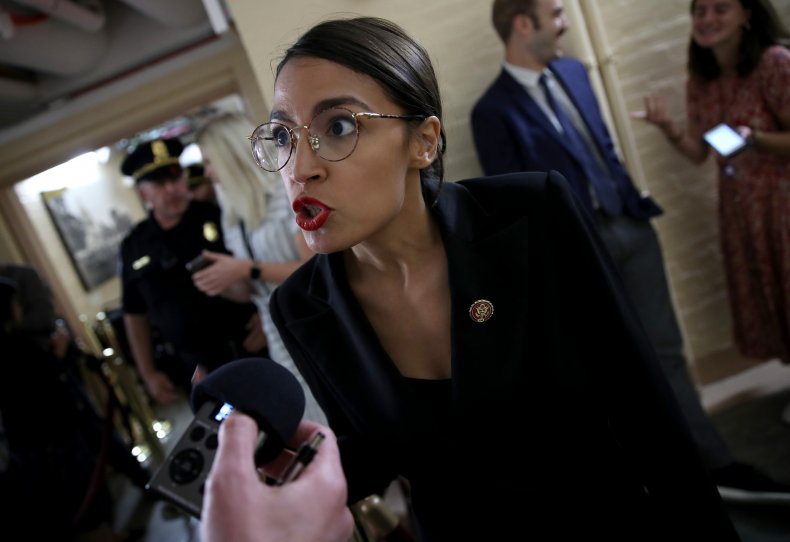 The chart below, provided by Statista, shows where House Representatives currently stand on impeachment.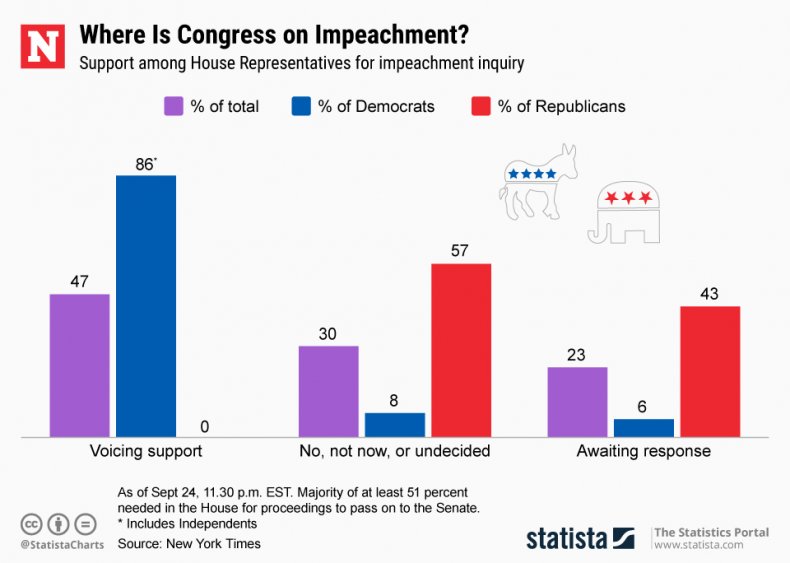 Alexandria Ocasio Cortez: 'The President Has Committed Several Impeachable Offenses...we Have to Protect Our Democracy, and I Believe We'll Be Doing so Right Now' | U.S.