Trump Impeachment Campaign Launched by Billionaire Democratic Donor Citing War Threats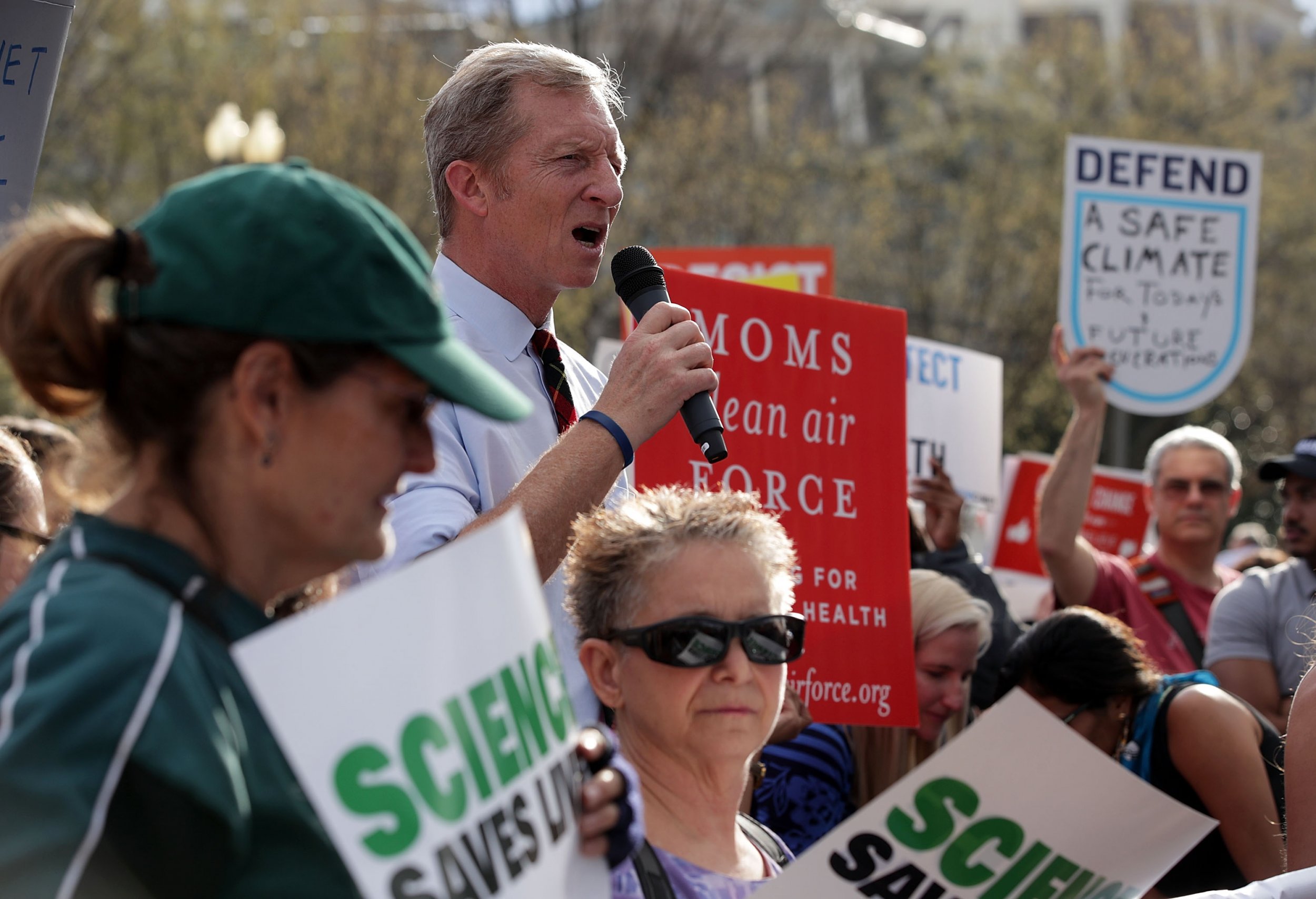 A billionaire Democratic donor is putting some of his vast wealth toward a campaign to impeach President Donald Trump by petitioning elected officials across the country to take a stand on removing him from the White House. Tom Steyer, a former hedge fund manager who has poured millions of dollars into Democratic candidates and causes, launched a television ad campaign this week together with a website titled "Need to Impeach" in which people can sign up to petition lawmakers.
Related: Impeaching Trump: Inside Larry Flynt's Investigation to Take Down the President
"Whether by the nature of Mr. Trump's relationship with Vladimir Putin and Russia, his willingness to exploit the office of the Presidency for his personal gain and treat the government like a family enterprise, his conduct during Charlottesville, his decision to pull out of the Paris climate accords, or his seeming determination to take the nation to war, he has violated the Constitution, the office of the Presidency, and the trust of the public," Steyer said in an open letter on the website. "He is a clear and present danger to the United States of America."
In the ad, Steyer again rolls off what he sees as the list of the president's deep failings, including bringing the country "to the brink of nuclear war." He then asks: "If that isn't the case for impeaching and removing a dangerous president, then what has our government become?"
And Steyer is putting his money where his mouth is. The campaign is funded directly by his vast financial resources and will be accompanied by a seven-figure social media blitz, according to The Washington Post.
Steyer sent a letter to the country's 50 governors and 2,000 city mayors to call on them to take public stances advocating for Trump's impeachment, as The Hill first reported. That came a week after he penned a similar letter to Democrats demanding that they support impeaching the president if they take back control of Congress in 2018.
The Republican Party currently controls both chambers, meaning there is little prospect of impeachment proceedings moving forward with a majority vote required in the House to impeach and a two-thirds majority in the Senate to convict.
Thus far only a smattering of Democrats have openly called for the president to be impeached. California Representative Brad Sherman filed articles of impeachment in July accusing Trump of obstruction of justice over his firing of former FBI Director James Comey. The articles were co-sponsored by Al Green of Texas, who filed his own articles last week but stopped short of forcing a vote in the House.
A third House Democrat, Steve Cohen of Tennessee, has said he is attempting to build support before filing articles of impeachment. Earlier this week, he claimed that his proposal was being considered by one Republican.
Steyer could yet have a role beyond simply financing an impeachment campaign. The environmental activist on Sunday said he was weighing up contesting the California Senate seat currently held by Democrat Dianne Feinstein. The veteran senator has attracted criticism from the left of the party for her cautious tone when discussing impeachment and instead calling for "patience."