Trump Impeachment Campaigner Says 'Racist Murderers' See President as 'Hero' After New Zealand Mosque Shooting
Billionaire Democratic donor Tom Steyer, currently touring the country on a campaign to impeach President Donald Trump, on Friday condemned the president for what he saw as giving license to white supremacy and the terror attack at two mosques in Christchurch, New Zealand.
"The terrorist in Christchurch considered Mr. Trump a 'symbol of renewed white identity,'" Steyer tweeted. "This president has given license to white supremacy in America that has spread across the world.
"Is there any question left about the message he's sending?" Steyer continued. "Racist murderers see him as a hero."
A suspect in the massacre reportedly expressed admiration for Trump in a 74-page manifesto. "As a symbol of renewed white identity and common purpose? Sure," the suspect wrote of Trump. "As a policy maker and leader? Dear god no."
The suspect reportedly said he drew inspiration from white supremacist Dylann Roof, who killed nine African-Americans in 2015 at the Emmanuel African Mehodist Episcopal Church in Charleston, South Carolina, as they met for their Bible study group.
Trump condemned the Christchurch attacks on social media Friday morning.
"My warmest sympathy and best wishes goes out to the people of New Zealand after the horrible massacre in the Mosques," the president tweeted. "49 innocent people have so senselessly died, with so many more seriously injured. The U.S. stands by New Zealand for anything we can do. God bless all!"
Steyer's first tweet about New Zealand's worst-ever mass shooting expressed his condolences, and did not mention Trump.
"Violence against religious groups is devastating, whether in Charleston, Pittsburgh or Christchurch. My heart goes out to the Muslim community," Steyer tweeted. "Is there anything lower than murdering people while they are praying and seeking spiritual guidance and higher purpose?"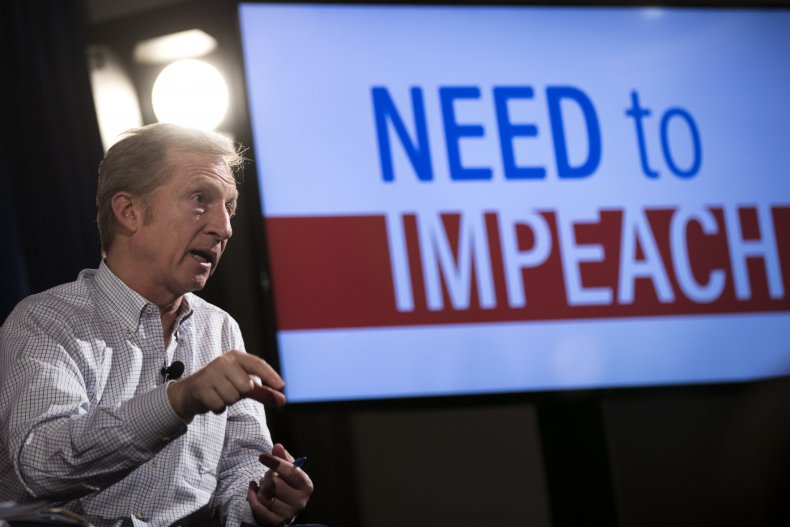 At least one gunman killed 49 people and injured more than 40 others during prayer sessions at two mosques in Christchurch. Prime Minister Jacinta Ardern called it a terrorist attack.
Steyer, who founded the Need to Impeach campaign in October 2017, has frequently rebuked Trump for comments he considers racist and that encourage violence. More than 7.6 million Americans have signed the campaign's online petition urging Congress to begin proceedings to remove Trump.
Among other Democrats who condemned the shooting was Senator Cory Booker, who's a 2020 presidential candidate.
"I'm sickened by the news coming out of New Zealand—the horrific terrorist attack targeting Muslims at prayer that killed at least 49 people," Booker tweeted. "The rising tide of white supremacy and Islamophobia around the globe must be met with our determination to work against hate."