A former senior adviser to President Bill Clinton has predicted that there could be a second attempt to impeach President Donald Trump.
Paul Begala worked for Clinton's White House between 1997 and 1999 and was also a senior adviser on the Clinton-Gore campaign in 1992. He is now a political consultant.
Speaking during a CNN panel Monday night on the current push to impeach Trump, Begala speculated about another impeachment of him, depending on what happens in the courts.
The White House has so far refused to comply with congressional subpoenas relating to the House impeachment inquiry and instructed others to do the same.
This refusal—and the limits of the House's subpoena powers—is now being tested in the courts.
Don McGahn, the former White House counsel, adhered to the instructions of his former employer not to comply with a House subpoena.
But a federal court in Washington ruled in November that McGahn must comply with the subpoena.
Begala cited the McGahn case and suggested that it could reach the Supreme Court for a final decision.
"If the White House, the president, opposes a Supreme Court order to comply, I think that could change it dramatically," Begala said, referring to public support for impeachment.
"This impeachment may be done by then. But, you know what? Impeachment is not a single-shot weapon. The constitution does not say it's a one-and-done deal.
"This is not the last impeachment we will cover of Donald J. Trump."
The rest of the panel on the Anderson Cooper 360 show were taken aback by Begala's suggestion.
CNN contributor and political commentator Scott Jennings joked: "Impeachment today, impeachment tomorrow, impeachment forever!"
Begala replied: "It's criminality today, criminality tomorrow, criminality forever. The guy's a one-man crime wave.
"I think if he defies a Supreme Court order it changes everything. I don't think 43 [percent] stick with him. Maybe 33. I don't know."
Jeffrey Toobin, CNN's chief legal analyst, pointed out that the Supreme Court could also rule in Trump's favor, but added that there is "not even a case in front of the Supreme Court yet, much less a defiance of a losing case."
An impeachment polling tracker by FiveThirtyEight, depicted in graph format below by Statista, currently stands at 52.4 percent in favor of starting the process against Trump and 42.3 percent against.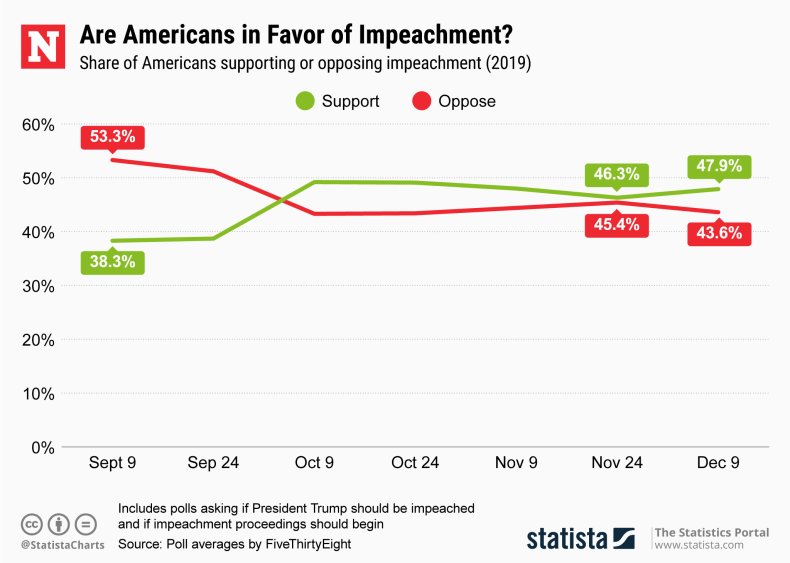 Trump is facing impeachment over his alleged misconduct towards Ukraine.
The House Intelligence Committee compiled its evidence in a report that accuses Trump of soliciting foreign interference in the 2020 election to his personal benefit.
The president allegedly conditioned a White House visit and military aid for Ukraine on the opening of dubious corruption investigations that could taint his political rivals.
But Trump denies any wrongdoing and claims he was legitimately pursuing allegations of corruption.