Trump Impeachment Defense Lawyer Bruce Castor's Opening Statements Eviscerated by Critics
Bruce Castor, former President Donald Trump's impeachment attorney, faced criticism following his opening statement Tuesday during the Senate impeachment trial.
Newsmax TV, a right-wing cable news channel, was showing Castor's opening statements but cut him off shortly after to conduct an interview with Alan Dershowitz.
Dershowitz, a Harvard Law School professor emeritus and member of Trump's defense team during his first impeachment trial, began his interview by saying "there is no argument."
"I have no idea what he's doing. I have no idea why he's saying what he's saying," Dershowitz said about Castor.
During his opening statement, Castor said that the Democratic impeachment managers provided an "outstanding presentation" by showing the events of the January 6 riots at the U.S. Capitol and added that the senators who are acting as jurors in the trial are "extraordinary people, in the technical sense."
Dershowitz went on to criticize Castor for introducing himself to the senators and said, "He's introducing himself, 'I'm a nice guy. I like my senators. I know my senators. Senators are great people.' C'mon. The American people are entitled to an argument—a constitutional argument."
"We know that hard cases make bad law, I probably would have started with that. This is a hard case, this is an emotional case. He did say, and I think very appropriately, that everybody wants to take revenge when they see a horrible event that took place at the Capitol, but then he went off, I just don't understand it," Dershowitz said. "It's not the kind of argument I would have made, I have to tell you that."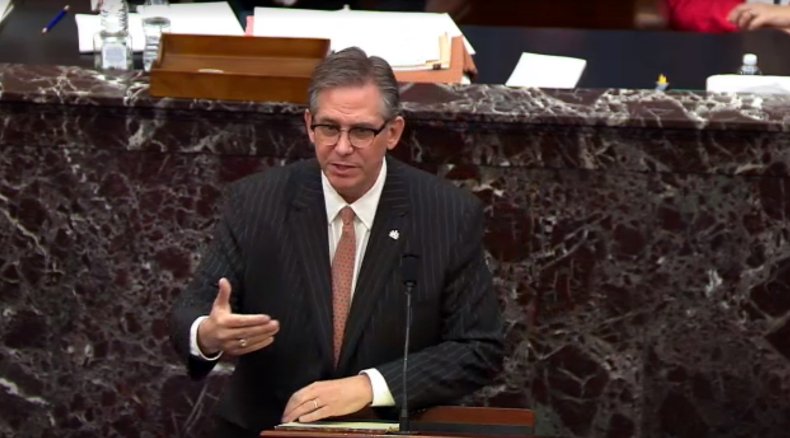 In an email sent to Newsweek, Dershowitz wrote, "[Castor] has a different style than mine. I didn't really understand the theory of his opening."
Dershowitz's email to Newsweek added that Trump's other impeachment attorney, David Schoen, "was excellent and did a great job."
In addition to Dershowitz, many others took to social media to criticize Castor's opening arguments.
Fox News contributor Geraldo Rivera called the presentation by Trump's defense attorneys "mediocre," while former Fox commentator Robert G. Beckel wrote, "I wouldn't want this guy represent me for a traffic ticket!"
Similarly, Harry Litman, former U.S. attorney and legal affairs columnist for the Los Angeles Times, tweeted, "I don't see how he could have mooted (practiced) this argument in front of anybody, which is malpractice. no professional colleague could have listened to the whole presentation and not tried to get him to overhaul it."
Conservative pollster Frank Luntz and Washington Examiner chief political correspondent Byron York also criticized Castor's opening arguments. Luntz wrote on Twitter that judging by Castor's comments, "I guess this lawyer doesn't know what people think," while York called it a "waste of time."
Louisiana Republican Senator Bill Cassidy also criticized Castor and in a statement announcing that he was voting to affirm the trial's constitutionality, he wrote, "The House managers had much stronger constitutional arguments. The president's team did not."
Castor's opening arguments came during the second Senate impeachment trial against Trump for "incitement of insurrection." Members of the House previously voted in favor of impeaching Trump, with many citing his rhetoric after the election as a spark for the violent riots at the Capitol.
Newsweek reached out to Castor for comment but did not receive a response in time for publication.
Updated to include additional posts criticizing Castor's opening statement.