Trump Impeachment Campaigner Will Be Democrats' Largest Donor in 2018
The man who launched an impeachment campaign to oust Donald Trump from the Oval Office has found a new way to deliver a big blow to the president.
Tom Steyer, a billionaire hedge fund manager and liberal activist, will be donating at least $110 million dollars to Democrats this midterm election cycle. The sizable contribution will make Steyer the biggest donor on the left, according to a report by Politico.
Steyer is set to put the money toward his two political organizations, NextGen America and Need to Impeach. The former is an environmental advocacy nonprofit and political action committee that Steyer formed in 2013. It's currently focused on registering young voters across the country. The latter, in which he has already doubled his first investment of $20 million, is a grassroots effort to impeach President Trump that has already amassed an email member list of over 5.5 million.
Most recently, Steyer has increased his calls for Trump's impeachment following the presidents' closed-door meeting with Russian leader Vladimir Putin. Following the summit in Helsinki on July 16, in which Trump suggested that he believed Putin over U.S. intelligence agencies when it came to Russian election meddling, Steyer tweeted that "the whole world just witnessed a compromised American president. It's time to impeach the man who is endangering our safety and the integrity of our democracy. We can't wait any longer."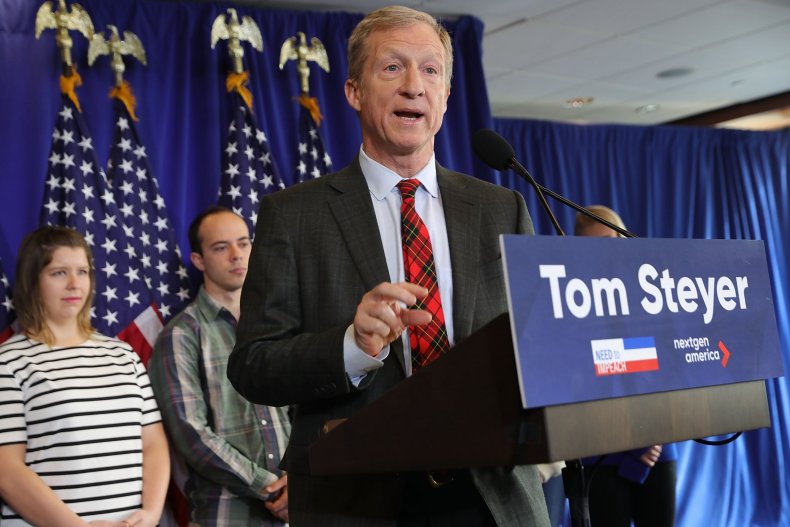 Democratic leaders have largely disagreed with Steyer's impeachment campaign. House Minority Leader Nancy Pelosi had called Steyer's campaign to remove Trump from office a distraction from some of the other issues at the core of the party's priorities. Her counterpart in the Senate, Chuck Schumer, has also expressed skepticism, calling impeachment a premature proposal.
Steyer entered the world of politics after leaving his hedge fund Farallon Capital in 2012. The billionaire then hit the ground running during the 2016 presidential election and was the single largest donor on either side of the political aisle. Steyer spent over $85 million of his own money to try to ensure Trump wouldn't end up in the White House.
Since then he has created his own political organizations, more often investing his money into NextGen America or Need to Impeach rather than individual campaigns or national committees. He has, though, gotten involved in highly contested primary races and recently donated $1 million to Andrew Gillum, a Democrat running for governor of Florida.
The billionaire's refrain from donating to the Democratic National Committee or the Democratic Congressional Campaign Committee came after Congress decided to re-open the government after a shutdown this past January without reaching an immigration deal. Steyer said the decision to leave immigration reform off the table caused him to think again about donating to such national groups.
Steyer has also used his money to combat some of Trump's policies more directly. NextGen America has invested millions of dollars in legal services for immigrant communities as the Trump administration switched to it's "zero tolerance" policy.
As Steyer continues to dive deeper into politics, he hasn't ruled out the potential of a 2020 presidential run. In an interview with The Atlantic in 2017, when asked if he would consider running either in 2018 or 2020, Steyer said that he's not ruling out the possibility and that when the time comes he "will do whatever I think is the most impactful thing."