Donald Trump's Impeachment on the Table for Democrats as They 'Anxiously' Await Michael Cohen's Testimony
Michael Cohen, the president's former longtime attorney and "fixer," will testify in a series of congressional hearings this week in which he will reportedly accuse President Donald Trump of criminal conduct while in office. Democrats hope Cohen's testimony will provide answers to key questions, as impeachment still weighs on many members' minds.
"I think, surely, that Cohen has a lot to say," Representative Val Demings, a Florida Democrat who sits on both the House Intelligence and Judiciary committees, told Newsweek. "If we exercised the power that has been given to us, then we will consider all options, up to and including impeachment. We're all anxiously waiting to hear what information Cohen brings to the table that's not already out there."
Out of the three days of hearings, only Wednesday's before the House Oversight Committee will be public; Tuesday's before the Senate Intelligence Committee and Thursday's before the House Intelligence Committee will be private.Through the plea deal he entered into with the Southern District of New York, Cohen implicated the president in felony campaign finance crimes related to hush money payments to Karen McDougal and Stormy Daniels for their previous alleged affairs with Trump.
Rank-and-file Democrats have been less wary of advocating for Trump's impeachment, even before special counsel Robert Mueller's report is completed and delivered to Attorney General William Barr. Leading Democrats have continued to caution against a rush to judgment before the special counsel concludes his investigation. Representative Jerrold Nadler, chairman of the House Judiciary Committee, where impeachment proceedings would begin, told reporters Tuesday he would "see what [Cohen] says and then we'll go from there."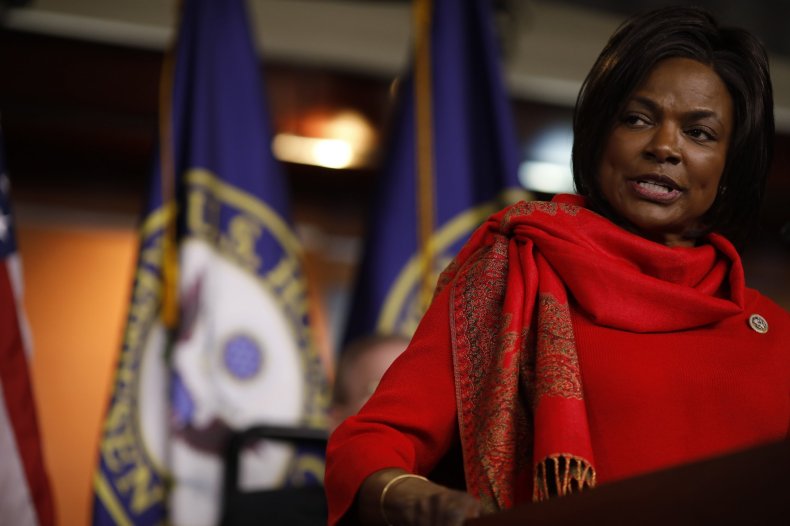 "The American people deserve to know whether Donald Trump has been functioning as the president of the United States of America or as the equivalent of an organized crime boss," Representative Hakeem Jeffries, chairman of the House Democratic Caucus, told reporters onTuesday. "Michael Cohen can shed some light on this very important question."
Cohen's public hearing before the House Oversight Committee will focus on financial payoffs involving Trump, the president's financial disclosures, compliance with campaign finance laws and his business practices. Questions will not overlap with either the House or Senate Intelligence Committee inquiries, which will focus more on Russian election interference, possible conspiring between Trump associates or the campaign and Russia, and Cohen's past false statements made to Congress.
Because of Cohen's previous false congressional statements—one of the litany of crimes he will serve three years in prison for starting May 6—Republicans have dismissed Cohen as a vindictive former Trump associate who lacks credibility.
"Giving Cohen a congressional platform is a disservice to the public, an affront to our democratic values and flat-out offensive to anyone who seeks the truth," GOP Representatives Jim Jordan and Mark Meadows wrote in a USA Today op-ed Tuesday. Both men serve on the House Oversight Committee and likened Cohen's testimony to Democrats "[rolling] out the red carpet."
"[Democrats] don't care that Cohen has lied to Congress before. They don't care that Cohen made millions of dollars by providing fraudulent services to numerous private businesses and foreign entities. They don't care that Cohen leveraged his association with President Trump to attract book deals and television appearances," Jordan and Meadows wrote. "Many Democrats care about one thing and one thing only: impeaching President Trump."
White House press secretary Sarah Sanders offered a similar rebuke to Cohen's testifying in a statement released Tuesday, saying it's "laughable that anyone would take a convicted liar like Cohen at his word, and pathetic to see him given yet another opportunity to spread his lies."
Democrats acknowledge the attorney's past lying to Congress, which Cohen himself admitted. Still, they view Trump's former "fixer" as a person who once had extremely close ties to the president, and was even willing to lie to Congress at the behest of the president, according to a BuzzFeed News report last month.
"I was a police chief, and many of our confidential informants were people who did not have the best records. Who's in a better position to know about criminal behavior than those who have been engaged and involved in it?" Demings said. "I believe the untruths that Michael Cohen was involved in before Congress before were his efforts to protect the president. I do believe now, while he is on his way to prison, that he wants to get it right, and we're giving him another opportunity to do just that."