The House Judiciary Committee is holding its second public hearing Monday, during which staff attorneys for Democrats and Republicans will present evidence to bolster arguments about whether to impeach President Donald Trump.
The hearing comes after the weekend release of a 55-page, Nixon-era style report that majority staff members published outlining precedent for impeachment, arguing that Trump, based on the Framers and the constitution, violated his oath of office and committed impeachable offenses.
Monday's televised proceeding will likely be the last time lawmakers make their impeachment case to the public ahead of a likely panel vote later this week to advance articles of impeachment to the full House floor.
Three staff attorneys representing Republicans and Democrats from the Intelligence and Judiciary Committees are testifying. Daniel Goldman of Intelligence and Barry Berke of Judiciary will testify for the Democrats, while Stephen Castor will represent Republicans and testify on behalf of both the committees.
The White House said Friday they would not participate in any future proceedings. White House counsel Pat Cipollone labeled the inquiry as a "charade" that was "completely baseless" and would thus not partake.
The hearing concluded at approximately 6:45 p.m. This story is no longer being updated.
Lawmakers' polarizing questioning strategies
The respective strategies deployed by Republicans and Democrats when questioning the staff attorneys could not have been more opposite.
Republicans, for the most part, used the majority—if not all—of their 5-minute rounds to instead make long-winded defenses of the president rather than ask questions. They hoped to undercut the narrative that Trump sought to pressure a foreign counterpart to conduct politically benefiting investigation in exchange for military aid.
"I didn't ask him a question. I yielded back," said Rep. Jim Sensenbrenner (R-WI) after Goldman tried to respond at the conclusion of the lawmaker's remarks.
"I'm going to use my five minutes—but not to ask questions," Rep. Louie Gohmert (R-TX) said ahead of a lengthy statement accusing Democrats of embarking on a quest to impeach Trump since the moment he took office.
Democrats, meanwhile, sought to have Goldman rehash testimony by several current and former administration officials that painted a damning portrait of Trump's Ukraine dealings.
Drama unfolds between Democrats and Republicans
At several moments throughout Monday's hearing, the committee was plunged into brief chaos as partisan squabbling ensued over procedural disagreements and brief outbursts by Republican lawmakers.
One point of contention involved Republicans' criticism that Burke was able to question Castor, despite just minutes prior Burke himself testifying to lawmakers about impeachment evidence against Trump. GOP members also suggested that he was only retained by Democrats as a staff attorney because of his political donations to Democratic candidates and groups.
Filings with the Federal Election Commission show that over the course of roughly the past two decades, Burke has donated tens of thousands of dollars to Democrats across the country. Goldman has donated thousands of dollars to similar candidates and groups in recent years.
At several moments, Judiciary Chairman Jerrold Nadler (D-NY) slammed his gavel in an attempt to regain control of the hearing.
Second Democratic counsel outlines Trump's alleged impeachable conduct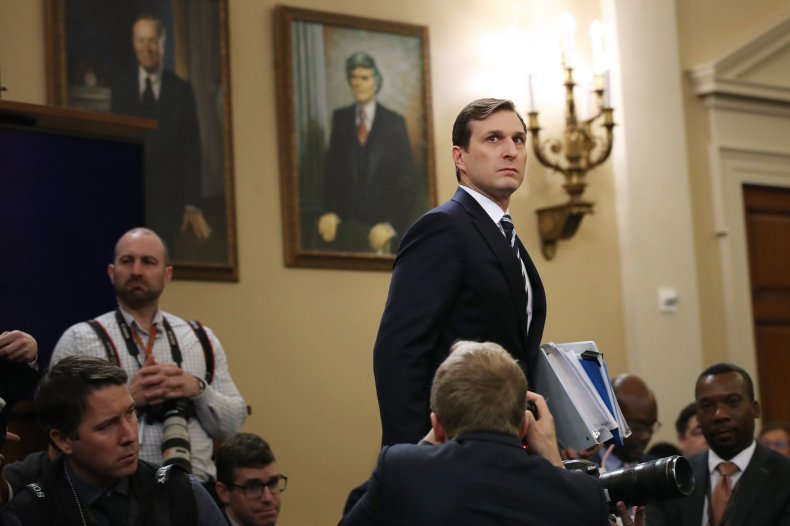 Goldman, a former Russian organized crime prosecutor, testified to lawmakers about the inquiry's four "critical findings" that he argued was proof of impeachable offenses.
Trump "used the power of his office to pressure and induce" his Ukrainian counterpart "to interfere in the 2020 presidential election" for his "personal and political benefit."
"In order to increase the pressure on Ukraine to announce the politically-motivated investigations," Trump withheld nearly $400 million in U.S. military assistance used to fend off Russian aggression and an Oval Office meeting.
Trump "sought to undermine our free and fair elections and poses an imminent threat to our national security."
Trump "directed an unprecedented effort to obstruct Congress' impeachment inquiry into his conduct."
GOP counsel defends Trump: "No clear evidence" of wrongdoing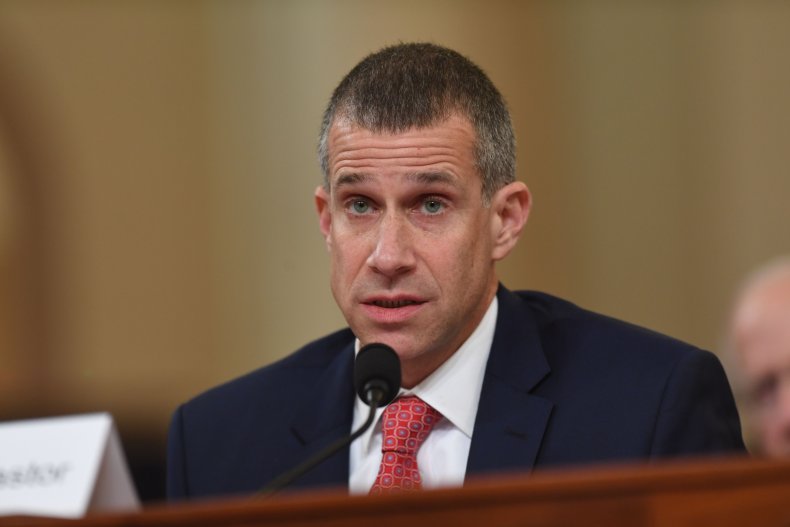 Castor, in issuing his defense of Trump, accused Democrats of lacking evidence of wrongdoing by the president, rejected the notion he abused his power and said there was legitimate concern about corruption in Ukraine.
"The evidence in the Democrats' impeachment inquiry does not support the conclusion that President Trump abused his power for his own personal, political benefit. There is simply no clear evidence that President Trump acted with malicious intent," the GOP staff lawyer said.
Castor further said that Republicans have outlined a "legitimate explanation" for Trump's actions involving Ukraine, "which are not as nefarious as Democrats allege," he added.
Castor later repeated the debunked yet popular conspiracy theory among Republicans that Ukraine, in addition to Russia, may have interfered in the 2016 U.S. election.
Democratic counsel makes case for impeachment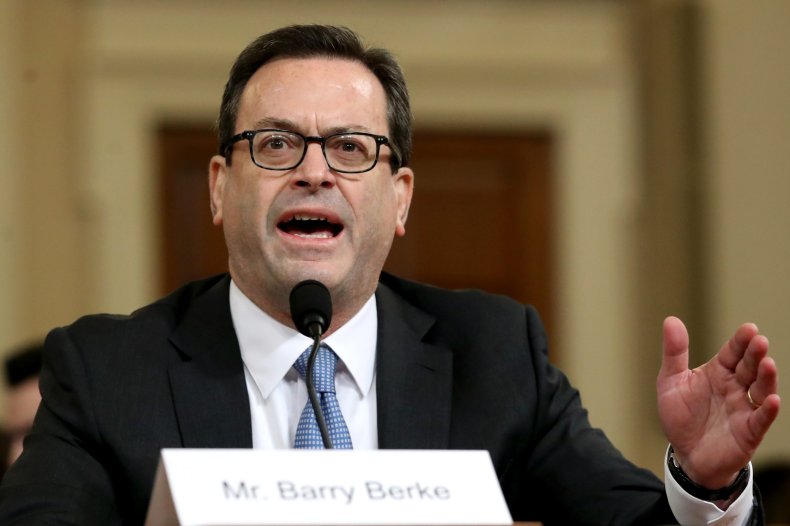 "It is not a requirement that the president be a good person, but that is the hope," Burke testified, recalling a conversation he had with his young son. "The very document that created the awesome presidency and its powers that we have, made it clear it is a requirement that the president be a person who does not abuse his power."
The staff attorney for the Democratic majority on the panel accused Trump of undermining national security in attempting to subvert the 2020 election. Burke outlined his case for why Trump's actions related to the Ukraine controversy supported the "ABC's of impeachment": abuse of power, betrayal of the national interest and the corruption of elections.
"This scheme by President Trump was so brazen, so clear...that it's hard to imagine that anybody could dispute those acts, let alone argue that that conduct does not constitute an impeachable offense or offenses," he said.
Republicans demand minority hearing day
Procedural chaos emerged from the dais as Republicans on the panel again demanded that Nadler allow them to hold a minority day hearing before articles of impeachment are considered. Under committee rules, GOP lawmakers say they're entitled to invite their own witnesses to testify.
They want to hear from a slew of witnesses, including Intelligence Committee Chairman Adam Schiff (D-Calif.) and the anonymous whistleblower, nearly all of whom the Democratic majority would likely block.
"Is this when we just hear staff ask questions of other staff and the members get dealt out of this whole hearing and for the next four hours you're going to try and overturn the results of an election with un-elected people giving testimony?!" Rep. Matt Gaetz (R-FL) asked.
Throughout the objections raised by Republicans, Nadler loudly banged his gavel and eventually moved forward with the hearing, refusing to succumb to his GOP colleagues' demands.
Nadler accuses Trump of putting "himself before his country"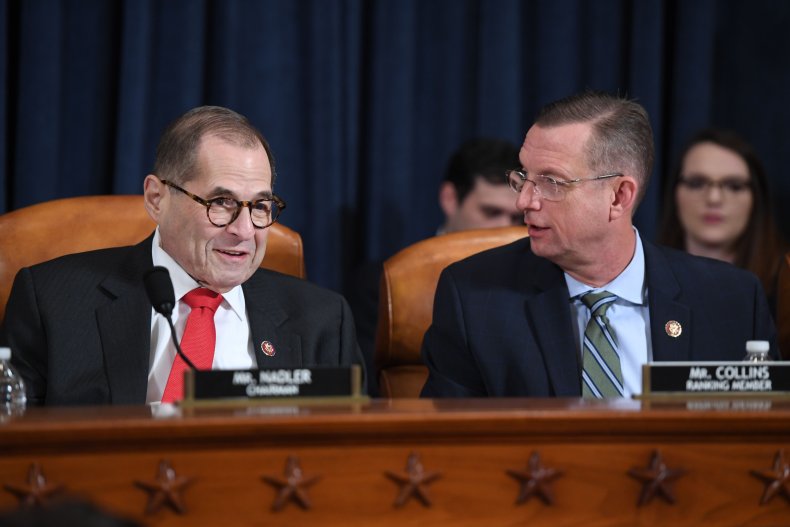 In his opening statement, Nadler accused Trump of violating his oath of office with regard to the Ukraine controversy in which Trump is alleged to have sought a foreign power to investigate a political opponent in exchange for U.S. military aid.
"The president welcomed foreign interference in our elections in 2016. He demanded it for 2020. Then, he got caught," Nadler said. "The evidence shows that Donald J. Trump, the president of the United States, has put himself before his country."
"He has violated his most basic responsibilities to the people," the New York Democrat continued. "He has broken his oath. I will honor mine. If you would honor yours, then I urge you to your duty."
Pro-Trump InfoWars host ejected from hearing room after accusing Democrats of "treason"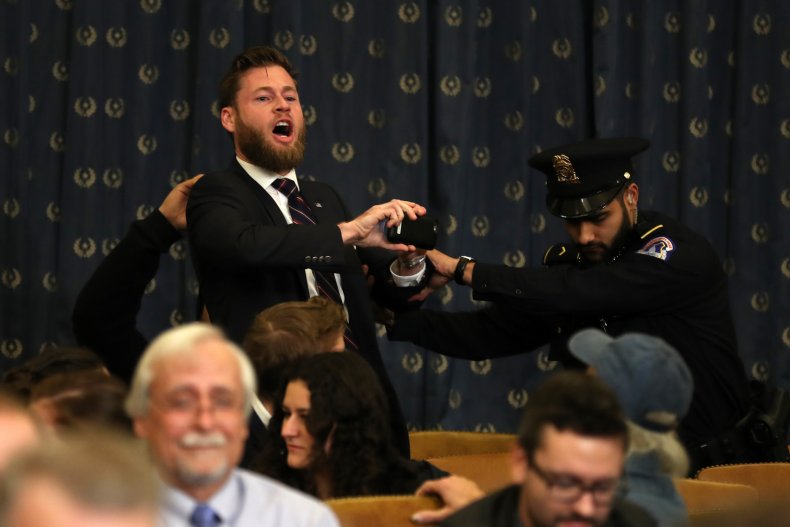 Once Nadler began his opening remarks, a protester seated in the public viewing area, whose identity was not immediately known, stood and began shouting.
"Jerry Nadler and the Democrat Party are committing treason...You're the one committing treason!" the man shouted, at which point Capitol Police began escorting him out of the room. "We voted for Donald Trump! And you want to remove him because you don't like him! Americans are sick of your impeachment scam! They're sick of the Democratic treason! Trump is innocent!"
The man was later identified as InfoWars host Owen Shroyer. He live-streamed his interruption on Twitter.