Trump Impeachment Lawyer Thinks Riot Footage Shouldn't Be Shown At Trial
A member of Donald Trump's impeachment defense team has hit out at House managers over their plans to show footage from the Capitol riots at the former president's Senate trial next week.
David Schoen, one of Trump's impeachment attorneys, told Fox News that footage of the Capitol riots had "nothing to do" with his client, who had "condemned violence" at all times.
Schoen was also critical of the decision to impeach Trump for a second time, branding the vote in the Democratic-controlled House "the most ill-advised legislative action" of his lifetime.
"It is tearing the country apart in a time where we don't need anything like that," Schoen told Fox's Sean Hannity on Monday night. "I think President Biden missed an opportunity to be a statesman and demand that this thing be called off."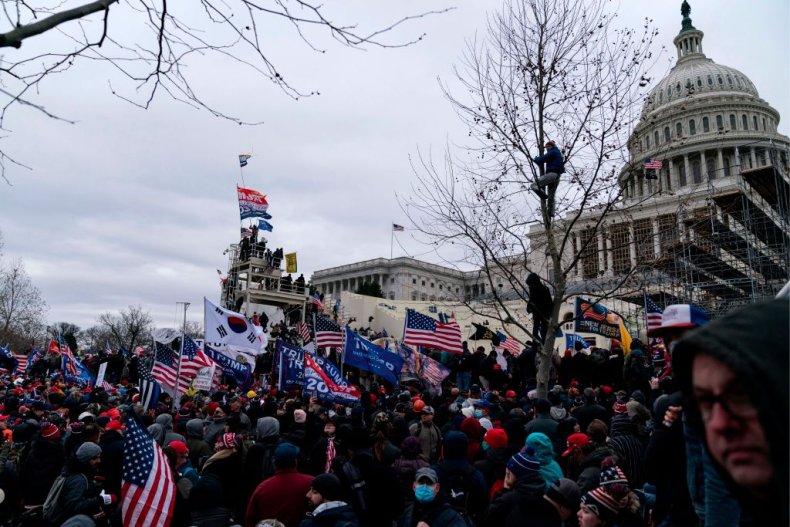 Trump's impeachment attorney added: "How can we possibly have a fair trial? Senator Schumer promised a fair and full trial. You can't when you know that the juror and the judge are biased going in.
"The second thing is, does this country really need to see videotapes? We know now, apparently, that Mr. [Eric] Swalwell and other impeachment managers intend to show videotapes of the riots and people falling in, people being hurt, police officers talking.
"Why does the country need that now? We would stipulate that there was a riot that went on that day. It was a tragedy. President Trump has condemned violence at all times, read the words of his speech ... this has nothing to do with President Trump."
The impeachment lawyer added that the U.S. needed to heal and move forward with the Biden administration's platform in the wake of the Capitol riots on January 6.
Newsweek has contacted Schoen's law firm for further comment.
The former president's trial is slated to begin on February 9 and is widely expected to result in an acquittal, after almost all the GOP senators voted in support of an unsuccessful motion to dismiss the impeachment trial before it had begun.
Seventeen Republican lawmakers would have to break with their party in the upper chamber for Trump to be convicted of incitement of insurrection. Only five GOP senators backed holding a trial.
CNN has reported that the House impeachment managers plan to show clips from hours of riot footage as part of an emotional appeal to senators. They will argue that Trump incited the violence in an attempt to overturn the outcome of the presidential election.