Alan Dershowitz, Jay Sekulow Warn Against Second Donald Trump Impeachment
Two members of President Donald Trump's former impeachment legal team have cautioned against pursuing a second impeachment of the commander-in-chief as he is only set to remain in office for another nine days.
Trump's attorney Jay Sekulow, who represented the president when he was first charged with impeachment at the end of 2019, said it would a "gigantic mistake" for Democrats to impeach him again in a country already severely divided.
Alan Dershowitz, the Harvard Law School professor emeritus who was also a member of Trump's first impeachment legal team, took a slightly different line, arguing that an impeachment trial would not be able to go ahead in the Senate once Trump had left office.
Speaking on his radio show Friday, Sekulow said: "I think it would be a gigantic mistake to institute articles of impeachment when the president is going to be out of office in 12 days. So, why divide the country so significantly when the president is in fact going to be out of office in 12 days?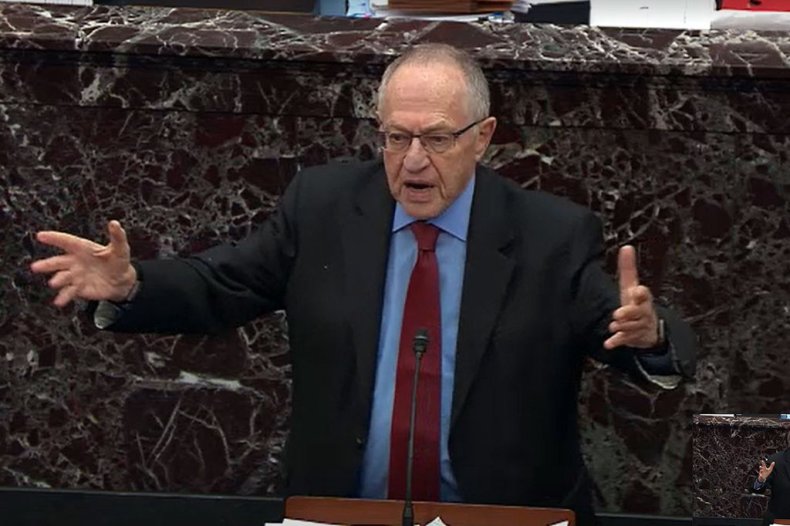 "Whether you have the constitutional basis to start an impeachment proceeding—which Congress, as long as they vote it, they can have the authority—but then you have to ask, is that a good idea? For whatever the purpose is."
The attorney later cautioned Biden to urge Democrats not to pursue a second impeachment of President Trump, arguing that it could divide America even further in the wake of the Capitol riots last week. Newsweek has contacted the ACLJ law firm, led by Sekulow, for comment from the attorney. This article will be updated with any response.
Appearing on Fox News' Sunday Morning Futures, Dershowitz also poured cold water on the prospects of a second impeachment of Trump, followed by a trial in the Senate.
"The case cannot come for trial in the Senate, because the Senate has rules, and the rules would not allow the case to come to trial until, according to the majority leader, 1 p.m. on January 20, an hour after President Trump leaves office," the constitutional scholar argued.
He added that the Constitution did not explicitly permit a former president to be impeached or put on trial under charges of impeachment.
"Congress has no power to impeach or try a private citizen, whether it be a private citizen named Donald Trump, or named Barack Obama, or anyone else," Dershowitz told the network. "The jurisdiction is limited to a sitting president, and so there won't be a trial."
The legal expert told Politico last week that Trump had not committed a "high crime of misdemeanor" and argued that his speech at a rally ahead of the Capitol riots was protected by the First Amendment.
House Democrats are still intent on putting impeachment to the floor of the lower chamber if Vice President Mike Pence does not invoke the 25th Amendment and remove President Trump from office prematurely.
Writing to her colleagues at the weekend, House Speaker Nancy Pelosi (D-CA) said impeachment could be put to lawmakers before Trump left office, with a vote taking place urgently.
"In protecting our Constitution and our Democracy, we will act with urgency, because this president represents an imminent threat to both," she said. "As the days go by, the horror of the ongoing assault on our democracy perpetrated by this president is intensified and so is the immediate need for action."