Trump Impeachment Must Be Prevented Through Day of Fasting and Prayer, Evangelist Says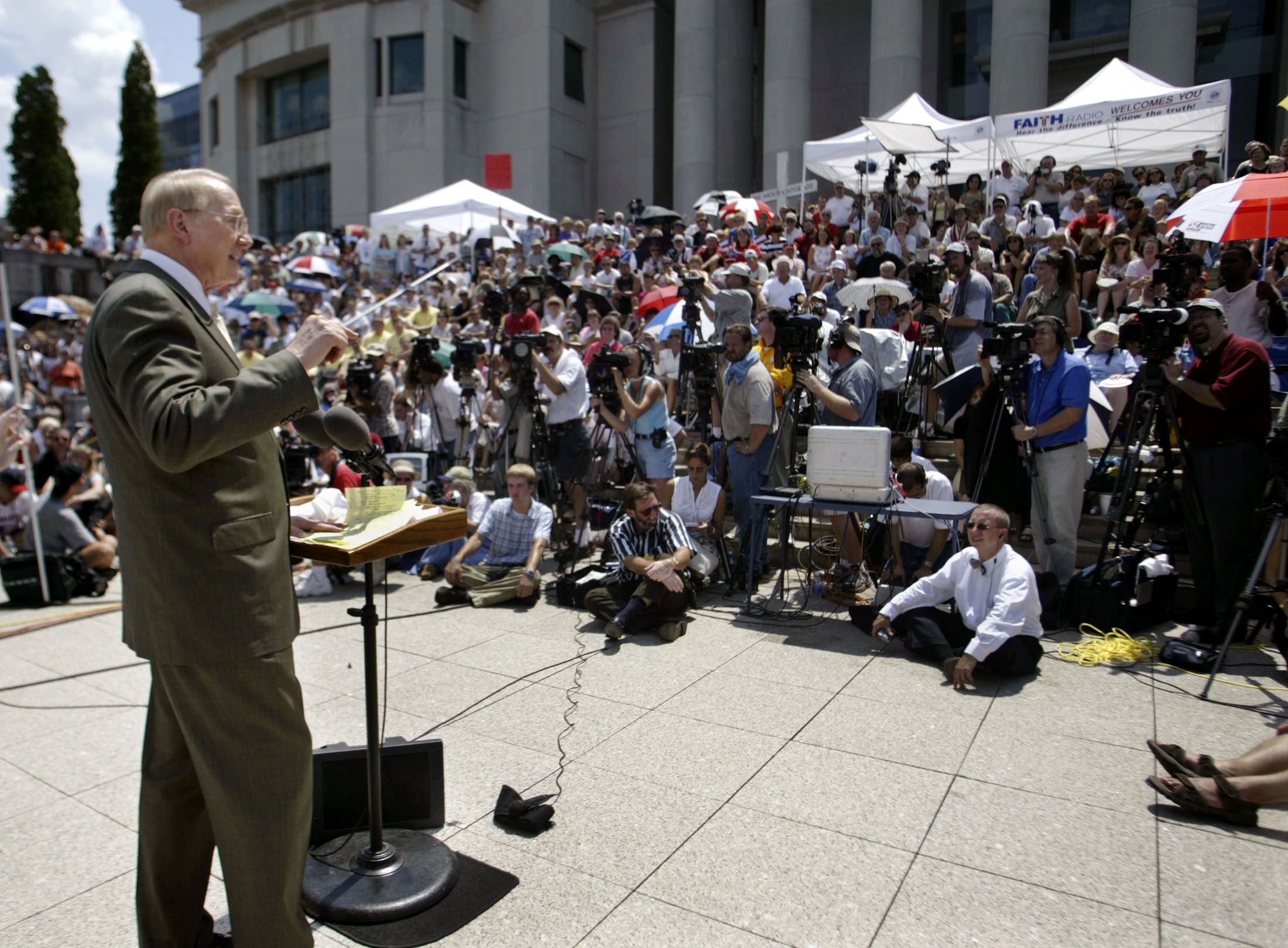 A prominent evangelist has urged religious leaders to join together for a day of fasting and prayer to protect President Donald Trump from impeachment.
Speaking on January 5 during a conference call with the leaders of Intercessors for America—a Christian group that believes in fasting to alter world events—James Dobson pleaded for his peers to give up food and ask God to help Trump.
"This country will be in serious trouble if they're successful in impeaching this man," he said, according to an audio obtained by Right Wing Watch, a website that monitors conservative organizations.
"I'm calling for a nationwide movement to pray for him," Dobson added. "I'm calling for a day of fasting and prayer. I hope that Christian people from coast to coast will join in that time. The date is your choosing, but we do need to be praying for our president."
The call comes as Trump faces increasing criticism about his fitness for office after several erratic tweets and the publishing of a new book, Fire and Fury: Inside the Trump White House, chronicling his administration's first year. Last week, Trump fired off a tweet comparing the size of his so-called nuclear button to that of North Korean dictator Kim Jong Un, prompting critics to argue it was evidence that he is not fit for office and should be removed under the 25th Amendment. And the new book, authored by Michael Wolff, paints an unflattering portrait of a president who would rather watch television than engage in policy discussions.
Evangelicals have strongly supported Trump, though he has never been said to be particularly religious. Famed televangelist Pat Robertson has been a strong supporter of the president, even creating a gala just so he could hold it at Trump's Mar-a-Lago estate in Florida last year.
And Dobson, who has called for transgender shootings in response to former President Barack Obama's decree that everyone should be able to use bathrooms that match their gender identities, has shown similar support for Trump, appealing to a higher power to help keep him in the presidency.
"The Lord played a role in the election of Donald Trump," Dobson told religious leaders on the call. "He was raised up for such a time as this."
He added, "It seemed evident on election night that the Lord gave us victory. So Lord, if that is true, we ask you to protect our president from anything that could hurt him."
Dobson also said on the call he "felt sorry for this man" because "so many people obviously hate him."