Donald Trump's Impeachment Odds Surge Amid Ukraine Whistleblower Controversy
As more information emerges and House Democrats strengthen their rhetoric in response to a whistleblower complaint involving President Donald Trump urging the Ukrainian president in a phone call to investigate one of his political foes, more people are placing bets on a political gambling site that Trump will be impeached in his first term.
The odds that the Democratic-led House successfully approves articles of impeachment before his first term ends in January 2021 are at a nearly three-month high on PredictIt, a political predictions site that labels itself as the "stock market for politics," with the price as of Sunday at 36 cents. That's an increase of 24 cents from Tuesday, the day prior to a bombshell Washington Post report first describing the whistleblower, and is the highest value since at least June 25.
A conviction by the GOP-controlled Senate leading to Trump's subsequent removal from office is not a requirement to win a bet.
The sharp increase in price on the political betting market means more people believe House Democrats will ultimately vote to impeach Trump. It comes as senior Democrats are ratcheting up their rhetoric when responding to the latest allegations that the president pressed Ukrainian President Volodymyr Zelensky to investigate former Vice President Joe Biden's son, who was on the board of a Ukrainian gas company, for damaging information in a July phone call.
Democrats have demanded that information from a whistleblower within the administration be provided to certain members of Congress after it was revealed a complaint from an intelligence official was classified as an "urgent concern" by the inspector general of the Intelligence Community. However, acting Director of National Intelligence Joseph Maguire as refused to provide the report to qualifying lawmakers, something Maguire has argued he's barred from doing because the complaint involves the president. Democrats have argued otherwise, saying that, based on the law and protections for whistleblowers, it must be handed over.
House Speaker Nancy Pelosi has continued to pushback against the increasing number of her colleagues who demand impeachment proceedings begin, even as she's given her seal of approval for the Judiciary Committee launching "impeachment hearings." But in a letter to Democratic colleagues on Sunday, she went a step further in suggesting their investigations could escalate—if the administration continues to deny information to Congress.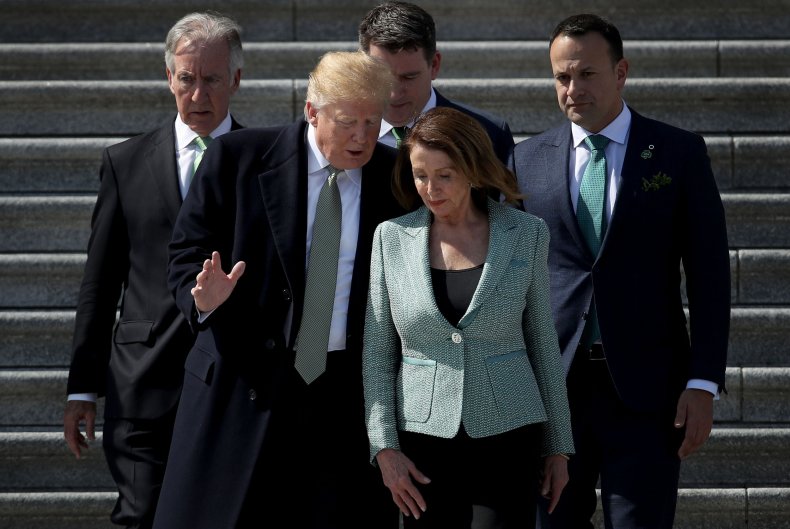 "If the Administration persists in blocking this whistleblower from disclosing to Congress a serious possible breach of constitutional duties by the president, they will be entering a grave new chapter of lawlessness which will take us into a whole new stage of investigation," the California Democrat wrote.
House Intelligence Committee Chairman Adam Schiff (D-Cali), who, like Pelosi, has been unwilling to support an impeachment inquiry, also went further in his remarks over the weekend than he has previously. He said Maguire and Trump could be operating a "cover up" and has threatened to take legal action in order to obtain the whistleblower complaint.
"We very well may have crossed the Rubicon here," he told CNN on Sunday. "I have been very reluctant to go down the path of impeachment. . . This would be an extraordinary remedy of last resort, not first resort," Schiff said. "But if the president is essentially withholding military aid at the same time that he is trying to browbeat a foreign leader into doing something illicit that is providing dirt on his opponent during a presidential campaign, then that may be the only remedy that is coequal to the evil that that conduct represents."
The vast majority of Republicans have not sounded the alarm over the whistleblower allegations, choosing instead to remain in lockstep with Trump to accuse their counterparts of conducting another "Russia hoax."
In recent days, Trump's stance on the controversy has shifted. Originally blasting the media reports and the whistleblower as "partisan" and their claims "ridiculous,"—despite not knowing their identity—he said discussions with foreign leaders are "always appropriate." Over the weekend, he conceded that Biden's son was the topic of discussion in a summer phone call with Zelensky, but continued to deny there was any wrongdoing.
"The conversation I had was largely congratulatory, with largely corruption, all of the corruption taking place and largely the fact that we don't want our people like Vice President Biden and his son [contributing] to the corruption already in the Ukraine," Trump told reporters Sunday.
On Monday, the president described the claims as another "Democrat witch hunt" and continued to insist that Biden's son should be investigated.
"Here we go again. They failed with Russia, they failed with recession, they failed with everything," Trump said. "The one who's got the problem is Biden."