Trump Impeachment May Rescue Economy by Forcing China Trade Deal, Wall Street Analysts Say
Amid gathering economic gloom in the United States, some investors are betting the threat of impeachment will force President Donald Trump into cutting a deal with China to end a trade war between the world's two largest economies.
As the United States and China prepare for talks this month, the trade dispute is doing real harm to the American economy, and if it triggers a recession, will represent a real threat to Trump's re-election prospects. Job growth slowed in September, according to data released on Friday, and factory activity fell as a key manufacturing index declined to its weakest since the end of the Great Depression.
As Beijing and Washington imposed tit-for-tat tariffs on billions of dollars in goods, Trump has stood firm, accusing China of destroying American manufacturing with unfair trade practices. An impeachment inquiry, stemming from a whistleblower complaint over the president's conversations with Ukraine's leader about his main political opponent, could change all that, financial analysts told Newsweek.
"As this [impeachment] inquiry proceeds, President Trump will be eager, if not desperate, to redirect the news flow," said Yung-Yu Ma, chief investment strategist at BMO Wealth Management.
"He will probably be more willing to agree to a "mini-deal" or de-escalation with China, so there's a potential economic upside to the impeachment process – at least in probability terms," he told Newsweek.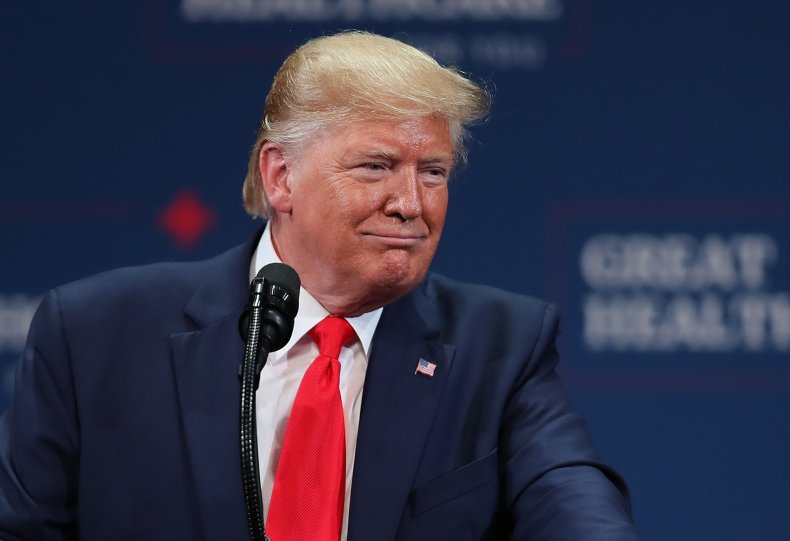 Trump has blamed the increasingly grim economic news on the Federal Reserve, on political uncertainty stemming from the impeachment inquiry and on the strong dollar, even though the Institute for Supply Management's (ISM) manufacturing survey showed business executives were primarily worried about the trade war. The ISM Index showed manufacturing activity falling last month after a decline in August.
The U.S. nonfarm payrolls data released Friday showed the economy added 136,000 in September, following an upwardly revised 168,000 jobs in August, but below market expectations of 145,000. Unemployment rate fell to 3.5 percent from 3.7 percent in August -- the lowest since December 1969.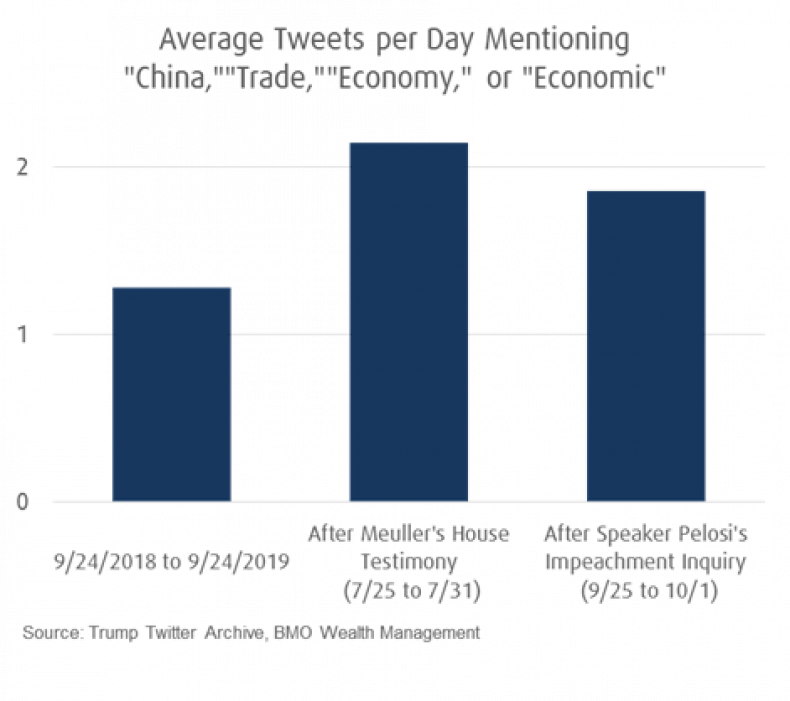 In contrast to the trade dispute, the prospect of Trump's impeachment has barely caught the stock market's attention. That is because investors believe that while the president will likely be impeached by the House of Representatives, controlled by Democrats, he will be acquitted by Senate where Republicans are in the majority. That would leave a wounded Trump looking for ways to boost his standing with voters.
"Investors may believe that if impeachment saps the president's approval rating , he will be more likely to end his trade war, which is doing serious economic damage," Mark Zandi, chief economist at Moody's Analytics said.
ING's chief international economist, James Knightley agreed. "Given his focus on delivering a "win" on trade he may become more inclined to make compromises with China that gets a trade deal signed," Knightley said.
With the election approaching and impeachment in prospect, time appears to be on China's side rather than Trump's.
The Trump administration has managed to contain the politically sensitive fallout from the trade war so far. Grain farmers have been badly hit, with soybean exports to China falling nearly 75 percent last year from a year earlier, although nearly 25 billion in federal assistance has cushioned the blow.
Otherwise, the tariffs have largely hurt businesses rather than consumers. By September 2018, more than 80 percent of all components and inputs that businesses buy from China were subject to tariffs, while for consumer goods, that number was lower than 30 percent, according to an analysis by the Peterson Institute for International Economics. However, that will change when tariffs kick in for nearly all Chinese by December 15, driving up prices on everything from clothes and shoes to toys and electronics.
Ryan Sweet, director of real time economics at Moody's Analytics, said the political uncertainty will eventually conflate with economic concerns and cause businesses to become even more cautious in their investment and hiring.
"The president will be under more pressure to cut a deal with China, but, because China will have more leverage in the discussions, the deal is likely to be nothing more than a face-saving arrangement," Sweet added.
Hugh Johnson, chief investment officer at Hugh Johnson Advisors, said the Trump impeachment only matters to the markets if it affects prospects for the economy and earnings.
"Since it is likely to lead to an improvement of trade relations between the U.S. and China and, for that matter, all countries, it will be on balance a positive for economic and earnings growth rates as well as a stabilization of business confidence throughout the world," Johnson said.
The graphic below, provided by Statista, illustrates the value of tariffs placed on U.S. goods imported into China.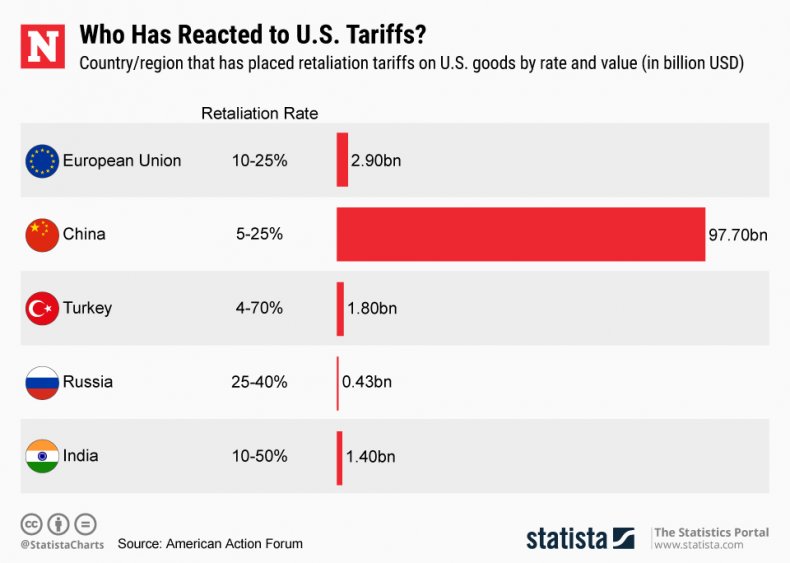 This article was updated to include an infographic.