Trump 'Impeachment Task Force' Hellbent on Holding President 'Accountable For His Betrayal of America'
As President Donald Trump attacks House Democrats heading an impeachment inquiry of him, The Democratic Coalition is countering with a new "Impeachment Task Force" studded with liberal celebrities to protect lawmakers seeking to hold Trump "accountable for his betrayal of America."
The task force, designed to lead rapid response to Trump during the impeachment inquiry, has confirmed members including comedian Rosie O'Donnell; actors Tom Arnold, Ron Perlman and George Takei; and actresses Debra Messing and Alyssa Milano, The Democratic Coalition's co-founder Scott Dworkin told Newsweek. The task force launched a fundraising effort and basic plan on Thursday. The group has already started meeting and is set to go live with its website next week.
It aims to utilize The Democratic Coalition's massive social media following to protect House Democrats in the front lines of the impeachment inquiry on Trump.
The task force, which projects having 100 celebrities and more than 1,000 other members by next week, plans to spread hashtags to streamline impeachment information, combat disinformation and reach out to Congress through letters and phone calls.
"Trump's propaganda machine is going to be in overdrive for the foreseeable future, so we need to be fighting every day, in every way," stated Dworkin, who will work in the task force.
The coalition's chairman Jon Cooper stated, "For now, impeachment is the only way to hold him accountable for his betrayal of America."
As its logo, the task force is using a doctored presidential seal with that was mysteriously projected behind Trump as he spoke at the conservative group Turning Point USA's student summit in July. The altered seal featured a bird similar to the one on the Russian coat of arms with two heads, and clasped golf clubs instead of 13 arrows in one talon, and cash instead of an olive branch in the other talon.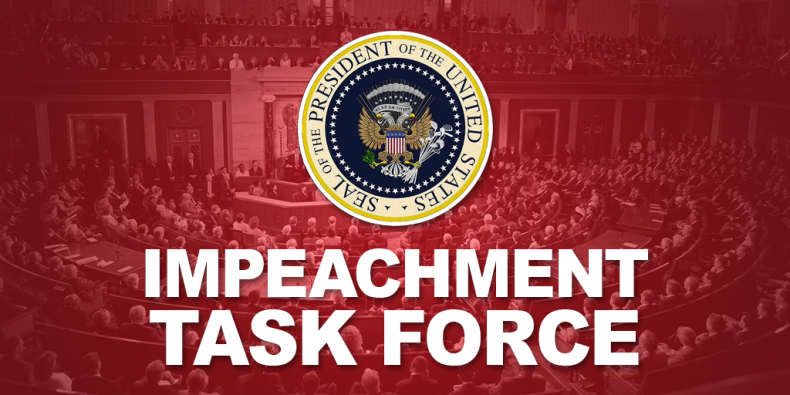 Other confirmed famous task force members are musician Stefan Lessard, authors Grant Stern and Lea Black and former tennis player Martina Navratilova. Celebrities in the left-wing movement The Resistance and VoteVets will be involved, as well as former FBI assistant director Frank Figliuzzi, former federal prosecutor Renato Mariotti, former Tallahassee Mayor Andrew Gillum, former congressman David Jolly, gun control activist Fred Guttenberg, patient advocate Peter Morley and progressive activist and lawyer Ady Barkan.
Dworkin said the celebrities got on board in less than 24 hours of the coalition coming up with the task force idea last week and "a lot are personal friends." Most of the celebrities, with more than 25,000 followers, will be heavily involved in video conferences, conference calls and amplifying the message "to a Trump-level on Twitter," he said.
"A lot of these celebs have been attacked by Trump people or even by Trump personally, so he will be paying attention," Dworkin said.
The Trump campaign has reportedly spent as much as $2 million running Facebook ads to enlist people in his "Official Impeachment Defense Task Force."
"I want to know who stood with me when it mattered most, which is why my team is making me a list of EVERY AMERICAN PATRIOT who adds their name and joins the Official Impeachment Defense Taskforce," one of the Trump ads reads.
But Dworkin, who ran the Artists Against Trump group with more than 100 actors and musicians in 2016, believes the coalition's task force "will without a doubt, absolutely, overpower Trump's propaganda machine." The coalition consistently gets hashtags to trend on Twitter and is planning to push its task force as #TrumpITF and the overall impeachment conversation with #ImpeachTrump.
"We've been one of the key groups fighting his propaganda machine for three and a half years," Dworkin said. "We've learned a lot. And it's kind of led us to this moment."