Trump Impeachment Trial Day Five: What to Watch For As Democrats Wrap Up Opening Arguments
Democrats will make their final push on Friday for why President Donald Trump should be convicted and removed from office in what is expected to be the last day of their opening arguments in the Senate.
The House impeachment managers, appointed by House Speaker Nancy Pelosi to serve as prosecutors in the case, are likely to focus their final hours on the second article of impeachment charged against the president: obstruction of Congress.
After all, they spent all day Thursday outlining the first article (abuse of power) and why the Constitution supports a president's removal for such an offense. Representative Jerrold Nadler, one of the seven managers, asserted that "all prior impeachment considered of high office have all included abuse of power."
"The Constitution is not a suicide pact," the Democrat added in his remarks. "It does not leave us stuck with presidents who abuse their power in unforeseen ways that threaten our security and democracy."
Democrats allege that Trump abused his power by pressuring the Ukrainian government to investigate a potential political opponent, former Vice President Joe Biden, in exchange for the release of nearly $400 million in military aid. Then, when they tried to look into this conduct, they charge that Trump obstructed Congress by refusing to hand over documents and provide witnesses.
Trump has repeatedly denied the charges, claiming his communication with Ukraine's president was "perfect." And Trump''s defense lawyers have tried to make the argument that both articles of impeachment are "structurally deficient" and "made up."
On Friday, the House impeachment managers will likely dive deeper into their obstruction charge. They can point to the White House's blocking of testimony from several officials with direct knowledge of Trump's dealings with Ukraine, such as acting White House Chief of Staff Mick Mulvaney and former National Security Adviser John Bolton.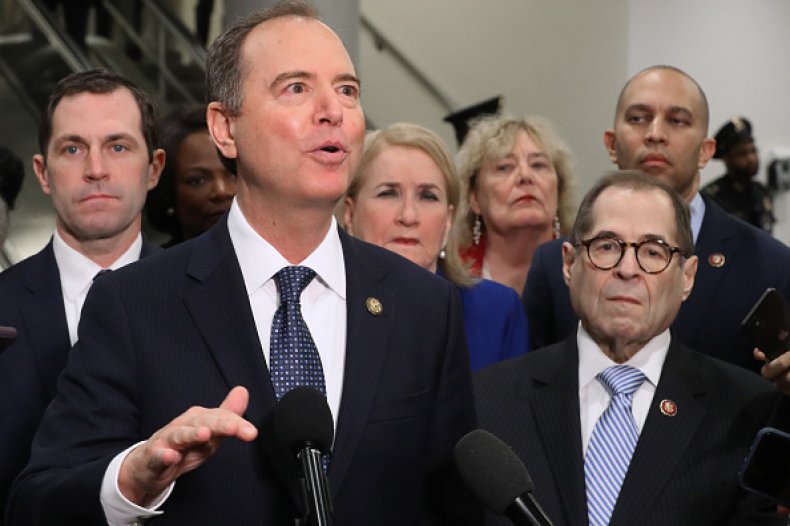 Democrats will also likely discuss the White House's refusal to provide documents in the investigation. The executive branch refused to turn over thousands of pages of subpoenaed documents during the House's inquiry, claiming they had immunity through executive privilege.
"It's not like we didn't try," said Representative Zoe Lofgren, another impeachment manager, said on Wednesday. "The White House refused to give them to us."
Trump himself appeared to admit his team withheld evidence from Congress during his appearance at the World Economic Forum in Davos, Switzerland earlier this week. He told the press that "we have all the material - they don't have the material."
Representative Val Demings, one of the impeachment managers, tweeted that the remarks showed Trump bragging about obstructing the impeachment investigation.
The trial proceedings will reconvene in the Senate on Friday at 1 p.m. ET. The House impeachment managers were allotted a total of 24 hours to make their case over three days.
After Democrats finish their opening arguments, the Senate floor will be handed over to the president's defense team. White House counsel Pat Cipollone and Trump's personal attorney Jay Sekulow will lead the proceedings. Other lawyers on the team include Ken Starr, the former independent counsel who investigated former President Bill Clinton during his impeachment trial, and Alan Dershowtiz, the famed Harvard Law professor.