Trump Impeachment Trial to Feature Dueling Videos of GOP, Democratic Calls for Confrontation
Former President Donald Trump's lead impeachment attorney Bruce Castor said Friday that he intends to use video footage to call out Democrats for "inflammatory rhetoric" during the impeachment trial next week.
Speaking on Fox News' The Ingraham Angle, Castor said that he'll be using video content to show Democrats "cheered on" protesters during last summer's racial justice movement, in response to accusations that Trump incited the violent riots at the U.S. Capitol on January 6.
"There's a lot of tape of cities burning and courthouses being attacked and federal agents being assaulted by rioters in the streets, cheered on by Democrats throughout the country," he said.
The attorney went on to say that "many [Democrats] in Washington are using really the most inflammatory rhetoric possible to use. And certainly there would be no suggestion that they did anything to incite any of the actions."
"But here, when you have the president of the United States give a speech and says that you should peacefully make your thinking known to the people in Congress, he's all of a sudden a villain. You better be careful what you wish for," he continued.
When asked if he would use those videos after Democrats show clips of Trump supporters storming the Capitol, Castor said "I think you can count on that."
"If my eyes look a little red to the viewers, it's because I've been looking at a lot of video," he added.
Trump's second impeachment trial in the Senate will begin on Tuesday.
Democrats who initiated the impeachment charged the former president with "inciting an insurrection," after a violent mob of his supporters broke into the Capitol building and killed five people.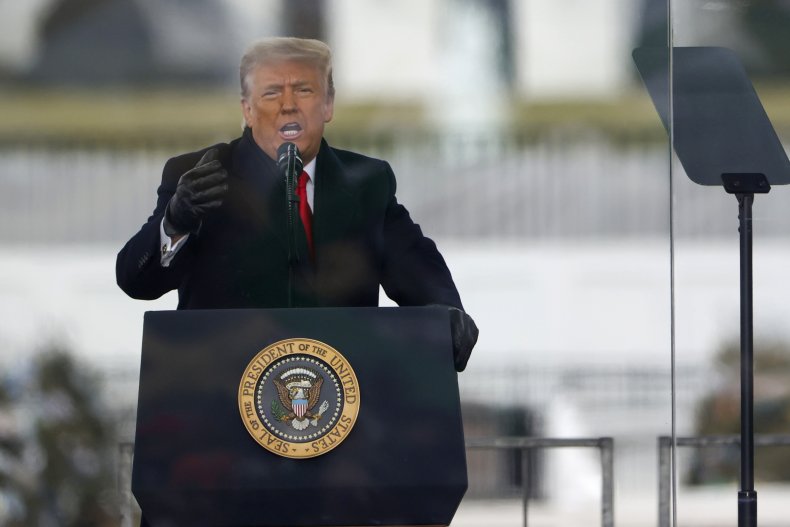 Impeachment managers in the House of Representatives have argued that Trump's speech at the "Stop the Steal" rally "foreseeably resulted in" the riots, specifically pointing to his statement that "if you don't fight like hell you're not going to have a country anymore."
"In all of this, President Trump gravely endangered the security of the United States and its institutions of government," the impeachment article stated. "He threatened the integrity of the democratic system, interfered with the peaceful transition of power, and imperiled a coordinate branch of government. He thereby betrayed his trust as president, to the manifest injury of the people of the United States."
Though a conviction is unlikely, as 45 Republicans have already voted to dismiss the case on the grounds it's unconstitutional, recent polls have shown that more Americans support convicting Trump in this trial than they did in 2020.
While Castor said he'll work to use Democrats' own words against them, he added Friday that his main focus will be to prove that the Senate cannot convict Trump because he's no longer in office.
"By the House impeachment resolution logic, they can go back and impeach Abraham Lincoln," Castor said. "They could impeach Donald Trump if he was dead because he's not in office."
Newsweek reached out to representatives for Trump but did not hear back in time for publication.